Weaving Dreams: The Joy of Work, The Love of Life
ISBN: 978-0-470-63003-7
251 pages
August 2010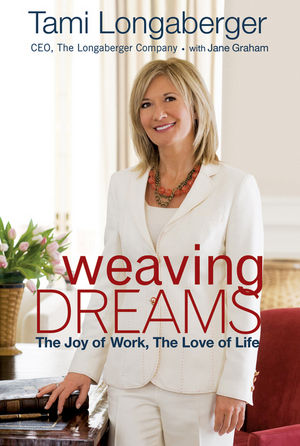 Tami Longaberger is CEO of The Longaberger Company, the premier U.S. manufacturer of handcrafted baskets and other home and lifestyle products. With great tenderness, transparency, and candor, this book opens her heart, offering readers a glimpse of her unique "American Dream"—the kind not handed down or given freely—but earned by hard work and fierce tenacity. Whether sharing memories of her impoverished childhood in Appalachia or accounts of reaching out to business women of the Middle East, Longaberger evokes a balanced nostalgia for the sweetness of the past comingled with a passionate call for hope for the future.
Weaving Dreams prompts readers to dream bigger, think more broadly, and risk taking the road less traveled in business and in life. The life lessons remind us that we are all much more similar than distinct, that we have much for which to be grateful, and that the love of family is a treasure to be valued above all else.  In Weaving Dreams: The Joy of Work, the Love of Life, Tami Longaberger emerges as a clear voice of encouragement and inspiration, challenging us all to live each moment to the fullest.
See More
Foreword Bernie J. Kosar xv
Acknowledgments xix
Part 1 AMERICA 1
1 Love Where You Live: Finding Joy at Home 3
2 Only in America: Seizing Opportunities and Finding Silver Linings 9
3 Lessons from Purple Hands: Learning Work Ethic from My Father 15
4 With Feet Planted: Learning Respect for Our Country 19
5 A Pocket Full of Coins: Connecting with Bravery and Honor 25
6 An American Privilege: Being a Voice for the Voiceless 29
Part 2 INTEGRITY 35
7 The Legacy of Right and Wrong: Learning from Mom and Dad 37

8 Right Is Right: Taking the High Road behind the Scenes 41
9 Parenting with the End in Mind: How I Worked to Instill Responsibility and Work Ethic in My Children 47
10 Making Things Right: A Consultant's Story of Longaberger Values 53
Part 3 THE POWER OF POSITIVE THINKING 59
11 ''Getting It Right'': The Struggle toward Self-Confidence 61
12 Our Minds Are Double-Edged Swords: The Power of Positive and Negative Thinking 71
13 Finding Balance: A Four-Part Recipe to Positive Thinking and Harmony 77
Part 4 ENTHUSIASM 81
14 Reflecting on a Legacy: Dad's Enthusiasm Was Contagious 83
15 From the Homestead to the Office: Promoting Enthusiasm 87
16 Feeding Joy: How I Remain Enthusiastic 93
17 Applause!: One Consultant Reflects on Finding Joy and Purpose with Longaberger 99
Part 5 LEARNING 105
18 Cream Pies and Ohio Buckeyes: Defying My Dad and Going to College 107
19 Supporting My Kids: Why Education Is So Important to Me 113
20 What Diversity Can Teach Us: Lessons in Tolerance 119
21 Longaberger 101: Improve Yourself and Pass It On! 125
Part 6 FAMILY 131
22 Thick and Thin: Sticking Together as a Family 133
23 Memory Making: How Family Traditions Became Our Glue 141
24 The Best Medicine: Laughter Is Critical for Any Family 145
25 Expanding My Family: Opening Doors for Longaberger Consultants 149
Part 7 COURAGE 157
26 Learning to Pull Myself Up: Finding Courage Within 159
27 Empty Shoes at The Bee: Finding Courage in Loss 167
28 Grace in the Trying: Finding Courage in Difficult Circumstances 173
29 Horizon of Hope: Finding Courage in Illness 179
Part 8 SHARING AND GIVING BACK 187
30 Hands in Dresden Dirt: My Love for Nature and the Beauty of the Earth 189
31 Random Acts of Kindness: Teaching My Children the Joy of Giving 195
32 Come Along with Me: Sharing My Days with Others 201
33 Landing in the Desert: Sharing Business with the Women of the Middle East 209
34 Philanthropy: A Way of Life 215
Part 9 GRATITUDE 223
35 Remembering to Say ''Thank You'': Important People, Important Moments 225
36 A Posture of Gratitude: How I Live with a Grateful Heart 229
37 How Can I Say ''Thanks''? A Consultant's Gratitude 233
38 Grateful to You: People Make Longaberger What It Is 239
Index 243
See More
Tami Longaberger, The Longaberger Company's CEO and chair of the board, has led the organization through significant growth, product diversification, facilities expansion, and new technologies. She is the former chair of the National Women's Business Council, a federal council created to advise and recommend policy to the President, Congress, and the U.S. Small Business Administration on economic issues important to women business owners. In 2004, she also served her country as a member of the U.S. delegation to the United Nations Commission on Human Rights held in Geneva, Switzerland. Tami previously chaired the Board of Trustees at The Ohio State University. Her proudest accomplishment is being the mother of two bright and talented children, Claire and Matthew.
See More