Wastewater Microbiology, 4th Edition
ISBN: 978-0-470-63033-4
804 pages
January 2011, Wiley-Blackwell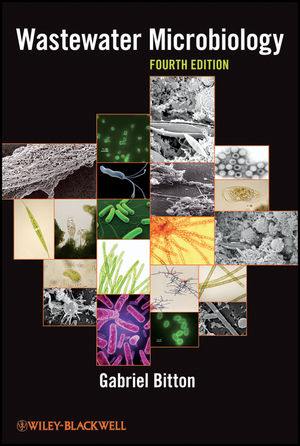 Wastewater Microbiology
focuses on microbial contaminants found in wastewater, methods of detection for these contaminants, and methods of cleansing water of microbial contamination. This classic reference has now been updated to focus more exclusively on issues particular to wastewater, with new information on fecal contamination and new molecular methods. The book features new methods to determine cell viability/activity in environmental samples; a new section on bacterial spores as indicators; new information covering disinfection byproducts, UV disinfection, and photoreactivation; and much more. A PowerPoint of figures from the book is available at
ftp://ftp.wiley.com/public/sci_tech_med/wastewater_microbiology
.
See More
Preface to the Fourth Edition.
Preface to the Third Edition.
Preface to the Second Edition.
Preface to the First Edition.
PART A. FUNDAMENTALS OF MICROBIOLOGY.
1. The Microbial World.
2. Microbial Metabolism and Growth.
3. Role of Microorganisms in Biogeochemical Cycles.
PART B. PUBLIC HEALTH MICROBIOLOGY.
4. Pathogens and Parasites in Domestic Wastewater.
5. Microbial Indicators of Fecal Contamination.
6. Microbial Source Tracking.
7. Wastewater Disinfection.
PART C. MICROBIOLOGY OF WASTEWATER TREATMENT.
8. Introduction to Wastewater Treatment.
9. Activated Sludge Process.
10. Bulking and Foaming in Activated Sludge Plants.
11. Processes Based on Attached Microbial Growth.
12. Waste Stabilization Ponds.
13. Sludge Microbiology.
14. Anaerobic Digestion of Wastewater and Biosolids.
15. Biological Aerosols and Bio-odors from Wastewater Treatment Plants.
PART D. BIOTECHNOLOGY IN WASTEWATER TREATMENT.
16. Pollution Control Biotechnology.
PART E. FATE AND TOXICITY OF CHEMICALS IN WASTEWATER TREATMENT PLANTS.
17. Fate of Xenobiotics and Toxic Metals in Wastewater Treatment Plants.
18. Toxicity Testing in Wastewater Treatment Plants Using Microorganisms.
PART F. MICROBIOLOGY AND PUBLIC HEALTH ASPECTS OF WASTEWATER EFFLUENTS AND BIOSOLIDS DISPOSAL AND REUSE.
19. Public Health Aspects of Wastewater and Biosolids Disposal on Land.
20. Public Health Aspects of Contamination of Recreational Waters with Wastewater.
21. Wastewater Reuse.
References.
Index.
See More