E-book
Professional Visual Studio 2010
ISBN: 978-0-470-63216-1
1224 pages
July 2010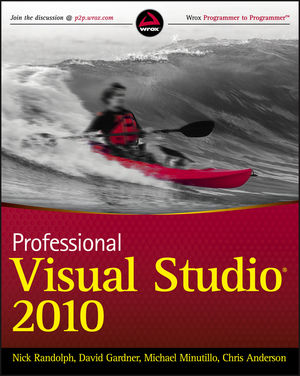 In Professional Visual Studio 2010, developers will find a fast route to IDE programming success. The authors zero in on advanced topics and demonstrate the new features of the IDE, including code snippets, refactoring, and patterns. Covering the latest .NET Framework 4 and Visual Studio 2010 with a unique IDE-centric approach, the book has been revised to include a discussion of Visual Studio's recent major overhaul. The illustrative examples included will help bring both novice and experienced developers up to speed quickly.
See More
INTRODUCTION.
CHAPTER 1 A Quick Tour.
CHAPTER 2 The Solution Explorer, Toolbox, and Properties.
CHAPTER 3 Options and Customizations.
CHAPTER 4 The Visual Studio Workspace.
CHAPTER 5 Find and Replace and Help.
CHAPTER 6 Solutions, Projects, and Items.
CHAPTER 7 IntelliSense and Bookmarks.
CHAPTER 8 Code Snippets and Refactoring.
CHAPTER 9 Server Explorer.
CHAPTER 10 Modeling with the Class Designer.
CHAPTER 11 Unit Testing.
CHAPTER 12 Documentation with XML Comments.
CHAPTER 13 Code Consistency Tools.
CHAPTER 14 Code Generation with T4.
CHAPTER 15 Project and Item Templates.
CHAPTER 16 Language-Specifi c Features.
CHAPTER 17 Windows Forms Applications.
CHAPTER 18 Windows Presentation Foundation (WPF).
CHAPTER 19 Offi ce Business Applications.
CHAPTER 20 ASP.NET Web Forms.
CHAPTER 21 ASP.NET MVC.
CHAPTER 22 Silverlight.
CHAPTER 23 Dynamic Data.
CHAPTER 24 SharePoint.
CHAPTER 25 Windows Azure.
CHAPTER 26 Visual Database Tools.
CHAPTER 27 DataSets and DataBinding.
CHAPTER 28 Language Integrated Queries (LINQ).
CHAPTER 29 The ADO.NET Entity Framework.
CHAPTER 30 Reporting.
CHAPTER 31 Windows Communication Foundation (WCF).
CHAPTER 32 Windows Workfl ow Foundation (WF).
CHAPTER 33 Client Application Services.
CHAPTER 34 Synchronization Services.
CHAPTER 35 WCF RIA Services.
CHAPTER 36 Confi guration Files.
CHAPTER 37 Connection Strings.
CHAPTER 38 Resource Files.
CHAPTER 39 Using the Debugging Windows.
CHAPTER 40 Debugging with Breakpoints.
CHAPTER 41 DataTips, Debug Proxies, and Visualizers.
CHAPTER 42 Debugging Web Applications.
CHAPTER 43 Advanced Debugging Techniques.
CHAPTER 44 Upgrading with Visual Studio 2010.
CHAPTER 45 Build Customization.
CHAPTER 46 Assembly Versioning and Signing.
CHAPTER 47 Obfuscation, Application Monitoring, and Management.
CHAPTER 48 Packaging and Deployment.
CHAPTER 49 Web Application Deployment.
CHAPTER 50 The Automation Model.
CHAPTER 51 Add-Ins.
CHAPTER 52 Macros.
CHAPTER 53 Managed Extensibility Framework (MEF).
CHAPTER 54 Visual Studio Ultimate for Architects.
CHAPTER 55 Visual Studio Ultimate for Developers.
CHAPTER 56 Visual Studio Ultimate for Testers.
CHAPTER 57 Team Foundation Server.
INDEX .
See More
Nick Randolph
is a Microsoft MVP, owns a mobile specialist development company, Built to Roam, and is an active blogger on the Professional Visual Studio web site (www.professionalvisualstudio.com).
David Gardner is the Chief Software Architect at Intilecta Corporation and a regular blogger on the Professional Visual Studio web site (www.professionalvisualstudio.com).
Michael Minutillo is a senior .NET developer for Beacon Technology Pty Ltd and currently leads the Perth ALT.NET user group.
Chris Anderson is a consultant who specializes in .NET programming.
See More