E-book
Access 2010 For Dummies
ISBN: 978-0-470-63271-0
456 pages
April 2010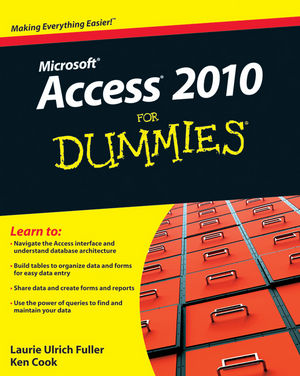 A friendly, step-by-step guide to the Microsoft Office database application
Access may be the least understood and most challenging application in the Microsoft Office suite. This guide is designed to help anyone who lacks experience in creating and managing a database learn to use Access 2010 quickly and easily.
In the classic For Dummies tradition, the book provides an education in Access, the interface, and the architecture of a database. It explains the process of building a database, linking information, sharing data, generating reports, and much more.
As the Microsoft Office database application, Access may be the least understood and most challenging part of the Office suite
Access 2010 For Dummies walks newcomers through building and using their first database
Covers linking information in a database, setting relationships, modeling data, and building tables
Explores how to extract data from Access and get specific answers, create forms, and export data in reports
A section for more experienced users looks at analyzing errors and creating an interface
Fully updated for the newest version, Access 2010 For Dummies gets new Access users up to speed and helps veterans get the most from the Office database application.
See More
Introduction.
Part I: Basic Training.
Chapter 1: Getting to Know Access 2010.
Chapter 2: Finding Your Way Around Access.
Chapter 3: Database Basics.
Part II: Getting It All on the Table.
Chapter 4: Keys, Relationships, and Indexes.
Chapter 5: Remodeling Your Data.
Chapter 6: What's Happening Under the Table?
Part III: Data Mania and Management.
Chapter 7: Creating Data Forms.
Chapter 8: Importing and Exporting Data.
Chapter 9: Editing Data Automatically.
Chapter 10: Gather Locally, Share Globally.
Part IV: Ask Your Data, and Ye Shall Receive Answers.
Chapter 11: Fast Finding, Filtering, and Sorting Data.
Chapter 12: I Was Just Asking . . . for Answers.
Chapter 13: I'll Take These AND Those OR Them.
Chapter 14: Queries That Think Faster Than You.
Chapter 15: Calculating with Your Data.
Chapter 16: Flying into Action Queries.
Part V: Plain and Fancy Reporting.
Chapter 17: Quick and Not-So-Dirty Automatic Reporting.
Chapter 18: Dazzling Report Design.
Chapter 19: Headers and Footers and Groups, Oh My!
Chapter 20: Magical Mass Mailings.
Part VI: More Power to You.
Chapter 21: Making It All Better with the Analyzer Tools.
Chapter 22: Hello! Creating an Interface to Welcome Database Users.
Part VII: The Part of Tens.
Chapter 23: Ten Common Problems.
Chapter 24: Ten Uncommon Tips.
Index.
See More
Laurie Ulrich Fuller
is a highly experienced tech author, consultant, and Office trainer. Her consulting firm, Limehat & Company, offers training, Web development, and marketing services.
Ken Cook is a database design expert, consultant, and author of several books on Office and Excel.
See More