E-book
30 Rock and Philosophy: We Want to Go to There
ISBN: 978-0-470-63285-7
240 pages
June 2010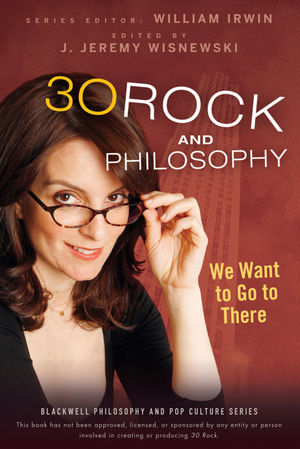 A fascinating exploration of the philosophy behind NBC's hit TV series, 30 Rock
With edgy writing and a great cast, 30 Rock is one of the funniest television shows on the air—and where hilarity ensues, philosophical questions abound: Are Liz Lemon and Jack Donaghy ethical heroes? Kenneth redefines "goody two shoes", but what does it really mean to be good? Dr. Leo Spaceman routinely demonstrates that medicine is not a science, so what is the role of the incompetent professional in America today?
In 30 Rock and Philosophy, Tina Fey and her fellow cast members are thrust onto the philosophical stage with Plato, Aristotle, Kantand other great thinkers to examine these key questions and many others that involve the characters and plotlines of 30 Rock and its fictional TGS with Tracy Jordan comedy show.
Takes an entertaining, up-close look at the philosophical issues behind 30 Rock's characters and storylines, from post-feminist ideals to workaholism and the meaning of life
Equips you with a new understanding of Liz Lemon, Jack Donaghy, Tracy Jordan, Jenna Maroney, Dr. Spaceman, and other characters
Gives you deep and meaningful new reasons (who knew?) for watching Tina Fey and your other favorites on 30 Rock
Ideal for both casual and diehard fans, this book is the essential companion for every 30 Rock­-watcher.
See More
ACKNOWLEDGMENTS: Thanks for Helping Us
Go to There ix
Introduction: Platonic Fantasies and Tina Fey-losophy 1
PART ONE WHAT WOULD OPRAH DO?: ETHICS AND THE GOOD LIFE AT 30 ROCK
1 Being Kenneth: Some Moral Lessons 7
P. Sue Dohnimm
2 Sour Lemon: Liz's Workaholism and the Meaning of Life 16
Jeffrey A. Hinzmann
3 Friendship on 30 Rock: What a Greek Philosopher Can Teach Us about Companionship 28
Dan Yim
4 A Confucian-Aristotelian Critique of 30 Rock's "Semi-Virtuous Path" 43
Adam Barkman
PART TWO THE GIRLIE SHOW: GENDER, RACE, AND SEXUAL ORIENTATION AT 30 ROCK
5 Race at the Rock: Race Cards, White Myths, and Postracial America 57
J. Jeremy Wisnewski
6 Getting Gay: How 30 Rock Helps Us Understand Sexuality 75
J. Jeremy Wisnewski
7 And the Followship Award Goes to . . . Third-Wave Feminism? 89
Ashley Barkman
PART THREE DEALBREAKER!: CORPORATIONS, PROFESSIONS, AND POLITICS
8 Medicine's Not a Science: Dr. Leo Spaceman and the Role of the Incompetent Professional in Today's America 101
Kevin S. Decker
9 Is There a Difference between East Coast Television and Microwave Ovens?: Moral Questions about Corporate Management 114
Andrew Terjesen
10 The Emancipation Corporation: Loving and Loathing the Shinehardt Wigs of the World 130
Nicolas Michaud
11 Liz and Jack Can't Be Friends!: Communitarianism, Libertarianism, and Politics at 30 Rock 138
Nicolas Michaud
PART FOUR MIND GRAPES (TO NOURISH YOUR THINKING)
12 "The Bubble," the Cave, and Samsara: Being Deluded at 30 Rock 149
Adam Barkman
13 Of Cookie Jars and CEOs: Time and Self on 30 Rock 161
Tyler Shores
14 One City's Cheese-Curl Addict Is Another City's Model: A Question of Taste 174
Michael Da Silva and Melina Found
15 "I'm Straight-Up Mentally Ill": Tracy Jordan and True, Justified Belief 186
Robert Arp
16 Performing at 30 Rock (and Everywhere Else) 195
Marc E. Shaw
APPENDIX 1 : Frank's Hat Store 209
APPENDIX 2 : The Wisdom of the Page: Meet Kenneth Ellen Parcell 211
CONTRIBUTORS: Cast Members of 30 Rock and Philosophy 217
INDEX: Shinehardt Wig Company Filing System 221
See More
J. JEREMY WISNEWSKI
is an associate professor of philosophy at Hartwick College in Oneonta, New York. He coedited
X-Men and Philosophy
and
Twilight and Philosophy
and edited
Family Guy and Philosophy
and
The Office and Philosophy.
WILLIAM IRWIN is a professor of philosophy at King's College in Wilkes-Barre, Pennsylvania. He originated the philosophy and popular culture genre of books as coeditor of the bestselling The Simpsons and Philosophy and has overseen recent titles including Batman and Philosophy, House and Philosophy, and Mad Men and Philosophy.
See More
More in this series