E-book
Windows 7 Tweaks: A Comprehensive Guide on Customizing, Increasing Performance, and Securing Microsoft Windows 7
ISBN: 978-0-470-63386-1
408 pages
March 2010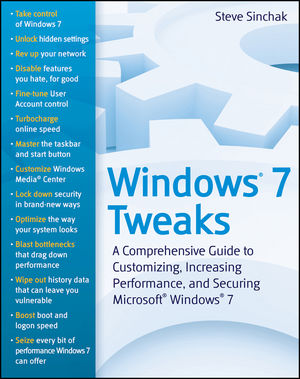 The definitive guide to unlocking the hidden potential of the Windows 7 OS
Written by bestselling author and the creator of tweaks.com Steve Sinchak, this unique guide provides you with the ultimate collection of hidden gems that will enable you to get the most out of Windows 7. Packed with more than 400 pages of insider tips, the book delves beneath the surface to reveal little-known ways to tweak, modify, and customize Windows 7 so you can get every ounce of performance from your operating system.
Regardless of your experience with tweaking your system, you'll find fascinating and fun tips and tricks for getting under the hood of Windows 7 that will allow you to optimize its appearance, speed, usability, and security.
Bestselling author and creator of tweaks.com shows you how to tweak, modify, customize, and take complete control of the new Windows 7 operating system
Unlocks hidden gems for optimizing the appearance, speed, usability, and security of the Windows 7 OS
Shows you how to customize boot and login screens, supercharge your network and online speed, get rid of features that drive you nuts, fine tune your User Account Protection, and more
So roll up your sleeves and take off your gloves so you can take total control over your Windows 7 OS!
See More
Introduction xxiii
Part I Getting Started with Windows 7 1
Chapter 1 Selecting the Right Version 3
Version Comparison 3
Windows Anytime Upgrade 7
Summary 8
Chapter 2 Installing Windows 7 9
Install Media 9
32-Bit or 64-Bit? 9
Alternative Install Media 10
Full Install 13
Dual-Boot Windows XP 15
Configuring HDD and Installing XP 17
Installing Windows 7 18
Summary 19
Chapter 3 Safe Tweaking 21
Using System Restore 21
Creating Restore Points 22
Reverting to a Previous State 23
System Recovery Console 23
Accessing the System Recovery Console 24
Using the System Recovery Console Tools 25
Creating a Backup Image 25
Creating the Image 26
Restoring a System Image 27
Summary 28
Part II Customizing Windows 7 29
Chapter 4 Customizing the Startup 31
Customizing the Logon Screen 31
Changing User Pictures 32
Hiding Users on the Logon Screen 33
Clearing the Last User Logon 35
Changing the Logon Screen Screensaver 36
Displaying a Security Message 37
Enabling Num Lock by Default 38
Changing the Logon Screen Background 39
Summary 41
Chapter 5 Customizing User Navigation 43
Customizing the Start Menu 43
Customizing Navigation Shortcuts 44
Customizing the Frequently Run Programs List 46
Customizing the Program List and Search 51
Customizing the Taskbar 53
Pinning Applications 54
Modifying Icon Locations 55
Tweaking Jump Lists 55
Enable Classic Taskbar Look and Behavior 57
Customize Taskbar Icon Sizes 57
Tweaking Taskbar Preview Delay 58
Restore Classic Quick Launch Bar 59
Modifying the Taskbar Location 60
Customizing the Notification Area 60
Using Group Policy Editor to Customize the
Start Menu and Taskbar 62
Setting Policies with the Group Policy Editor 63
Start Menu and Taskbar Policies 64
Summary 69
Chapter 6 Personalizing the Desktop 71
Customizing the Desktop Icons 71
Removing All Icons from the Desktop 72
Customizing the Icon Drop Shadow Effect 72
Displaying Windows System and User Icons on the Desktop 73
Adjusting the Size of Desktop Icons 74
Renaming the Recycle Bin 75
Removing the Shortcut Arrow from Icons on the Desktop 76
Customizing the Icons 76
Customizing the Desktop 79
Automatically Rotate Your Wallpaper 79
Using Desktop Gadgets 80
Summary 86
Chapter 7 Customizing the Appearance of the Windows Interface 87
Working with Themes 87
Changing the Current Theme 88
Downloading More Themes 89
Making Your Own Theme 89
Automatic RSS Background Themes 95
Customizing Aero Glass 96
Tweaking the Color of Aero Glass 97
Changing the Aero Glass Borders 98
Disabling Animations 100
Disabling Aero Glass 101
Skinning Windows 7 101
Using Hacked Visual Styles 102
Changing the Look of Windows 7 Via WindowBlinds 103
Adding More Skins for WindowBlinds 104
Summary 105
Chapter 8 Fine-Tuning Windows Explorer 107
Customizing Windows Layout 107
Customizing Panes 108
Tweaking Search 110
Modifying File Associations 114
Changing the Default Launch App 114
Customizing the Context Menu 115
Removing Items from the Context Menu 116
Modifying the Send To Menu 117
Working with Libraries 118
Creating Your Own Libraries 118
Customizing Your Folders 119
Changing a Folder Icon and Picture 119
Changing the Template of a Folder 120
Customizing the Folder View 121
Applying Your Settings to All Folders 124
Working with Hidden Files 125
Showing Hidden Files 125
Revealing the Super Hidden Files 126
Summary 127
Chapter 9 Personalizing Internet Explorer 8 129
Customizing Search 129
Adding Popular Search Engines 130
Managing Your Configured Search Engines 131
Adding Custom Search Entries 131
Creating Registry Files to Import Sites to Search 132
Tweaking the Tabs 133
Tab Keyboard Shortcuts 133
Multitab Home Pages 134
Customizing Tabs 135
Fun with RSS 137
Subscribing to Feeds 137
Viewing Your IE-Subscribed RSS Feeds on Your Desktop 138
Customizing Feed Settings 139
Using Add-ons in Internet Explorer 140
Using ieSpell 140
Using RoboForm 141
Advanced Internet Explorer 8 Features 141
Using Accelerators 141
Using Web Slices 143
Summary 144
Chapter 10 Customizing Windows Media 145
Adjusting Your Audio Experience 145
Bass Boost 147
Virtual Surround 147
Room Correction 147
Loudness Equalization 149
Headphone Virtualization 149
Customizing Windows Media Player 12 149
Tweaking the UI 149
Sharing Your Library 151
Sharing Your Library over the Internet 153
Using Audio Effects 154
Customizing Media Center 157
Turning Your PC into a DVR 157
Summary 164
Part III Increasing Your System's Performance 165
Chapter 11 Analyzing Your System 167
Monitoring Your System Hardware 167
Using the Resource Monitor 168
Using Performance Monitor to Get More System Stats 173
Using the Reliability Monitor 179
Using Event Viewer 180
Using Task Manager 183
Other Performance Monitoring Utilities 186
Benchmarking Your System 186
Windows Experience Index 187
Benchmarking with PCMark Vantage 189
Summary 191
Chapter 12 Speeding Up the System Boot 193
Working with the BIOS 193
Changing the Boot Order of Your Drives 194
Using Quick Boot Feature of the BIOS 196
Modifying the Operating System Boot 197
Windows Boot Manager 198
Disabling the System Boot Screen 200
Disabling Unneeded Hardware Devices 202
Removing Extra Fonts for Speed 204
Disabling Unneeded Services 207
Optimizing the Location of the Boot Files 222
Summary 226
Chapter 13 Making Your Computer Log On Faster 227
Speeding Up the Logon 228
Enabling Automatic Logon 228
Adjust the Startup Programs 229
Customizing Auto-Start Programs for Other Users 238
Other Time-Saving Tips 239
Assigning Alternative IP Addresses 239
Turning Off the Logon Sound 241
Summary 242
Chapter 14 Speeding Up Windows Explorer 243
Speeding Up File Browsing and Access 243
Disabling Legacy Filename Creation 244
Disabling the File Access Timestamp 247
Adjusting NTFS Memory Allocation 248
Speeding Up the User Interface 250
Fine-Tuning Performance Options 251
Adjusting Animations 251
Disabling Aero Glass for Faster Performance 255
Windows Classic Look for Maximum Performance 257
Adjusting Explorer's Search 258
Adjusting Search Scope 258
Adjusting Windows Indexing Service 259
Using Windows Search without an Index 261
Summary 261
Chapter 15 Optimizing Core Windows Components 263
Windows Loves RAM 264
Adding RAM to Your Computer 264
Using a USB Storage Device to Add Memory 266
Tweaking the Paging File 268
Disabling the Paging File 269
Adjusting the Size of the Paging File 271
Changing the Location of the Paging File 273
Defragmenting Your Hard Drive 274
Using the Windows Defrag Utility 275
Using Third-Party Defrag Utilities 275
Adjusting Your Application Priorities 277
Using Task Manager to Adjust Priorities 278
Starting Applications with a User Set Priority 279
Summary 280
Chapter 16 Optimizing Your Network 281
Optimizing Your Web Browser 281
Speeding Up Internet Explorer 282
Speeding Up Firefox 283
Accelerating Your Downloads 285
Speeding Up Your Network Connection 288
Tweaking Auto Tuning 289
Disabling Unneeded Protocols 289
Summary 292
Part IV Securing Windows 293
Chapter 17 Windows Security 295
Actively Protecting Your Computer 296
Staying Up-to-Date 296
Updating Windows 7 297
Active Security Tips 299
Controlling Your Computer Accounts 301
Managing User Accounts 301
Tweaking User Account Control 307
Controlling User Account Control 307
Using File Encryption 312
Encrypting Your Files 312
Using BitLocker Drive Encryption 315
Summary 318
Chapter 18 Internet Security 319
Analyzing Your Security 319
Testing Internet Security 320
Watch the Action Center 321
Using a Firewall 323
Using the Windows 7 Firewall 323
Web Browser Security 327
Internet Explorer 8 327
Defending against Spyware and Malware 330
Using Windows Defender 331
Using Antivirus Software 333
Using avast! Antivirus Software 333
Summary 335
Chapter 19 Protecting Your Privacy 337
Internet Explorer Privacy 337
Removing Address Bar Suggestions 338
Clearing Temporary Internet Files, History, and Cookies 339
Adjusting Your Cookie Security Policy 341
Protecting Sensitive Online Data 343
Disabling AutoComplete 344
Clearing Temporary Internet Files Automatically 344
Running Internet Explorer 8 in Super Privacy Mode 345
Windows Interface Privacy 346
Clearing Frequently Run and Opened Files Lists
Including Jump Lists 347
Removing Specific Entries from Taskbar Jump Lists 348
Removing Temporary Files from Your Hard Drive 349
Removing Saved Passwords with Credential Manager 350
Setting File and Folder Permissions 352
Summary 354
Index 355
See More
Steve Sinchak has repeatedly been honored with Microsoft's MVP (Most Valuable Professional) award. He manages several Web sites geared toward computer enthusiasts, most notably tweaks.com and wingeek.com. Steve is the author of Hacking Windows Vista and Hacking Windows XP, both from Wiley.
See More