The Fund Industry: How Your Money is Managed
ISBN: 978-0-470-63425-7
544 pages
February 2011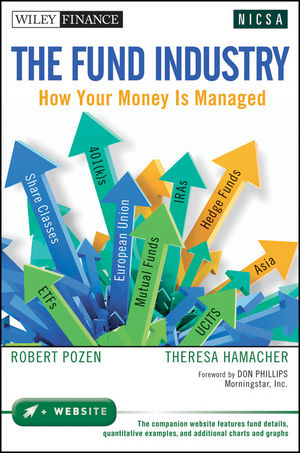 Every investor, student of finance and participant in the mutual fund industry needs to read this book
The Fund Industry
details how mutual funds are marketed, regulated, and invested in stocks and bonds. The book also describes the critical factors needed to choose a specific fund for your investment or retirement plan, including what to look for when reading prospectuses, shareholder reports and third party reviews. In addition, the book:
Discusses the spread of mutual funds to Asia, Europe, and Latin America
Compares mutual funds to other investment vehicles such as hedge funds and ETFs
Shows how to sort mutual funds by categories and subcategories based on security type and investment objective
Other titles by Pozen: Too Big to Save? How to Fix the U.S. Financial System, also by Wiley
Fundamentals of the Fund Industry is the most in-depth and up-to-date guide to navigating the mutual fund industry, written in an accessible style with many examples and charts.
See More
Foreword by Don Phillips ix
Preface xiii
Acknowledgments xvii
SECTION ONE An Investor's Guide to Mutual Funds 1
CHAPTER 1 Investing through Mutual Funds 3
Advantages and Disadvantages of Mutual Funds 5
History and Growth 9
Regulators and Industry Associations 18
Chapter Summary 23
CHAPTER 2 How Mutual Funds Work 25
Buying and Selling Fund Shares 26
The Pass-Through Tax Status of Mutual Funds 29
A Virtual Corporation 31
Ethical Standards 39
Alternatives to Mutual Funds 43
Chapter Summary 49
CHAPTER 3 Researching Funds: The User Guides 51
Mutual Funds and Disclosure 51
The Summary Prospectus 56
Beyond the Summary Prospectus 63
Using the User Guides 69
Chapter Summary 71
CHAPTER 4 Comparing Mutual Funds 73
Delineating Your Own Investment Objectives 74
Evaluating Performance 77
The Taxonomy of Mutual Funds 83
Chapter Summary 99
SECTION TWO Mutual Fund Portfolio Management 101
CHAPTER 5 Portfolio Management of Stock Funds 103
Stock Research 104
Putting It All Together: Managing a Stock Fund 117
Chapter Summary 130
CHAPTER 6 Portfolio Management of Bond Funds 133
Bond Fund Holdings 133
Putting It All Together: Managing a Bond Fund 145
Chapter Summary 153
APPENDIX TO CHAPTER 6 Bond Basics 155
Defining Characteristics of Bonds 156
Key Analytical Measures 160
Risks of Bond Investments 164
CHAPTER 7 Portfolio Management of Money Market Funds 169
How—Exactly—the $1.00 NAV Works 170
Money Market Fund Holdings 175
Putting It All Together: Managing a Money Market Fund 181
Money Market Funds and the Financial System 184
Chapter Summary 187
CHAPTER 8 Implementing Portfolio Decisions: Buying and Selling Investments 189
The Importance of Trading 190
The Evolution of the U.S. Stock Markets 191
The Role of the Mutual Fund Trader 201
Trading in Bond Funds 210
Chapter Summary 212
CHAPTER 9 Mutual Funds as Institutional Investors 215
Mutual Funds as Stockholders and the Proxy Voting Process 216
Proxy Voting by Mutual Funds 220
Activism and Mutual Funds 224
Mutual Funds and Social Change 232
Proxy Voting Outside the United States 234
Chapter Summary 236
SECTION THREE Selling Investment Funds 239
CHAPTER 10 Retail Sales 241
What Sells Mutual Funds? 241
The Intermediary Channel 243
The Direct Channel: No-Load Firms and Fund Supermarkets 260
Cross-Channel Trends 264
Chapter Summary 271
CHAPTER 11 Retirement Plans and Mutual Funds 273
The Tax Benefits of Qualified Retirement Plans 274
401(k) Plans 278
Individual Retirement Accounts 293
The Future of Retirement Planning in the United States 298
Chapter Summary 302
CHAPTER 12 The Competition from Exchange-Traded Funds and Hedge Funds 305
Exchange-Traded Funds 305
Hedge Funds 319
Chapter Summary 333
SECTION FOUR Operations and Finance 335
CHAPTER 13 Customer Service 337
The Role of the Transfer Agent 337
Technology and Shareholder Servicing 349
Transfer Agents as an Industry 354
Chapter Summary 361
CHAPTER 14 Portfolio Recordkeeping and Valuation 363
A Day in the Life of the Fund Accountant 364
Valuation of Portfolio Holdings 370
Keeping Track of Portfolio Securities: The Custodian 376
A Critical Link: Investment Operations 379
Behind the Scenes: The Independent Auditor 384
Chapter Summary 388
CHAPTER 15 The Financial Dynamics of the Fund Management Industry 391
Expenses for Fund Investors 392
Management Fee Revenue: The Debate 398
Mergers and Acquisitions Involving Fund Sponsors 408
Chapter Summary 416
SECTION FIVE The Internationalization of Mutual Funds 419
CHAPTER 16 Cross-Border Investing 421
The Growth in Cross-Border Investing 421
Advantages and Risks of Investing Overseas 426
Operational Challenges of Investing Overseas 431
Putting It All Together: Managing a Global or
International Fund 435
Chapter Summary 442
CHAPTER 17 Cross-Border Asset Gathering 443
The Global Market for Investment Funds 444
Models for a Global Fund Business 450
The UCITS Model 456
European Pension Pooling 463
Chapter Summary 469
CHAPTER 18 The Market for Investment Funds: Beyond the United States and Europe 471
Asia 472
The Americas ex U.S. 487
Chapter Summary 495
Notes 497
About the Authors 515
Index 517
See More
ROBERT POZEN
is Chairman Emeritus of MFS Investment Management®, as well as a Senior Lecturer at the Harvard Business School and a Senior Fellow at the Brookings Institute. He was previously vice chairman of Fidelity Investments; chairman of the SEC Advisory Committee on improving financial reporting; and a member of the Presidential Commission to Strengthen Social Security. A prolific author of editorials in leading newspapers, in 2009 he published the book Too Big to Save?: How to Fix the U.S. Financial System. Pozen graduated summa cum laude from Harvard College and earned a doctor of laws from the Yale Law School where he was an editor of the Yale Law Journal.
THERESA HAMACHER, CFA, is President of NICSA, the National Investment Company Service Association, and the former chief investment officer for Pioneer Investment Management USA, where she supervised a team of over fifty investment professionals managing more than $15 billion in global equity and fixed income assets for mutual fund and institutional clients. Previously, she was the chief investment officer for Prudential Mutual Funds. In 1984, she ran the Prudential-Bache (Tax-Managed) Utility Fund, the top-performing mutual fund in the United States. She is coauthor of The Pocket Idiot's Guide to Investing in Stocks. Hamacher is a summa cum laude graduate of Yale College and a Chartered Financial Analyst.
See More
"I think most people will find
The Fund Industry
one of the most informative books they've read in quite a while. … It shows that mutual fund investors know mighty little about where they've put their hard-earned money."
—
Brenda Jubin
, Seeking Alpha, February 2011
"We can even envision this book as required reading for new employees of investment advisory fi rms or suggested reading for directors new to the investment company industry."
— The Investor's Guide to Closed-End Funds, April 2011 a Jubin, Seeking Alpha, February 2011
" … a valuable overview of the operations of the mutual funds industry."
— Pensions & Investments, April 2011
"… the book is more than worthwhile … it certainly makes the recommended reading list."
—The New York Times, April 2011
See More
February 11, 2011
The Fund Industry
Connect with Wiley Publicity
In 2009, more than 87 million Americans invested their money through mutual funds, using them as vehicles to save for such important life goals as the purchase of a home, a child's education, or a comfortable retirement. Many businesses rely on money market mutual funds for help in managing their cash balances. Mutual funds are an increasingly popular savings vehicle in Europe, Asia, and other regions of the world. Despite its proliferation, it is a highly complex industry comprising tens of thousands of mutual funds worldwide with over $20 trillion in assets and offering different investment objectives and approaches to consumers through multiple channels amid detailed regulations that are continually evolving.
In THE FUND INDUSTRY (Wiley; February 2011; $75.00; 978-0-470-63425-7; Hardcover), Robert Pozen, Chairman Emeritus of MFS Investment Management and a senior lecturer at Harvard Business School, and Theresa Hamacher, President of NICSA (The National Investment Company Service Association) and a former mutual fund chief investment officer, examine how mutual funds are structured and discuss the key laws and regulations governing their operations. They go behind the scenes to explain how fund managers select investments for fund portfolios, sell fund shares around the globe, and provide service to fund shareholders.
THE FUND INDUSTRY:
Discusses the history and growth of mutual funds, as well as how they rank in comparison to alternative investment vehicles, such as ETFs and hedge funds
Examines how to evaluate funds, categorizing them by security type and investment objective and researching them using the prospectus, shareholder reports, and third-party reviews
Explains how mutual funds are sold through brokers, banks, insurance agents, retirement plans, and fund supermarkets and the roles of the independent directors, transfer agents, and fund accountants
Addresses the global fund industry, summarizing trends in asset gathering outside the United States, and money market funds, a category that has received much more attention as a result of the credit crisis of 2008
Includes a companion website that provides supplementary materials, including a teacher's guide
THE FUND INDUSTRY is an in-depth guide to navigating the mutual fund industry, written in an accessible style with many examples and charts.
See More