Graphic Standards Field Guide to Residential Construction
ISBN: 978-0-470-63504-9
496 pages
April 2011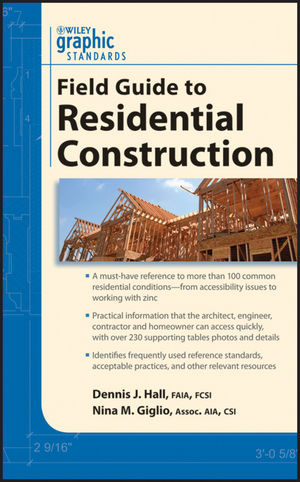 A must-have reference to more than 100 common residential conditions—from accessibility issues to working with zinc
Practical information that the architect, engineer, contractor and homeowner can access quickly, with over 230 supporting tables photos and details
Identifies frequently used reference standards, acceptable practices, and other relevant resources
Quick, reliable answers to your most common on-site questions
When you're in the field, you never know what you'll come across. Graphic Standards Field Guide to Residential Construction gives you fast access to the information you need when you're on-site and under pressure.
Presented in a highly visual and easily portable format, Graphic Standards Field Guide to Residential Construction is organized by CSI's MasterFormat and is coordinated with the 2009 International Residential Code, as well as current sustainable practices. It addresses issues pertaining to residential construction by covering every aspect of the process, such as the use of materials, structural concerns, finishes, thermal and moisture protection, accessible design applications, and more.
Graphic Standards Field Guide to Residential Construction extends beyond the studio, with:
Quick access to essential information wherever you are
Graphic Standards-quality details accompanied by photographs and tables
Illustrations that help you troubleshoot problems, along with on-the-spot solutions
Compact format that's easy to reference and carry along
Graphic Standards Field Guide to Residential Construction is a handy companion that offers the essential tools that time-crunched professionals can turn to in an instant when dealing with clients, or when handling the many complex demands surrounding construction management.
See More
Introduction.
Part I—General Requirements.
1 Construction Information.
2 Common Building Code Requirements.
3 Accessibility Guidelines.
4 Sustainability Rating Systems.
Part II—Concrete.
5 Concrete Forming.
6 Concrete Reinforcing.
7 Cast-in-Place Concrete.
Part III—Masonry.
8 Common Work Results for Masonry.
9 Unit Masonry.
10 Stone Assemblies.
Part IV—Metals.
11 Common Work Results for Metals.
12 Cold-Formed Metal Framing.
13 Metal Fabrications.
Part V—Wood, Plastics, and Composites.
14 Common Work Results for Wood, Plastics, and Composites.
15 Rough Carpentry.
16 Finish Carpentry.
Part VI—Thermal and Moisture Protection.
17 Dampproofing,Waterproofing, and Related Drainage.
18 Thermal Protection and Weather Barriers.
19 Roof Covering.
20 Exterior Wall Covering.
21 Flashing and Sheet Metal Specialties.
22 Expansion Control.
Part VII—Openings.
23 Doors and Frames.
24 Windows.
25 Glazing.
Part VIII—Finishes.
26 Plastering.
27 Gypsum Board.
28 Tiling.
29 Flooring.
30 Painting, Staining, and Wall Covering.
Part IX—Utility Services.
31 Plumbing.
32 Heating,Ventilating, and Air Conditioning.
33 Electrical.
34 Electronic Safety and Security.
Index.
See More
Dennis J. Hall
, FAIA, FCSI, is founder and CEO of both Hall Architects, Inc. and HALL Building Information Group, LLC. He has over thirty-five years experience in the fields of design, construction, and forensic architecture. Mr. Hall is the 2011 President of the Construction Specifications Institute and also serves on the OmniClass Construction Classification System (OCCS) Development Committee. He is also the Editor in Chief for the Second Edition of Architectural Graphic Standards for Residential Construction.
Nina M. Giglio, Associate AIA, CSI, is President of HALL Building Information Group, LLC and Director of Specifications for Hall Architects, Inc. She is the 2011 President of Specifications Consultants in Independent Practice and currently serves on several institute committees and task teams for the Construction Specifications Institute.
See More