E-book
English Grammar For Dummies, 2nd Edition
ISBN: 978-0-470-63559-9
384 pages
January 2010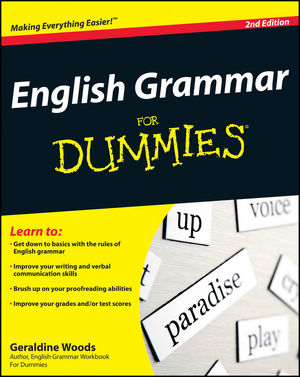 The fun and easy way to improve your grammar
Enhancing your speaking and writing skills helps in everyday situations, such as writing a paper for school, giving a presentation to a company's bigwigs, or communicating effectively with family and friends. English Grammar For Dummies, 2nd Edition gives you the latest techniques for improving your efficiency with English grammar and punctuation.
Teaches the rules of verbs, adjectives, and adverbs; prepositions, propositions, and pronoun pronouncements; punctuation; possessives; and proofreading skills for all communication
Geraldine Woods is the author of English Grammar Workbook For Dummies, College Admission Essays For Dummies, Research Papers For Dummies, SAT I For Dummies, 6th Edition, AP English Literature For Dummies, and AP English Language For Dummies
For speakers and writers of all skill levels, English Grammar For Dummies, 2nd Edition provides easy-to-follow, practical information for improving your command of English grammar.
See More
Introduction 1
Part I: Getting Down to Basics: The Parts of the Sentence 7
Chapter 1: I Already Know How to Talk. Why Should I Study Grammar? 9
Chapter 2: Verbs: The Heart of the Sentence 17
Chapter 3: Relax! Understanding Verb Tense 29
Chapter 4: Who's Doing What? How to Find the Subject 43
Chapter 5: Having It All: The Complete Sentence 55
Chapter 6: Handling Complements 73
Part II: Avoiding Common Errors 83
Chapter 7: Do You Feel Bad or Badly? The Lowdown on Adjectives and Adverbs 85
Chapter 8: Small Words, Big Trouble: Prepositions 101
Chapter 9: Everyone Brought Their Homework: Pronoun Errors 109
Chapter 10: Just Nod Your Head: About Agreement 121
Part III: No Garage, but Plenty of Mechanics 135
Chapter 11: Punctuation Law That Should Be Repealed: Apostrophes 137
Chapter 12: Quotations: More Rules Than the Internal Revenue Service 151
Chapter 13: The Pause That Refreshes: Commas 169
Chapter 14: Useful Little Marks: Dashes, Hyphens, and Colons 185
Chapter 15: CAPITAL LETTERS 195
Chapter 16: New Media, New Grammar Rules 207
Part IV: Polishing Without Wax — The Finer Points of Grammar 219
Chapter 17: Pronouns and Their Cases 221
Chapter 18: Fine-Tuning Verbs 235
Chapter 19: Saying What You Want to Say: Descriptive Words and Phrases 253
Chapter 20: Good, Better, Best: Comparisons 265
Chapter 21: Parallels Without the Lines 281
Part V: Rules Even Your Great-Aunt's Grammar Teacher Didn't Know 295
Chapter 22: The Last Word on Verbs 297
Chapter 23: The Last Word on Pronouns 309
Chapter 24: The Last Word on Sentence Structure 323
Part VI: The Part of Tens 343
Chapter 25: Ten Ways Two to Improve Your Proofreading 345
Chapter 26: Ten Ways to Learn Better Grammar 349
Index 353
See More
Geraldine Woods teaches English and directs the independent study program at a high school for gifted students. She has more than 35 years of teaching experience and is the author of more than 40 books, including English Grammar Workbook For Dummies.
See More