E-book
The Commercial Real Estate Tsunami: A Survival Guide for Lenders, Owners, Buyers, and Brokers
ISBN: 978-0-470-63637-4
215 pages
April 2010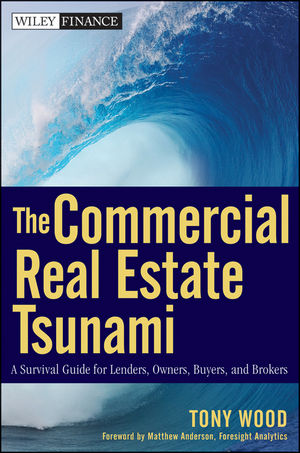 An in-depth look at why a commercial real estate collapse is inevitable, and how to survive it
The Commercial Real Estate Tsunami is the first book to address the phenomenon of the pending wave of commercial debt maturities coming due in the next five years, and the impact those maturities will have on the commercial real estate markets when combined with the historic economic crisis the world is experiencing at this time.
Drawing on the knowledge of recognized experts in the commercial real estate industry and financial markets, as well as lessons learned from the commercial real estate downturns of the 1980s and 1990s, author Tony Wood fills a void in our understanding of the causes of the crisis and what to expect in the future.
Sends a warning to the commercial real estate industry, and offers concrete solutions to mitigate the risks and hazards that lie ahead
Contains the insights of a group of experts from various sectors of the commercial real estate industry
Helps market participants, including investors, developers, lenders, and brokers, gain a vitally needed perspective on where we might be going next and how we will get there
Heeding the advice and guidance of the contributors in this book will benefit anyone navigating these turbulent waters and help lead them to higher ground.
See More
Foreword (Matthew Anderson, Foresight Analytics, LLC).
Introduction: A Tsunami Warning: Between Fear and Desperation.
Acknowledgments.
Part I Phases of the Tsunami.
Chapter 1 Phase One: Initiation (2005–2007).
Observing a Wave of Crisis.
A View from Higher Ground – Charles A. "Mac" McClure, President CCIM Institute.
Chapter 2 Phase Two: Amplification (2007–2008).
Setting the Stage for Drawdown.
Learning to Stay Afloat - Cynthia Shelton, 2009 President of the Florida. Association of Realtors.
PART II Showing up on Radar.
Chapter 3 Phase Three: Drawdown (2009).
Watching the Water Recede.
Major Metro Market Data Surveys from CoStar Realty Information, Inc.
Chapter 4 Phase Four: The Run-Up (2010–2013).
Recognizing the Potential Havoc in the Market.
Excerpts from Congressional Testimony.
Chapter 5 Bailing Out a Sea of Debt—Sam Chandan PhD FRICS.
Commercial Real Estate Mortgage Markets and Policy Interventions.
The CMBS Market.
The Case of Peter Cooper Village and Stuyvesant Town.
Bank Lending.
Agency Financing.
The Next Year.
Part III Mitigation of Risks and Hazards: Survival Guide For Lenders, Owners, Buyers, & Commercial Real Estate Brokers.
Chapter 6 Lenders Prepare for Impact.
When the Wave Hits.
Survival Skills—Eric Von Berg, Newmark Realty Capital, Inc.
Motivations of the Special Servicer.
Commercial Loan Workouts from the Lender's Perspective - Maura O'Connor, Seyfarth Shaw LLP.
Chapter 7 Owners and Borrowers Learn to Swim with the Sharks.
Pride of Ownership and Property Management Responsibilities.
Loan Workouts and Loan Modifications.
Commercial Loan Workouts from the Borrower's Perspective - Maura O'Connor, Seyfarth Shaw LLP.
Chapter 8 Buyers Beware of Hidden Debris.
Buyers in the Tsunami Marketplace.
Be a Smart Buyer—Do Your Homework First.
Cash is King.
Hair on the Deal—The Importance of Due Diligence.
Chapter 9 Commercial Real Estate Brokers Charting a New Course in a Paradigm Shift Marketplace.
Perspective and Strategy for Brokerage Firms and Brokers: A Coach's View - Tom Loeswick, Shirlaws.
The First Step.
Summary.
Chapter 10 How to Ride a Tsunami Wave with Expertise.
Chapter 11 A Life Preserver for Your Family Therapeutic Strategies for Family Survival in a Tough Economy - Donna Wood, MA, MFT.
Open the Lines of Communication.
Work as a Team.
Be Truthful about Finances.
Shift your Perspective.
Open Yourself to the Idea of Change.
Define Success in the Context of Life.
Nurture the Whole Person.
Floatation Devices.
Corporate Assistance.
Conclusion From Despondency to Optimism.
Resources.
About the Author.
Contributors.
Index.
See More
Tony Wood is an award-winning veteran of the commercial real estate industry. With over thirty years' experience, and a successful track record as a commercial real estate broker and consultant, Wood has worked with all types of commercial property with a wide range of client profiles. His resume includes the valuation, leasing, sales, and management of office, retail, industrial, and residential income properties throughout the Western United States. Wood has been retained as a consultant to law and accounting firms and also represents lending institutions in the evaluation and disposition of their special assets and commercial REOs. He is an active leader in the commercial real estate industry and is an invited guest speaker and contributor to numerous media outlets. Wood lives in Northern California with his wife, Donna, and their three children.
See More