E-book
Mastering Microsoft Exchange Server 2010
ISBN: 978-0-470-63717-3
1104 pages
December 2010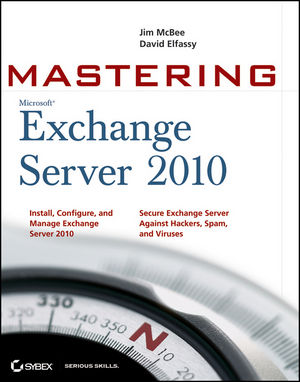 A top-selling guide to Exchange Server-now fully updated for Exchange Server 2010.
Keep your Microsoft messaging system up to date and protected with the very newest version, Exchange Server 2010, and this comprehensive guide. Whether you're upgrading from Exchange Server 2007 SP1 or earlier, installing for the first time, or migrating from another system, this step-by-step guide provides the hands-on instruction, practical application, and real-world advice you need.
Explains Microsoft Exchange Server 2010, the latest release of Microsoft's messaging system that protects against spam and viruses and allows for access to e-mail, voicemail, and calendars from a variety devices and any location
Helps you thoroughly master the new version with step-by-step instruction on how to install, configure, and manage this multifaceted collaboration system
Covers planning and design, installation, administration and management, maintenance and more
Install or update your Microsoft Exchange Server with this guide, then keep it on hand for a comprehensive reference.
Note: CD-ROM/DVD and other supplementary materials are not included as part of eBook file.
See More
Chapter 1: Introducing Exchange Server 2010.
Chapter 2: Introduction to Email Administration.
Chapter 3: Standards and Protocols.
Chapter 4: Understanding Availability, Recovery, and Compliance.
Chapter 5: Message Security and Hygiene.
Chapter 6: Introduction to PowerShell and the Exchange Management Shell.
Chapter 7: Exchange Autodiscover.
Chapter 8: Virtualizing Exchange Server 2010.
Chapter 9: Exchange Server, Email, and SharePoint 2007.
Chapter 10: Exchange Server 2010 Quick Start Guide.
Chapter 11: Understanding Server Roles and Configurations.
Chapter 12: Exchange Server 2010 Requirements.
Chapter 13: Installing Exchange Server 2010.
Chapter 14: Upgrades and Migrations.
Chapter 15: Management Permissions and Role-Based Administration (RBAC).
Chapter 16: Basics of Recipient Management.
Chapter 17: Managing Mailboxes and Mailbox Content.
Chapter 18: Managing Mail-Enabled Groups.
Chapter 19: Managing Mail-Enabled Contacts and Users.
Chapter 20: Managing Resource Mailboxes.
Chapter 21: Public Folder Management.
Chapter 22: Getting Started with Email Archiving.
Chapter 23: Creating and Managing Mailbox Databases.
Chapter 24: Understanding the Client Access Server.
Chapter 25: Managing Connectivity with Hub Transport Servers.
Chapter 26: Managing Transport and Journaling Rules.
Chapter 27: Internet and Email.
Chapter 28: Troubleshooting Exchange Server 2010.
Chapter 29: Monitoring and Performance.
Chapter 30: Backing Up and Restoring Exchange Server.
Index.
See More
Jim McBee
, MCSE, MCT, is a consultant specializing in Exchange deployments and education. He has worked for many Fortune 500 customers, as well as the U.S. Department of Defense. He is the author of
Mastering Microsoft Exchange Server 2007 SP1
and coauthor of
Microsoft Exchange Server 2007: Implementation and Administration, Mastering Microsoft Exchange Server 2007
, and other titles.
David Elfassy, MCITP, MCT and Exchange Server MVP, is an international presenter and trainer. He collaborates with Microsoft on certification, courseware, and keydevelopment projects. David is a project lead on many migrations and implementations of Microsoft infrastructure technologies forgovernmental and corporate organizations.
See More
Learn more about