ASVAB For Dummies, 3rd Edition
ISBN: 978-0-470-63760-9
408 pages
November 2010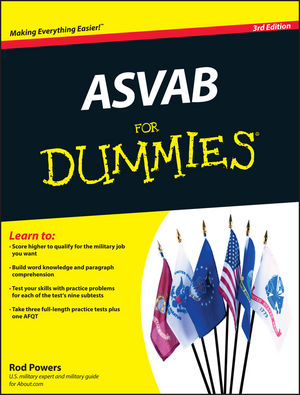 Get fully briefed on the changes to the ASVAB and sharpen your test-taking skills
Want to ace the ASVAB? This essential guide includes in-depth reviews of all nine test subjects with complete explanations for every question, proficiency exercises, and tips to help you pinpoint your weaknesses and hone your test taking skills. You'll discover the pros and cons of the paper and computer exams, which tests are important to your military career, and cutting-edge study techniques.
Features four full-length practice ASVAB tests
Includes a new sample Armed Forces Qualifying Test (AFQT)
Presents a thorough review of foundational concepts for every section, including: building word knowledge, paragraph comprehension, solving math word problems, mechanical comprehension, assembling objects, and more
Helps you conquer the subtests and compute your scores
Packed with practice questions and proven study tips, ASVAB For Dummies, Third Edition is the only guide you need to score your best and find your place in the military!
See More
Introduction.
Part I: Making Sense of the ASVAB.
Chapter 1: Putting the ASVAB Under a Microscope.
Chapter 2: Knowing What It Takes to Get Your Dream Job.
Chapter 3: Getting Acquainted with Test-Taking and Study Techniques.
Part II: Words to Live By: Communication Skills.
Chapter 4: Word Knowledge.
Chapter 5: Paragraph Comprehension.
Chapter 6: All's Well That Tests Well: Communication Practice Questions.
Part III: Making the Most of Math: Arithmetic Skills.
Chapter 7: Mathematics Knowledge and Operations.
Chapter 8: Reasoning with Arithmetic: Math Word Problems.
Chapter 9: Brother, Can You Spare an Equation? Arithmetic Practice Questions.
Part IV: The Whole Ball of Facts: Technical Skills.
Chapter 10: General Science.
Chapter 11: Auto and Shop Information.
Chapter 12: Mechanical Comprehension.
Chapter 13: Electronics Information.
Chapter 14: Assembling Objects.
Chapter 15: Facing the Facts: Technical Skills Practice Questions.
Part V: Practice ASVAB Exams.
Chapter 16: Practice Exam 1.
Chapter 17: Practice Exam 1: Answers and Explanations.
Chapter 18: Practice Exam 2.
Chapter 19: Practice Exam 2: Answers and Explanations.
Chapter 20: Practice Exam 3.
Chapter 21: Practice Exam 3: Answers and Explanations.
Chapter 22: Practice AFQT Exam.
Chapter 23: Practice AFQT Exam: Answers and Explanations.
Part VI: The Part of Tens.
Chapter 24: Ten Surefire Ways to Fail the ASVAB.
Chapter 25: Ten Tips for Doing Well on the AFQT.
Chapter 26: Ten Ways to Boost Your Math and English Skills.
Appendix: Matching ASVAB Scores to Military Jobs.
Index.
See More
Rod Powers is a recognized expert in all U.S. military matters and serves as a military guide for About.com, where his page receives approximately 1.5 million views per week. He is the author of ASVAB AFQT For Dummies and Veterans Benefits For Dummies.
See More