Mastering Autodesk Maya 2011
ISBN: 978-0-470-63935-1
1048 pages
September 2010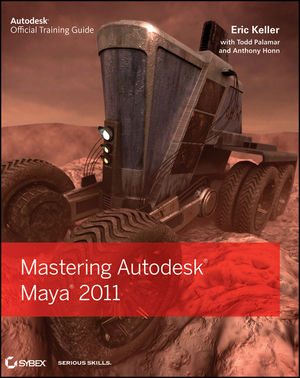 A beautifully-packaged, advanced reference on the very latest version of Maya
If you already know the basics of Maya, the latest version of this authoritative book takes you to the next level. From modeling, texturing, animation, and visual effects to high-level techniques for film, television, games, and more, this book provides professional-level Maya instruction. With pages of scenarios and examples from some of the leading professionals in the industry, this book will help you master the entire CG production pipeline.
Provides professional-level instruction on Maya, the industry-leading 3D animation and effects software
Covers the very latest Maya tools and features, including Dynamics, Maya Muscle, Stereo Cameras, rendering with mental ray, and more
Offers complete coverage of advanced topics such as cloth, fur, and fluids
Showcases the techniques of professionals through numerous examples and real-world scenarios, showing you how to set up and manage 3D animation and visual effects pipelines
Includes a CD with all support files from the book, along with movies to illustrate concepts
If you're looking for an in-depth, professional Maya resource to turn to again and again, Mastering Maya is the book you need.
Note: CD-ROM/DVD and other supplementary materials are not included as part of eBook file.
For Instructors: Teaching supplements are available for this title.
See More
1 Working in Maya.
2 Virtual Film Making with Maya Cameras.
3 NURBS Modeling in Maya.
4 Polygon Modeling.
5 Animation Techniques.
6 Animating with Deformers.
7 Rigging and Muscle Systems.
8 Paint Effects and Toon Shading.
9 mental ray Lighting.
10 mental ray Shading Techniques.
11 Texture Mapping.
12 Rendering for Compositing.
13 Introducing nParticles.
14 Advanced nDynamics.
15 Fur, Hair, and Clothing.
16 Maya Fluids.
17 Mel and Python.
See More
Eric Keller has been a professional 3D artist and high-end animator for film, commercials, and TV for 12 years. He has created animations and effects for Disney, Warner Brothers, ESPN, Harvard Medical School, the Howard Hughes Medical Institute, and CBS, and currently teaches at the Gnomon School of Visual Effects. Eric is the author of Mastering Maya 2009, Maya Visual Effects: The Innovator's Guide, and Introducing ZBrush, all from Sybex.
See More
Download Title
Size
Download
Chapter 3 Project Files
The DVD that shipped with the 1st printing copies of the book contains incorrect files for the projects in Chapter 3. Download the correct files here.
2.35 MB
Click to Download
See More
September 21, 2010
Mastering Autodesk Maya 2011
Connect with Wiley Publicity
Author Eric Keller sits down for an interview to discuss his latest book, Mastering Autodesk Maya 2011.
See More
Learn more about