E-book
Making Learning Whole: How Seven Principles of Teaching Can Transform Education
ISBN: 978-0-470-63965-8
272 pages
February 2010, Jossey-Bass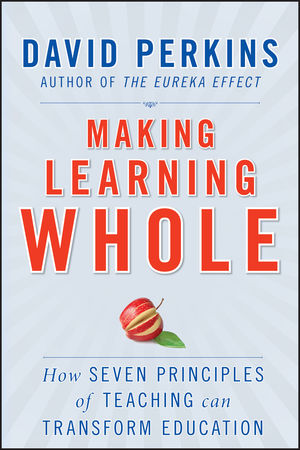 New in Paperback! Make learning more meaningful by teaching the "whole game"
David Perkins, a noted authority on teaching and learning and co-director of Harvard's Project Zero, introduces a practical and research-based framework for teaching. He describes how teaching any subject at any level can be made more effective if students are introduced to the "whole game," rather than isolated pieces of a discipline. Perkins explains how learning academic subjects should be approached like learning baseball or any game, and he demonstrates this with seven principles for making learning whole: from making the game worth playing (emphasizing the importance of motivation to sustained learning), to working on the hard parts (the importance of thoughtful practice), to learning how to learn (developing self-managed learners).
Vividly explains how to organize learning in ways that allow people to do important things with what they know
Offers guidelines for transforming education to prepare our youth for success in a rapidly changing world
Filled with real-world, illustrative examples of the seven principles
At the end of each chapter, Perkins includes "Wonders of Learning," a summary of the key ideas.
See More
Acknowledgments vii
Introduction: A Whole New Ball Game 1
1 Play the Whole Game 25
2 Make the Game Worth Playing 53
3 Work on the Hard Parts 79
4 Play Out of Town 109
5 Uncover the Hidden Game 133
6 Learn from the Team 169
7 Learn the Game of Learning 193
Afterword: The Future of Learning 213
Notes 227
Index 243
See More
THE AUTHOR
David Perkins, Ph.D., is a senior professor of education at the Harvard Graduate School of Education and senior co-director (with Howard Gardner) of Project Zero, an educational research group known particularly for its work on learning for understanding, thinking, and multiple intelligences. Perkins is a noted international speaker and author of several books, including Smart Schools and The Eureka Effect.
See More