CMOS Biomicrosystems: Where Electronics Meet Biology
ISBN: 978-0-470-64190-3
Hardcover
520 pages
July 2011
US $141.00

Add to Cart
This price is valid for United States. Change location to view local pricing and availability.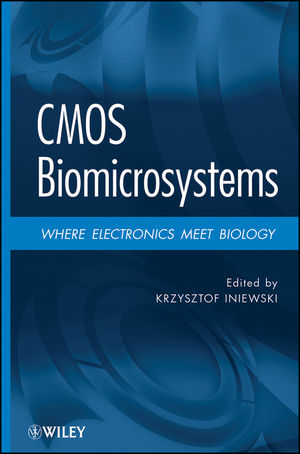 Other Available Formats:
E-book
Preface.
Contributors.
PART I: HUMAN BODY MONITORING.
1 INTERFACING BIOLOGY AND CIRCUITS: QUANTIFICATION AND PERFORMANCE METRICS (Alexander J. Casson and Esther Rodriguez-Villegas).
2 FULLY INTEGRATED SYSTEMS FOR NEURAL SIGNAL RECORDING: TECHNOLOGY PERSPECTIVE AND LOW-NOISE FRONT-END DESIGN (Andrea Bonfanti, Tommaso Borghi, Guido Zambra, and Andrea L. Lacaita).
3 VLSI IMPLEMENTATION OF WIRELESS NEURAL RECORDING MICROSYSTEM FOR NEUROMUSCULAR STIMULATION (Shuenn-Yuh Lee, Chih-Jen Cheng, Shyh-Chyang Lee, and Qiang Fang).
4 HEALTH-CARE DEVICES USING RADIO FREQUENCY TECHNOLOGY (Jung Han Choi and Dong Kyun Kim).
5 DESIGN CONSIDERATIONS OF LOW-POWER DIGITAL INTEGRATED SYSTEMS FOR IMPLANTABLE MEDICAL APPLICATIONS (Zhihua Wang, Xiang Xie, Xinkai Chen, and Xiaowen Li).
PART II: BIOSENSORS AND CIRCUITS.
6 AFFINITY-BASED BIOSENSORS: STOCHASTIC MODELING AND FIGURES OF MERIT (Shreepriya Das, Haris Vikalo, and Arjang Hassibi).
7 FABRICATION EXAMPLES BASED ON STANDARD CMOS AND MEMS PROCESSES (Bernard Courtois).
8 CMOS CAPACITIVE BIOINTERFACES FOR LAB-ON-CHIP APPLICATIONS (Ebrahim Ghafar-Zadeh).
9 LENSFREE IMAGING CYTOMETRY AND DIAGNOSTICS FOR POINT-OF-CARE AND TELEMEDICINE APPLICATIONS (Sungkyu Seo, Ting-Wei Su, Anthony Erlinger, and Aydogan Ozcan).
10 ADVANCED TECHNOLOGIES FOR REAL-TIME MONITORING AND CONTROL IN BIOMICROFLUIDICS (Francesca Sapuppo, Marcos Intaglietta, and Maide Bucolo).
11 MONITORING OF STEM CELL CULTURE PROCESS USING ELECTROCHEMICAL BIOSENSORS (Xicai Yue and Emmanuel M. Drakakis).
PART III: EMERGING TECHNOLOGIES.
12 BUILDING INTERFACES TO DEVELOPING CELLS AND ORGANISMS: FROM CYBORG BEETLES TO SYNTHETIC BIOLOGY (Hirotaka Sato, Daniel Cohen, and Michel M. Maharbiz).
13 TECHNOLOGIES FOR ARRAYED SINGLE-CELL BIOLOGY (Sarah C. McQuaide, James R. Etzkorn, and Babak A. Parviz).
14 APPLICATION OF BACTERIAL FLAGELLAR MOTORS IN MICROFLUIDIC SYSTEMS (Steve Tung, Jin-Woo Kim, and Ryan Pooran).
15 GENE INJECTION AND MANIPULATION USING CMOS-BASED TECHNOLOGIES (Arati Sridharan and Jit Muthuswamy).
16 LOW-COST DIAGNOSTICS: RF DESIGNER'S APPROACH (Nan Sun, Yong Liu, and Donhee Ham).
Index.