The Architect's Studio Companion: Rules of Thumb for Preliminary Design, 5th Edition
ISBN: 978-0-470-64191-0
496 pages
December 2011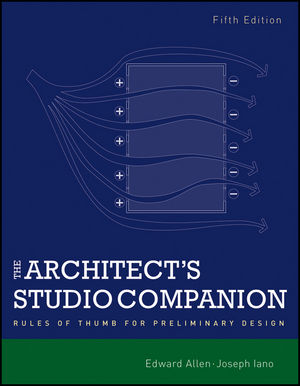 The architect's favorite handbook—now in an up-to-date, new edition!
The Architect's Studio Companion is the labor-saving design resource that architects, engineers, and builders have relied on for years. Now in its Fifth Edition, this industry standard maintains its reputation as a reliable tool for the preliminary selecting, configuring, and sizing of the structural, environmental, and life safety systems of a building. Bestselling authors Edward Allen and Joseph Iano reduce complex engineering and building code information to simple approximations that enable designers to lay out the fundamental systems of a building in a matter of minutes—without getting hung up on complicated technical concepts.
Complete with a convenient flex binding that lies flat for easy use, The Architect's Studio Companion, Fifth Edition gives you quick access to reliable rules of thumb that offer vital help for the preliminary design of: structural systems; heating, cooling, and electrical systems; building code height and area limits; exit stairways and other egress provisions; accessibility regulations; surface parking and structured parking garages; and daylight provisions. Additionally, this new edition gives you:
The most current building codes in the United States and Canada
New coverage of passive heating and cooling systems
Guidelines for designing for natural ventilation
Extensively updated structural design guidelines
Packed with useful information, The Architect's Studio Companion, Fifth Edition is the definitive resource that no architect should be without.
See More
ACKNOWLEDGMENTS vii
HOW TO USE THIS BOOK ix
SECTION 1 DESIGNING WITH BUILDING CODES 1
1. DESIGNING WITH BUILDING CODES 1
SECTION 2 DESIGNING THE STRUCTURE 19
1. SELECTING THE STRUCTURAL SYSTEM 21
2. CONFIGURING THE STRUCTURAL SYSTEM 37
3. SIZING THE STRUCTURAL SYSTEM 55
SECTION 3 DESIGNING WITH DAYLIGHT 137
1. DESIGN CRITERIA FOR DAYLIGHTING SYSTEMS 139
2. CONFIGURING AND SIZING DAYLIGHTING SYSTEMS 149
SECTION 4 DESIGNING SPACES FOR MECHANICAL AND ELECTRICAL SERVICES 157
1. SELECTING HEATING AND COOLING SYSTEMS FOR LARGE BUILDINGS 159
2. CONFIGURING AND SIZING MECHANICAL AND ELECTRICAL SERVICES FOR LARGE BUILDINGS 179
3. PASSIVE HEATING AND COOLING SYSTEMS 215
4. MECHANICAL AND ELECTRICAL SYSTEMS FOR SMALL BUILDINGS 233
SECTION 5 DESIGNING FOR EGRESS AND ACCESSIBILITY 261
1. CONFIGURING THE EGRESS SYSTEM AND PROVIDING ACCESSIBLE ROUTES 263
2. SIZING THE EGRESS SYSTEM 295
3. STAIRWAY AND RAMP DESIGN 311
SECTION 6 DESIGNING FOR PARKING 327
1. DESIGN CRITERIA FOR PARKING FACILITIES 329
2. CONFIGURING PARKING FACILITIES 337
3. SIZING PARKING FACILITIES 349
SECTION 7DESIGNING WITH HEIGHT AND AREA LIMITATIONS 363
1. HEIGHT AND AREA LIMITATIONS 365
2. HEIGHT AND AREA TABLES 385
APPENDIX A EXAMPLE USE OF THIS BOOK 473
APPENDIX B UNITS OF CONVERSION 477
BIBLIOGRAPHY 479
INDEX 481
See More
Edward Allen
, FAIA, has been a member of the faculties of Yale University and the Massachusetts Institute of Technology, and has frequently taught as a guest at other institutions throughout the United States. He is the bestselling author of
Fundamentals of Building Construction
,
Architectural Detailing
, and
Form and Forces
(all from Wiley).
Joseph Iano is an author, illustrator, and practicing architect who has taught design and technology in schools of architecture throughout the United States. Currently, he heads a Seattle design firm that provides technical and quality management consulting. He is the coauthor with Edward Allen of Fundamentals of Building Construction.
See More
Learn more about