SharePoint 2010 Enterprise Architect's Guidebook
ISBN: 978-0-470-64319-8
1128 pages
April 2012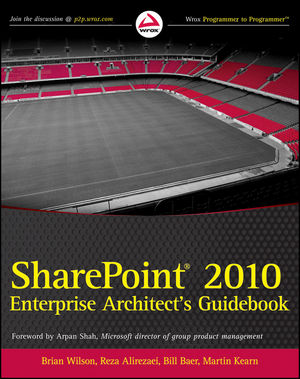 Tips and techniques for becoming a successful SharePoint architect
If you're eager to design and architect a successful deployment of SharePoint 2010, then this is the book for you. Packed with real-world experiences and solid processes, this guidebook provides you with everything you need to perform for designing and architecting enterprise portal services. Helpful examples examine the common design issues affecting SharePoint 2010 environments that can cause deployments to fail so you can learn what to avoid. Plus, key development and deployment issues are covered from an architecture perspective and backup and disaster recovery planning are described at length.
Details the skills and attributes necessary in order to design and architect successful SharePoint 2010 deployments
Provides real-world scenarios and helpful examples of various types of enterprise portal services
Discusses corporate Intranet service, enterprise content management, team collaboration services, enterprise search service, and more
Addresses marketing your SharePoint 2010 solution to users to ensure they are aware of the services you provide
With SharePoint 2010 Enterprise Architect's Guidebook, you'll quickly discover the requirements for designing a successful SharePoint 2010 deployment.
See More
FOREWORD xliii
INTRODUCTION xlv
PART I: SHAREPOINT ARCHITECT KNOWLEDGE REQUIREMENTS
CHAPTER 1: A DIGITAL WORKFORCE FOR A DIGITAL AGE 3
CHAPTER 2: UNDERSTANDING THE ENTERPRISE LANDSCAPE 11
CHAPTER 3: SUPPORTING TECHNOLOGY KNOWLEDGE REQUIREMENTS 45
CHAPTER 4: DESIGN PRINCIPLES FOR SUCCESSFUL DEPLOYMENTS 75
CHAPTER 5: LEARNING HOW MICROSOFT USES SHAREPOINT 2010 109
PART II: THE SHAREPOINT 2010 PLATFORM
CHAPTER 6: SHAREPOINT FUNDAMENTALS 137
CHAPTER 7: EVOLUTION OF SHAREPOINT 167
CHAPTER 8: SHAREPOINT 2010 FEATURES AND CAPABILITIES 183
CHAPTER 9: UNDERSTANDING SHAREPOINT 2010 SERVICE APPLICATIONS 219
CHAPTER 10: SHAREPOINT 2010 PLATFORM ARCHITECTURES 249
CHAPTER 11: WORKING WITH INTERNAL AND EXTERNAL DATA IN SHAREPOINT 2010 299
PART III: ARCHITECTING ENTERPRISE PORTAL SERVICES
CHAPTER 12: DEFINING YOUR SHAREPOINT 2010 PORTAL STRATEGY 325
CHAPTER 13: GETTING STARTED WITH YOUR PROGRAM AND PROJECTS 355
CHAPTER 14: DESIGNING YOUR INFORMATION ARCHITECTURE 397
CHAPTER 15: DESIGNING YOUR SOLUTION ARCHITECTURE 463
CHAPTER 16: DESIGNING YOUR INFRASTRUCTURE ARCHITECTURE 507
CHAPTER 17: DESIGNING YOUR STORAGE LAYER 551
CHAPTER 18: DEVELOPING, TESTING, AND DEPLOYING YOUR SHAREPOINT 2010 SOLUTION 585
CHAPTER 19: DESIGNING YOUR AUTHENTICATION AND AUTHORIZATION MODEL 623
CHAPTER 20: DEFINING YOUR GOVERNANCE MODEL AND APPROACH 651
CHAPTER 21: DEFINING YOUR BUSINESS CONTINUITY MANAGEMENT PLAN 677
CHAPTER 22: DESIGNING FOR CLOUD-BASED SOLUTIONS AND MULTI-TENANCY SERVICES 711
CHAPTER 23: DESIGNING VIRTUALIZED DEPLOYMENTS 731
PART IV: REAL-WORLD SERVICE DESIGN CONSIDERATIONS
CHAPTER 24: INTRANET AND INTERNET PUBLISHING SERVICES 761
CHAPTER 25: CORPORATE INFORMATION SERVICES 793
CHAPTER 26: BUSINESS COLLABORATION SERVICES 821
CHAPTER 27: ENTERPRISE SEARCH SERVICES 851
CHAPTER 28: INDIVIDUAL AND SOCIAL NETWORKING FEATURES 873
CHAPTER 29: BUSINESS CONNECTIVITY SERVICES 899
CHAPTER 30: BUSINESS INTELLIGENCE SERVICES 933
CHAPTER 31: FORMS SERVICES AND WORKFLOW 965
CHAPTER 32: RECORDS MANAGEMENT SERVICES 997
INDEX 1033
See More
Brian Wilson is a senior consultant in the SharePoint team at Microsoft Consulting Services in the UK.
Reza Alirezaei is a SharePoint solution architect who has been focused on designing custom applications with SharePoint, Office, and Microsoft business intelligence technologies.
Bill Baer is a technical product manager and Microsoft Certified Master for SharePoint 2007 with the SharePoint product group at Microsoft Corporation in Washington state.
Martin Kearn is a consultant for Microsoft Consulting Services in the UK, who works with a wide range of enterprise customers, tackling projects that involve all aspects of SharePoint and related technology.
See More
Buy Both and Save 25%!
SharePoint 2010 Enterprise Architect's Guidebook (US $59.99)
-and- Professional jQuery (US $44.99)
Total List Price: US $104.98
Discounted Price: US $78.73 (Save: US $26.25)
Cannot be combined with any other offers. Learn more.