E-book
Living Gluten-Free For Dummies, 2nd Edition
ISBN: 978-0-470-64422-5
384 pages
April 2010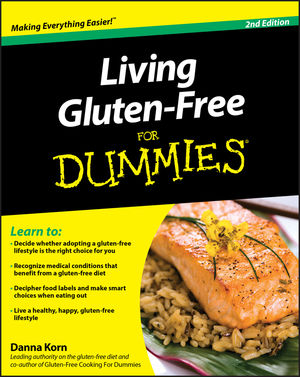 Practical, delicious ways to manage a gluten-free diet
If you have a wheat allergy, gluten intolerance, celiac disease, or you just want to enjoy the benefits of a diet free of wheat, barley, and rye, then this guide is for you. Trusted author Danna Korn explains the medical problems associated with gluten and shows you step by step how to make the transition to a gluten-free lifestyle - and love it!
With 25% new and revised content, this easy-to-understand reference includes coverage of the most recent testing methods, an updated section on the link between a gluten-free diet and improving behaviors in the autistic, new information about the genetics of celiac disease, expanded coverage on the gluten-free certification process, increased nutritional information, and updated recipes and resources.
65 delicious recipes plus tips on eating out
Guidance on how to shop and decipher food labels Advice on how to raise happy gluten-free kids
Covering the practical, medical, and emotional aspects of the lifestyle, Living Gluten-Free For Dummies, 2nd Edition offers hope and inspiration as you make the switch to a life free of gluten.
See More
Foreword.
Introduction.
Part I: Going Gluten-Free: Who, What, Why, and How.
Chapter 1: Gluten-Free from A to Z: The Basics of Being Gluten-Free.
Chapter 2: Going Gluten-Free: Who's Doing It and Why.
Chapter 3: A Closer Look at Celiac Disease.
Chapter 4: Connecting Gluten with Autism, Behavior, and Mood.
Chapter 5: Grasping the Ground Rules of the Gluten-Free Diet.
Chapter 6: Making Sure It's Gluten-Free: Digging a Little Deeper.
Chapter 7: Gluten-Free . . . Nutritiously.
Part II: Planning and Preparing: The Preludes to Cooking.
Chapter 8: Creating a Gluten-Free-Friendly Kitchen.
Chapter 9: Shopping Is Easier Than You Think.
Chapter 10: Cooking: Tips and Techniques.
Part III: From Menus to Meals: Recipes for the Gluten-Free Gastronome.
Chapter 11: Beginning with Breakfast.
Chapter 12: Appetizers with Attitude.
Chapter 13: Sensational Soups, Salads, and Sides.
Chapter 14: Enticing Entrées.
Chapter 15: Enjoying International Cuisine.
Chapter 16: Pizza, Pasta, and Bread: Foods You Thought Were a Thing of the Past.
Chapter 17: Getting Your Just Desserts.
Part IV: Living — and Loving — the Gluten-Free Lifestyle 24/7.
Chapter 18: Getting Out and About: Eating Away from Home.
Chapter 19: Raising Happy, Healthy, Gluten-Free Kids.
Chapter 20: Beating the Blues: Overcoming Emotional Obstacles.
Part V: The Part of Tens.
Chapter 21: Ten Benefits of Being Gluten-Free.
Chapter 22: Ten Tips to Help You (or Your Child) Love the Gluten-Free Lifestyle.
Chapter 23: Ten Lame Excuses Not to Go Gluten-Free.
Index.
See More
Danna Korn is respected as one of the leading authorities on the gluten-free diet and the medical conditions that benefit from it. She's been featured in People Magazine, on ABC's "20-20," and dozens of other national media outlets. She is the co-author of Gluten-Free Cooking For Dummies.
See More