The Scientific American Healthy Aging Brain: The Neuroscience of Making the Most of Your Mature Mind
ISBN: 978-0-470-64773-8
Hardcover
280 pages
June 2012, Jossey-Bass
US $25.95

Add to Cart
This price is valid for United States. Change location to view local pricing and availability.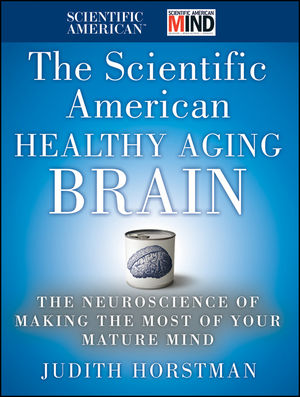 Other Available Formats:
E-book
Acknowledgments xi
Preface: Live Long, and Live Well xiii
Introduction: Welcome to the New Old Age 1
What's Old, Anyway? 2
How Scientists Are Researching Your Brain 3
PART ONE How Your Brain Grows 7
Chapter 1. The Well-Aged Brain: Older and Happier 9
The Myth of a Sad Old Age 10
Actually, It's Getting Better All the Time 12
Great Late Achievers 14
Are Grandparents Safer Drivers? 16
Do You Think I'm Sexy? Apparently, Yes—at Any Age 16
A Swell of Centenarians: One Hundred Reasons to Take Care of Your Brain 20
Chapter 2. How Your Brain Grows: Zero to Sixty 21
In the Beginning: Your Fetal and Baby Brain 23
A Brief Tour of Your Brain 24
The Gray and the White: Neurons and Myelin 26
Childhood: Building the Brain 28
Th e Teen Brain: Not Yet Ready for Prime Time 29
Get Smart Younger, Delay Dementia Older 32
The Peak Years: Twenties to Sixties 33
Chapter 3. Your Brain Growing Older: What to Expect in a Healthy Aging Brain 37
The Usual Effects of Aging 39
Do the Brains of Men and Women Age Differently? 40
How Memory Works: The Short Version 41
Why White Matter Matters 45
The Aging Brain: Is It Less Connected? 46
Forgetting May Be Vital to Remembering 47
Five Things Most People Get Wrong About Memory 48
The Good News: Slower Is Sometimes Better 51
More Easily Distracted: Why Multitasking Is a Task 55
PART TWO Threats to Your Brain 59
Chapter 4. What Can Go Wrong 61
When Your Brain Needs Help: How Can You Tell? 64
Th e Darkness of Dementia 67
Mild Cognitive Impairment: A Subtle Loss 69
Stroke: Th e Brain Attack 70
A Healing Stroke 72
Parkinson's Disease 74
Your Brain on Diabetes: Not So Sweet 75
Traumatic Brain Injury: A Blow to Your Thinking Brain 77
Depression: An Abnormal State 78
The Legacy of Cancer: "Chemo Brain" 81
Too Much of a Good Thing: When Medications Mess Up Your Mind 82
What—Me Worry? 85
Chapter 5. Alzheimer's Disease: The Brain Killer 87
What Is Alzheimer's Disease? 88
Chasing the Cause 91
Anxiety and Alzheimer's Disease: Another Reason to Chill 94
Maybe It's Bad Neural Housekeeping? 97
The Search for a Cure—or Even a Treatment That Works 100
Looking Beyond the Brain 104
An Ounce of Prevention: Marijuana Might Benefit Aging Brains 106
The Future—Without Alzheimer's Disease 109
PART THREE How to Optimize Your Aging Brain 111
Chapter 6. The Big Five for Optimal Brain Function 113
The Cognitive Shop 116
How to Keep Your Brain Healthy and Nimble 119
Chapter 7. Exercise Your Body: Move Your Body for a Better Brain 123
Th is Brain Was Made for Walking 126
It's Never Too Late to Start Exercising 127
A Fine Balance: Yoga, Tai Chi, and Fall Prevention 131
Chapter 8. Challenge Your Brain 135
Educated Brains Stay Better Longer 137
Why Testing Boosts Learning 138
Do Brain Fitness Products Work? 139
Computer Training May Keep You Driving Longer 143
Th e Bottom Line 144
Chapter 9. Nutrition: Fuel for Thought 147
Glucose Is Not So Sweet to the Brain 151
Forget the Fructose 152
Omega-3, the Essential Oil 154
Your Brain on Berries, Chocolate, and Wine: The Flavonoid Connection 155
Caffeine: A Perk for Your Brain 162
Is There a Pill for Th at? Supplements and Vitamins 163
Chapter 10. The Social Treatment 167
You've Got a Friend, We Hope 169
Talk to Teens, Live Longer 171
Finding and Making Friends in Later Life 173
Chapter 11. Creativity, Spirit, and Attitude: Enrich Thyself 175
Th e Art of an Active Brain 176
Live Larger to Live Better 178
Th e Power of Meditation for the Aging Brain 178
Smile! It Could Make You Happier 181
Attitudes Matter: Th e Optimism Factor 182
PART FOUR The Future for Your Brain 185
Chapter 12. Predictions, Promises, and Possibilities 187
A Fix to Reverse Memory Decline 190
Are You Saving for Th ose Final Years? 191
RX for Th is Good Life 193
Chapter 13. Living in the Now 195
Living with an Aging Brain 196
How We (Eventually) Die 197
Going Out with a Bang: The Brain Surges Just Before Death 199
Living in the Now 200
Sources 203
Illustration Credits 219
Glossary 221
Resources for Aging and Coping 231
About the Author 235
Index 237
Buy Both and Save 25%!
The Scientific American Healthy Aging Brain: The Neuroscience of Making the Most of Your Mature Mind (US $25.95)
-and- Neuroscience For Dummies (US $21.99)
Total List Price: US $47.94
Discounted Price: US $35.95 (Save: US $11.99)
Cannot be combined with any other offers. Learn more.