Electrochemical Aspects of Ionic Liquids, 2nd Edition
ISBN: 978-0-470-64781-3
504 pages
May 2011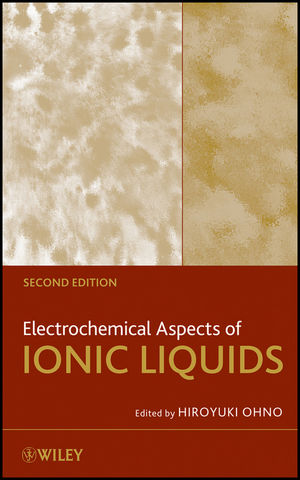 The second edition is based on the original book, which has been revised, updated and expanded in order to cover the latest information on this rapidly growing field. The book begins with a description of general and electrochemical properties of ionic liquids and continues with a discussion of applications in biochemistry, ionic devices, functional design and polymeric ionic liquids.
The new edition includes new chapters on Li ion Batteries and Actuators, as well as a revision of existing chapters to include a discussion on purification and the effects of impurities, adsorption of ionic liquids on interfaces and on the electrochemical double layer, among other topics.
See More
PREFACE TO THE SECOND EDITION.
PREFACE TO THE FIRST EDITION.
ACKNOWLEDGMENTS FOR THE SECOND EDITION.
CONTRIBUTORS.
1 Importance and Possibility of Ionic Liquids (Hiroyuki Ohno).
2 Physical Chemistry of Ionic Liquids: Inorganic and Organic as Well as Protic and Aprotic (C. A. Angell, W. Xu, M. Yoshizawa-Fujita, A. Hayashi, J.-P. Belieres, P. Lucas., M. Videa, Z.-F. Zhao, K. Ueno, Y. Ansari, J. Thomson, and D. Gervasio).
PART I BASIC ELECTROCHEMISTRY.
3 General Techniques (Yasushi Katayama).
4 Electrochemical Windows of Room-Temperature Ionic Liquids (RTILs) (Hajime Matsumoto).
5 Diffusion in Ionic Liquids and Correlation with Ionic Transport Behavior (Md. Abu Bin Hasan Susan, Akihiro Noda, and Masayoshi Watanabe).
6 Ionic Conductivity (Hiroyuki Ohno, Masahiro Yoshizawa-Fujita, and Tomonobu Mizumo).
7 Optical Waveguide Spectroscopy (Hiroyuki Ohno and Kyoko Fujita).
8 Electrolytic Reactions (Toshio Fuchigami and Shinsuke Inagi).
9 Electrodeposition of Metals in Ionic Liquids (Yasushi Katayama).
PART II BIOELECTROCHEMISTRY.
10 Enzymatic Reactions (Noritaka Iwai and Tomoya Kitazume).
11 Molecular Self-assembly in Ionic Liquids (Nobuo Kimizuka and Takuya Nakashima).
12 Solubilization of Biomaterials into Ionic Liquids (Kyoko Fujita, Yukinobu Fukaya, and Hiroyuki Ohno).
13 Redox Reaction of Proteins (Kyoko Fujita and Hiroyuki Ohno).
PART III IONIC DEVICES.
14 Li Batteries (Hikari Sakaebe and Hajime Matsumoto).
15 Photoelectrochemical Cells (Hajime Matsumoto).
16 Fuel Cells (Masahiro Yoshizawa-Fujita and Hiroyuki Ohno).
17 Double-Layer Capacitors (Makoto Ue).
18 Actuators (Kinji Asaka).
PART IV FUNCTIONAL DESIGN.
19 Novel Fluoroanion Salts (Rika Hagiwara and Kazuhiko Matsumoto).
20 Neutralized Amines (Hiroyuki Ohno).
21 Zwitterionic Liquids (Masahiro Yoshizawa-Fujita, Asako Narita, and Hiroyuki Ohno).
22 Alkali Metal Ionic Liquids (Wataru Ogihara, Masahiro Yoshizawa-Fujita, and Hiroyuki Ohno).
23 Polyether/Salt Hybrids (Tomonobu Mizumo and Hiroyuki Ohno).
24 Electric Conductivity and Magnetic Ionic Liquids (Gunzi Saito).
PART V IONIC LIQUIDS IN ORDERED STRUCTURES.
25 Ion Conduction in Organic Ionic Plastic Crystals (Maria Forsyth, Jennifer M. Pringle, and Douglas R. MacFarlane).
26 Liquid Crystalline Ionic Liquids (Takashi Kato and Masafumi Yoshio).
PART VI GEL-TYPE POLYMER ELECTROLYTES.
27 Ionic Liquid Gels (Kenji Hanabusa).
28 Zwitterionic Liquid/Polymer Gels (Masahiro Yoshizawa-Fujita and Hiroyuki Ohno).
29 Ionic Liquidized DNA (Naomi Nishimura and Hiroyuki Ohno).
PART VII POLYMERIZED IONIC LIQUIDS.
30 Ion Conductive Polymers (Hiroyuki Ohno and Masahiro Yoshizawa-Fujita).
31 Amphoteric Polymers (Hiroyuki Ohno, Masahiro Yoshizawa-Fujita, and Wataru Ogihara).
32 Polymer Brushes (Masahiro Yoshizawa-Fujita and Hiroyuki Ohno).
PART VIII CONCLUSION.
33 Future Prospects (Hiroyuki Ohno).
APPENDIX: STRUCTURES OF ZWITTERIONS.
INDEX.
See More
Hiroyuki Ohno, PhD, is a professor and Dean of the Institute of Symbiotic Science and a professor at the Tokyo University of Agriculture and Technology. He is renowned for his research and is a pioneer in the realm of ionic liquids and ion-conductive materials. The editor of the Wiley journal Polymers for Advanced Technologies, Professor Ohno has published more than 320 papers in the field of ionic liquids, as well as more than 145 reviews and book chapters.
See More
Buy Both and Save 25%!
Electrochemical Aspects of Ionic Liquids, 2nd Edition (US $211.00)
-and- Modern Electroplating, 5th Edition (US $182.00)
Total List Price: US $393.00
Discounted Price: US $294.75 (Save: US $98.25)
Cannot be combined with any other offers. Learn more.