Focus on Gender: Parent and Child Contributions to the Socialization of Emotional Competence: New Directions for Child and Adolescent Development, Number 128
ISBN: 978-0-470-64786-8
Paperback
128 pages
July 2010, Jossey-Bass
US $29.00

Add to Cart
This price is valid for United States. Change location to view local pricing and availability.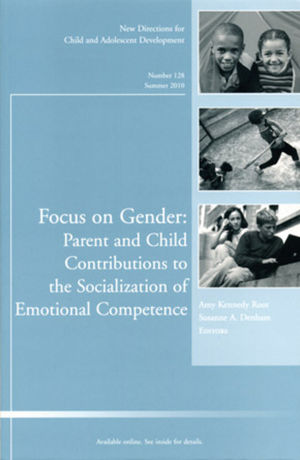 1. The Role of Gender in the Socialization of Emotion: Key Concepts and Critical Issues
 (
Amy Kennedy Root, Susanne A. Denham
)
In the introductory chapter, the editors provide an overview of the important role parents play in the development of emotional competence. They highlight the central issues that require address in the fi eld of emotion socialization, including gender of parent, gender of child, and culture.
2. Gender Differences in Caregiver Emotion Socialization of Low-Income Toddlers (Tara M. Chaplin, James Casey, Rajita Sinha, Linda C. Mayes)
The authors explore if child gender affects caregivers' response to toddlers' observed anger and sadness/anxiety in a low-income sample. The authors build on their fi ndings to provide a commentary on the developmental implications that may result from gender-differentiated emotion socialization in at-risk children.
3. Gender Differences in the Socialization of Preschoolers' Emotional Competence (Susanne A. Denham, Hideko Hamada Bassett, Todd M. Wyatt)
Using multiple methods and informants, the authors examine differences in maternal and paternal emotion socialization, as well as differences that may emerge between mothers and fathers as a result of child gender. The contribution of mothers' and fathers' emotion socialization practices to preschoolers' development of emotional competence is also examined.
4. Gender and Parents' Reactions to Children's Emotion During the Preschool Years (Amy Kennedy Root, Kenneth H. Rubin)
Focusing on parental emotion socialization beliefs, the authors explore the potential differences that emerge between mothers of sons, mothers of daughters, fathers of sons, and fathers of daughters in their responses to children's hypothetical displays of happiness, anxiety, anger, and disappointment.
5. Parent-Child Discussions of Anger and Sadness: The Importance of Parent and Child Gender During Middle Childhood (Janice Zeman, Carisa Perry-Parrish, Michael Cassano)
Through the analysis of parent-child conversations of emotion, the authors provide support for the importance of parental emotion socialization during the middle childhood period, with differences emerging between mothers and fathers in the socialization practices utilized in the discussion of anger and sadness with their children.
6. Emotion Socialization in Adolescence: The Roles of Mothers and Fathers (Ann E. Brand, Bonnie Klimes-Dougan)
The authors provide evidence for the importance of maternal and paternal emotion socialization during the adolescent years, as well as the impact that parental emotion socialization practices may have on the development of internalizing and externalizing diffi culties.
7. Socialization of Emotion: Who Infl uences Whom and How? (Carolyn Zahn-Waxler)
In this commentary, the author identifi es issues integral to the future study of emotion socialization, including conceptualization, measurement, and child effects. The closing commentary also offers suggestions for future researchers in the fi eld of emotion socialization.
INDEX.