The PDMA Handbook of New Product Development, 3rd Edition
ISBN: 978-0-470-64820-9
504 pages
December 2012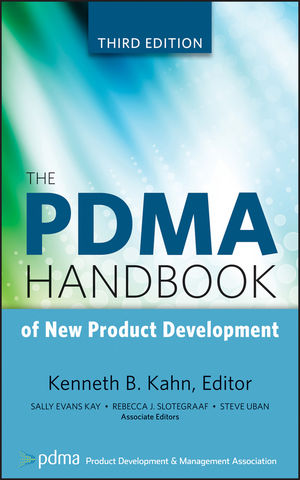 New Product Development is one of the most important challenges facing organizations today.
The Product Development and Management Association (PDMA) Handbook of New Product 
Development 3rd Edition provides an exceptional review of cutting edge topics for both new and 
experienced product development leaders. It offers a comprehensive and updated guide to the
practices, processes and tools critical to achieving and sustaining new product/service development
success in today's world, delivering valuable information about the fundamentals as well as emerging  
practices such as venturing, virtual product development and the use of social media in NPD.
As the premier global advocate for professionals and organizations working in the fields of new
product/service development, PDMA has assembled in the Handbook unique content on the
critical aspects of product development success including its 2012 Best Practices Research, Lessons
Learned from its Outstanding Corporate Innovator Award Winners and keys to success from
organizations with proven innovation track records.
The 3rd Edition is an essential reference for anyone with responsibility for product development
activities, from novices looking for fundamentals to experts seeking insights on emerging concepts,
 and is relevant for all functions and all product/service industries.  
See More
Introduction vii
SECTION ONE: PREPARING 1
1 New Products—What Separates the Winners from the Losers and What Drives Success 3
Robert G. Cooper
2 An Innovation Management Framework: A Model for Managers Who Want to Grow Their Businesses 35
Paul Mugge and Stephen K. Markham
3 Service Development 51
Thomas D. Kuczmarski and Rishu Mandolia
4 Business Model Innovation: Innovation Outside the Core 68
Heidi M.J. Bertels and Peter A. Koen
5 Open Innovation and Successful Venturing 82
Rob van Leen and Marcel Lubben
6 Success Factors of New Product Development for Emerging Markets 100
Anna Dubiel and Holger Ernst
SECTION TWO: STARTING 115
7 Effective Practices in the Front End of Innovation 117
Peter A. Koen, Heidi M.J. Bertels, and Elko Kleinschmidt
8 Getting Lightning to Strike: Ideation and Concept Creation 135
Christopher W. Miller
9 Portfolio Management for Product Innovation 154
Scott J. Edgett
10 Identifying Significant New Business Opportunities: The Magellan Process 167
Deborah A. Mills and Paige Siempelkamp
11 We-ness, Knowledge Sharing, and Performance in New Product Development Teams 181
Hyunjung Lee and Stephen K. Markham
12 Virtual Teams in New Product Development: Characteristics and Challenges 195
Nicholas S. Lockwood, Mitzi M. Montoya, and Anne P. Massey
SECTION THREE: PROGRESSING 211
13 Obtaining Customer Needs for Product Development 213
Abbie Griffin
14 User Research for Product Innovation: Qualitative Methods 231
Gary R. Schirr
15 Market Analytics 244
Brian D. Ottum
16 Forecasting New Products 265
Kenneth B. Kahn
17 Social Media and New Product Development 282
Amy Kenly
SECTION FOUR: ACHIEVING 295
18 Developing Intelligent Products 297
Serge A. Rijsdijk and Erik Jan Hultink
19 Strategies to Improve NPD Governance 310
Steven Haines
20 Managing the Supply Chain Implications of Launch 325
Roger J. Calantone and C. Anthony Di Benedetto
21 Post-Launch Product Management 339
Steven Haines
22 Managing Innovation Paradoxes for Organizational Ambidexterity 356
Marianne W. Lewis and Constantine Andriopoulos
23 Understanding the Most Common Types of Intellectual Property Rights and Applying Them to the Product Development Process 368
Rel S. Ambrozy
SECTION FIVE: PDMA RESEARCH 385
24 Lessons Learned from Outstanding Corporate Innovators 387
Sally Evans Kay, Douglas Boike, Wayne Fisher, Thomas Hustad, Stan Jankowski, Deborah A. Mills, Barry J. Novotny, Albert Page, and William M. Riggs
25 The Difference between Goods and Services Development: A PDMA CPAS Research Study 405
Stephen K. Markham and Thomas Hollmann
26 The Emergence of the Product Innovation Discipline and Implications for Futher Research 416
C. Anthony Di Benedetto
Appendix: About the Product Development and Management Association (PDMA) 427
New Product Development Glossary 435
Author Index 477
Subject Index 481
See More
PDMA is a global nonprofit organization seeking to accelerate the contribution that innovation makes to the economic and professional growth of people, businesses, and societies around the world. PDMA delivers improved organizational performance and individual career growth by offering the latest academically rigorous innovation research, resources for product development and management knowledge, and opportunities for collaboration among an international network of innovators.
Kenneth B. Kahn, PhD, is Professor of Marketing and Director of the da Vinci Center for Innovation at Virginia Commonwealth University in Richmond, Virginia. His teaching and research interests address product development, product management, and demand forecasting of current and new products. He has consulted with and conducted training sessions for numerous companies, and has been a PDMA member since 1989.
Sally Evans Kay has been active in PDMA since 1988 both nationally and at the chapter level and currently chairs The Outstanding Corporate Innovator Award Committee.
Rebecca J. Slotegraaf, PhD, is Associate Professor of Marketing and Whirlpool Faculty Fellow at the Kelley School of Business, Indiana University. She serves on the editorial boards of the Journal of Marketing, Journal of Product Innovation Management, and others.
Steve Uban, PE, NPDP, has been a practitioner in research and new product development for almost 40 years. Mr. Uban is a Professional Engineer and Certified New Product Development Professional and is on the board of the PDMA Foundation.
See More