Typographic Design: Form and Communication, 5th Edition
ISBN: 978-0-470-64821-6
368 pages
November 2011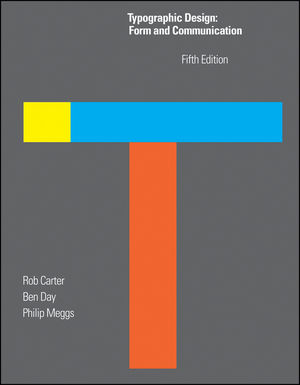 For more than two decades, the type book of choice for design professionals and students
Typographic design has been a field in constant motion since Gutenberg first invented movable type. Staying abreast of recent developments in the field is imperative for both design professionals and students. Thoroughly updated to maintain its relevancy in today's digital world, Typographic Design, Fifth Edition continues to provide a comprehensive overview of every aspect of designing with type.
This Fifth Edition of the bestselling text in the field offers detailed coverage of such essential topicsas the anatomy of letters and type families, typographic syntax and communication, design aesthetics, and designing for legibility. Supplementing these essential topics are theoretical and structural problem-solving approaches by some of the leading design educators across the United States. Unwrapping the underlying concepts about typographic form and message, Typographic Design, Fifth Edition includes four pictorial timelines that illustrate the evolution of typography and writing within the context of world events—from the origins of writing more than 5,000 years ago to contemporary typographic applications.
Features in this new edition include:
A new chapter that analyzes typography on screen

New case studies featuring typographic design in books, information graphics, web design, and environmental design

New designer profiles that reveal innovative typographic design processes

Material presented in full color throughout with many new images
See More
Introduction xi
1 The Evolution of Typography 1
From the origins of writing to Gutenberg's invention of movable type 2
Typography from Gutenberg to the nineteenth century 7
The nineteenth century and the Industrial Revolution 12
Typography in the twentieth century 18
A new century and millennium begin 27
2 The Anatomy of Typography 31
Letterforms analyzed 32
The typographic font 35
Historical classification of typefaces 38
Typographic measurement 42
The type family 45
3 Syntax and Communication 49
Typographic syntax 50
Typographic space 60
Visual hierarchy 64
ABA form 70
4 Legibility 75
Distinguishing characteristics of letters 76
The nature of words 78
Capital and lowercase letters 79
Interletter and interword spacing 79
Type size, line length, and interline spacing 80
Weight 81
Character width 81
Italics 81
Legibility and color 82
Justified and unjustified typography 85
Paragraphs and indentions 85
Legibility and electronic page design 87
Typographic details 88
5 The Typographic Grid 91
Background 92
Structure and space 92
Proportion 94
Single column grids 97
Multi-column grids 100
Modular grids 105
Improvisational structures 110
6 The Typographic Message 111
A multidimensional language 112
Verbal/visual equations 115
Function and expression 121
7 Typographic Technology 125
Hand composition 126
Linotype 127
Monotype 128
Ludlow 129
Phototypesetting 130
Digital typesetting 132
Electronic page design 134
8 Typography on Screen 139
Rendering type on screen 140
Selecting typefaces 143
Legibility factors for on-screen typography 146
Programming for Web design 148
Structuring Web pages 150
Case studies in Web design 152
9 Case Studies in Typographic Design 161
Integrating type and image in poster design 162
The U.S. National Park Service Unigrid System 166
Book design: VAS: An Opera in Flatland 169
Typographic film titles 173
Buenos Aires Underground (Subte) 176
Information design: Metropolitan World Atlas 180 A typographic program for the 17th Street Farmers' Market 184
10 Typographic Design Education 187
Generation of a typographic sign
from a gestural mark 188
Letter/digit configurations 189
Urban letterform studies 189
Inventing sign systems 190
Letterform analysis 190
Flowering typography 191
Sequential typographic forms in space 191
Visual organization and grid structures 192
Introduction to systems design 193
Designing with a single letter 194
Typography and image transformations 194
Experimental compositions with found typography 195
Syntactic explorations using onomatopoeic terms 196
Type chronology booklet 197
Expressive typography: form amplifies message 198
Computer improvisation and manipulation 198
Observing systems in our surroundings 199
Interpretive typography: exploring legibility and impact 200
Symphony poster series 200
Information design: changing typographic parameters 201
Typographic cubes 202
Calendar typography 202
Unity of form and communication 203
Typeface history posters 204
Visual identity program 204
Type in Motion 205
Blending Latin and non-Latin typographic forms 205
Type and image in the third dimension 206
Comparative relationships: type and image 207
Directional poster: from your house to the university 208
Graphic-design history posters and booklet 209
Animated Web site flash pages 210
Typezine: my favorite typeface 211
Type history posters 211
Typeface design: mind/machine 212
Experimental typographic system 213
Banknote design 214
Type as metaphor 215
Form and counterform, scale and proportion: "Ne var, ne yok?" 216
11 Typographic Design Process 217
A traditional model 218
Processing typographic form and ideas 219
Typographic process case studies 225
Experimental typographic transformation 230
Now Projector: Design as Projection 238
Typographic book covers 245
12 Type Specimens 251
Old Style 253
Adobe Garamond 254
Adobe Minion Display Regular 260
Additional Old Style fonts 266
Sans serif 269
Univers 55 270
Meta Normal 276
Futura Book 282
Additional Sans Serif fonts 288
Transitional 291
Baskerville Regular 292
Georgia 298
Additional Transitional fonts 304
Modern 307
Bauer Bodoni Regular 308
Additional Modern fonts 314
Egyptian 317
Serifa Roman 318
Archer 324
Additional Egyptian fonts 330
Selected Decorative fonts 332
A chronology of typeface designs 334
Glossary 336
Bibliography 346
Picture Credits 348
Index 352
See More
Rob Carter
is Professor of Typography and Graphic Design at Virginia Commonwealth University, and has served as a visiting professor at the Gerrit Rietveld Academy in Amsterdam. He has received numerous awards for his work from organizations such as the American Institute of Graphic Arts, New York Type Directors Club, New York Art Directors Club, Society of Typographic Arts, Creativity,
Print
regional annual, and
I.D.
magazine's Annual Design Review. He is the author of
American Typography Today, Typographic Design: The Great
Typefaces,
the five-volume Working with Type series, and
Digital Color
and
Type
. He is also coauthor, with Sandra Wheeler, of
Meggs: Making Graphic Design Hist
ory.
The late Ben Day was Professor Emeritus at Virginia Commonwealth University. He also taught at Boston University and had been a Visiting Designer at the University of Connecticut. His many exhibitions included the American Institute of Graphic Arts, the New York Type Directors Club, and the New York Sculpture Centre. The Boston Society of Printers awarded him a teaching fellowship. He served as a consultant to Bostonia magazine, NASA, and the Fogg Museum, and art directed Handel and Haydn magazine. He was selected for Who's Who Among America's Teachers.
The late Philip Meggs was a designer, educator, and author. He was School of the Arts Research Professor, Communication Arts and Design Department, at Virginia Commonwealth University; visiting faculty at Syracuse University and the National College of Art and Design in Dublin, Ireland; and contributing editor to Print magazine. He authored more than a dozen books and 150 articles and papers on design and typography, including a section on graphic design in Encyclopedia Britannica. He was inducted into the Art Directors Hall of Fame and received its Educator's Award for lifetime achievement and significantly shaping the future of the fields of graphic design education and writing. He was posthumously awarded the AIGA Medal for design leadership.
See More
". . . Typography has undergone continuous change. This book provides a concise and comprehensive overview of the fundamental information for effective typographic-design practice." (neopoprealismjournal.wetpaint.com, March 2012)
'A two column-layout provides space to cram in a huge amount of content-a comprehensive guide to type on the web.'  (.net, July 2012)
See More
Learn more about