E-book
Information Overload: A System for Better Managing Everyday Data
ISBN: 978-0-470-64903-9
224 pages
July 2010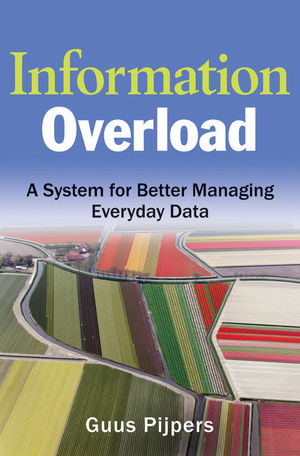 World-class guidance on using information to achieve better performance
Examining the characteristics of information and the latest findings in cognitive science, this book shows how the mind works, how it can be used to think optimally about your business, and how to improve business performance with better information management practices.
Provides the process and tools necessary to identify this information and how to remember it, and how to better use the people around you to obtain the best information
Reveals how to handle all of the hundreds of pieces of information received daily
Provides case studies as well as checklists that show managers how to implement the methodology presented in the book
Innovative and ahead of its time, this book helps you take control of all the information that enters your life, get better informed, and have more time for the important issues you face within your business.
See More
Preface.
Acknowledgements.
Part I The Principles.
CHAPTER 1: Information on Information.
History of Information.
Meaning of Information.
Characteristics of Information.
Attributes of Information.
A Definition of Information.
Value of Information.
Notes.
CHAPTER 2: A Lot of Information.
Concept of Information Overload.
Definitions of Information Overload.
Collecting Mania.
Collecting Strategies.
Barriers to Information Use.
Symptoms of Information Overload.
Causes of Information Overload.
Information Overload Today.
Notes.
CHAPTER 3: Brain Matters.
History of Our Brain.
Brain Facts.
Brain Metaphors.
Types of Memory.
Remembering and Recalling.
Left Brain versus Right Brain.
Dreaming.
Mirroring.
CHAPTER 4: We People.
Some Observations.
Information Behavior.
Information Behavior Theories.
Conclusion.
Notes.
Part II In Practice.
CHAPTER 5: Information Profile.
A Person's Background.
Information Aptitude.
Information Attitude.
Information Handling.
Conclusion.
Notes.
CHAPTER 6: Mind Your Brain.
Sensitive Information.
Mixed Feelings.
Food for Thought.
Brain Muscles.
CHAPTER 7: Brain at Work.
Pay Attention.
Remember to Remember.
Remember to Forget.
Stop!
Notes.
CHAPTER 8: The Information Brain.
Search and Find.
Save Everything.
Order, Please.
Filter.
Information Pruning.
Notes.
CHAPTER 9: Information at Work.
Learn Smarter.
Information Productivity.
Smart Information Workers.
Technology Smart.
Notes.
CHAPTER 10: Clever Communication.
Communicate Information.
Storytelling.
Picture Perfect.
Navigating the Information Sea.
Notes.
CHAPTER 11: People at Work.
Smart People.
Managing Information Workers.
Timing Is Everything.
Seasoned Citizens.
Notes.
References.
Index.
See More
GUUS PIJPERS (guuspijpers.com) is Managing Director of Acuerdis, a consulting company that offers business solutions to organizations that recognize the key role that information plays in organizational success. In addition, he is an Associate Professor of Information Behavior at TiasNimbas Business School in Tilburg, Netherlands, and an Academic Advisor at the Institute for Innovation and Information Productivity. He has over twenty-five years of extensive experience in information and information usage at every corporate managerial level, as chief information officer at Philips Electronics and a consultant and IT auditor at KPMG. He is currently working with a number of companies on programs aimed at implementing the new world of work for the people-ready business.
See More