The Leadership Challenge: How to Make Extraordinary Things Happen in Organizations, 5th Edition
ISBN: 978-0-470-65172-8
416 pages
July 2012, Jossey-Bass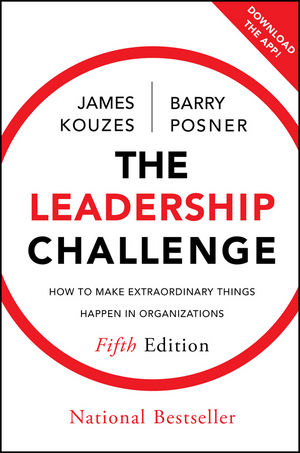 The 25th anniversary edition of the bestselling business classic, completely revised and updated
For more than 25 years, The Leadership Challenge has been the most trusted source on becoming a better leader, selling more than 2 million copies in over 20 languages since its first publication. Based on Kouzes and Posner's extensive research, this all-new edition casts their enduring work in context for today's world, proving how leadership is a relationship that must be nurtured, and most importantly, that it can be learned.
Features over 100 all-new case studies and examples, which show The Five Practices of Exemplary Leadership in action around the world
Focuses on the toughest organizational challenges leaders face today
Addresses changes in how people work and what people want from their work
An indispensable resource for leaders at all levels, this anniversary edition is a landmark update and must-read.
See More
Introduction: Making Extraordinary Things Happen in Organizations 1
1 When Leaders Are at Their Best 9
The Five Practices of Exemplary Leadership—Leadership Is a Relationship—Putting It All Together: Credibility Is the Foundation
PRACTICE 1 MODEL THE WAY 41
2 Clarify Values 43
Find Your Voice—Affirm Shared Values
3 Set the Example 71
Live the Shared Values—Teach Others to Model the Values
PRACTICE 2 INSPIRE A SHARED VISION 99
4 Envision the Future 101
Imagine the Possibilities—Find a Common Purpose
5 Enlist Others 127
Appeal to Common Ideals—Animate the Vision
PRACTICE 3 CHALLENGE THE PROCESS 155
6 Search for Opportunities 157
Seize the Initiative—Exercise Outsight
7 Experiment and Take Risks 185
Generate Small Wins—Learn from Experience
PRACTICE 4 ENABLE OTHERS TO ACT 213
8 Foster Collaboration 215
Create a Climate of Trust—Facilitate Relationships
9 Strengthen Others 241
Enhance Self-Determination—Develop Competence and Confidence
PRACTICE 5 ENCOURAGE THE HEART 271
10 Recognize Contributions 273
Expect the Best—Personalize Recognition
11 Celebrate the Values and Victories 301
Create a Spirit of Community—Get Personally Involved
12 Leadership Is Everyone's Business 329
Look to Leaders Everywhere—Know How Important You Are—Practice—Reflect—Remain Humble and Human—Seize the Moment—Remember the Secret to Success in Life
Notes 347
Acknowledgments 375
About the Authors 379
Index 383
For Tae and Jackie with all our love. Thank you for all you do and all that you have given us.
See More
James Kouzes is the Dean's Executive Fellow of Leadership, Leavey School of Business at Santa Clara University, and lectures on leadership around the world to corporations, governments, and nonprofits.
Barry Posner is Accolti Professor of Leadership and former Dean (1997-2009) of the Leavey School of Business, Santa Clara University. An accomplished scholar, he also provides leadership workshops and seminars around the world.
Kouzes and Posner are the authors of Credibility, The Truth About Leadership, A Leader's Legacy, Encouraging the Heart, and The Student Leadership Challenge, among many other works. They also developed the highly acclaimed Leadership Practices Inventory (LPI).
Visit www.leadershipchallenge.com to learn more.
Download the app The Leadership Challenge Mobile Tool below, which will help you engage with and act on the ideas in this book.
See More
July 26, 2012
THE LEADERSHIP CHALLENGE
Connect with Wiley Publicity
Celebrating 25 Years of The Leadership Challenge:
The Bestselling Book That Has Changed the Way People Lead
The award-winning, bestselling, classic book by Jim Kouzes and Barry Posner that has been the basis for the powerhouse leadership development business marks its 25th year in print with a new anniversary edition. Featuring an interactive companion App and over 100 new case studies, this fully revised edition shows that even when times change, the need for good leadership endures.
"I think this is the greatest book on leadership ever written..."
Marshall Goldsmith
Bestselling author, MOJO and What Got You Here Won't Get You There
A quarter century after it was first published, The Leadership Challenge: How to Make Extraordinary Things Happen in Organizations (Jossey-Bass; August 2012) is now read in more than 22 languages and has sold more than two million copies worldwide. Jim Kouzes and Barry Posner, the visionary and pioneering authors of the book that has inspired a global leadership campaign, have been researching leadership and developing leaders for more than thirty years. In their breakthrough book, originally published in 1987, they famously turned the abstract concept of leadership into something that can be readily understood and reliably taught.
The Leadership Challenge quickly established Kouzes and Posner, two emerging scholars and executive education professionals at Santa Clara University, into major industry thought-leaders.
Both authors' presence in academia is legendary; over the years they have written or contributed to over 50 books and resources on leadership and over 100 journal articles. The Leadership Practices Inventory (LPI), their 360-degree assessment instrument that measures the leadership behaviors described in The Leadership Challenge model, has over three million recorded responses from individuals worldwide; it is a global standard for developing leadership talent. The combination of books, programs, assessments, videos and digital offerings are all designed with one single goal in mind: to liberate the leader within everyone. Kouzes and Posner determined that the most successful, respected leaders engage in The Five Practices of Exemplary Leadership, which are at the heart of The Leadership Challenge. People who effectively demonstrate these leadership practices, regardless of their organizational position or field, make an enormous contribution:
Model the Way: Leaders clarify values by finding their voice and affirming shared values, and they set the example by aligning actions with shared values.
Inspire a Shared Vision: Leaders envision the future by imagining exciting, ennobling possibilities, and they enlist others in a common vision by appealing to shared aspirations.
Challenge the Process: Leaders search for opportunities by seizing the initiative and looking outward for innovative ways to improve. They experiment and take risks by constantly generating small wins and learning from experience.
Enable Others to Act: Leaders foster collaboration by building trust and facilitating relationships. They strengthen others by enhancing self-determination and developing competence.
Encourage the heart: Leaders recognize contributions by showing appreciation for individual excellence. They celebrate values and victories by creating a spirit of community.

This 25th anniversary edition offers over 100 new case studies and addresses issues modern leaders face, such as flexible work arrangements and distributed global workforces. It also comes with a companion App—The Leadership Challenge Mobile Tool—that is designed to enhance the reading experience by helping the reader engage with and act on ideas presented in the book. Kouzes and Posner offer powerful, practical tools and guidance to help everyone—including managers at all levels, government and community leaders, physicians, coaches, teachers, and students—learn how to mobilize others to make extraordinary things happen at work, home, school, in the community and in any organization, discipline, or country.
Common thinking is that people are either born leaders or they are not. Kouzes and Posner make it clear that becoming an exemplary leader is not something you're born with. It's a set of skills and abilities that are learnable by anyone with the desire to learn and the will to practice. Twenty-five years after their first written collaboration yielded a major contribution to the field of leadership development, Jim Kouzes and Barry Posner are still writing, researching, traveling, lecturing, and exploring fresh ways to help new generations understand not only why exemplary leadership matters, but also how ultimately leaders can make a difference. One of the many lessons they impart is that leadership development is simply one (very important) form of self-development. Meeting the leadership challenge, they write, is a personal—and daily—challenge for everyone.
THE LEADERSHIP CHALLENGE:
How to Make Extraordinary Things Happen in Organizations
Authors: James Kouzes and Barry Posner
Publication date: August 1, 2012
ISBN: 978-0-47065172-8; 416 pages; $29.95
----
www.theleadershipchallenge.com
Facebook.com/KouzesPosner
On Twitter: @TLCTalk; @KouzesPosner
Linkedin.com/groups/Leadership-Challenge
About Jossey-Bass™
Jossey-Bass provides tools, services and publications that inform and inspire those committed to developing themselves, their organizations and their communities. Jossey-Bass' publications feature the work of some of the world's most respected authors in leadership, management, business, nonprofit, K-12 and Higher Education, and public health. For more information, visit josseybass.com. Jossey-Bass is an imprint of Wiley.
See More
Instructors Resources
Request a print evaluation copy
Contact us

See More
See Less
Learn more about