A Companion to Dwight D. Eisenhower
ISBN: 978-0-470-65521-4
592 pages
April 2017, Wiley-Blackwell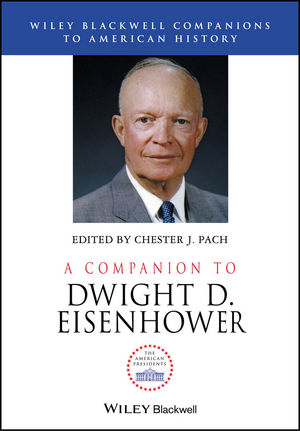 A Companion to Dwight D. Eisenhower
brings new depth to the historiography of this significant and complex figure, providing a comprehensive and up-to-date depiction of both the man and era.
Thoughtfully incorporates new and significant literature on Dwight D. Eisenhower
Thoroughly examines both the Eisenhower era and the man himself, broadening the historical scope by which Eisenhower is understood and interpreted
Presents a complete picture of Eisenhower's many roles in historical context: the individual, general, president, politician, and citizen
This Companion is the ideal starting point for anyone researching America during the Eisenhower years and an invaluable guide for graduate students and advanced undergraduates in history, political science, and policy studies
Meticulously edited by a leading authority on the Eisenhower presidency with chapters by international experts on political, international, social, and cultural history
See More
Notes on Contributors x
Introduction: Eisenhower, Yesterday and Today 1
Chester J. Pach
Part I General of the Army 7
1 Years of Preparation, 1890–1941 9
Jonathan Reed Winkler
2 Eisenhower in World War II 26
Nicholas Evan Sarantakes
3 Eisenhower and the Onset of the Cold War, 1945–1949 57
Thomas Bruscino
4 Eisenhower as NATO Commander 73
Andrew M. Johnston
Part II President 93
Ike's America 95
5 The Baby Boom, Youth Culture, and Family Life 96
Carolyn Herbst Lewis
6 Cities and Suburbs in the Eisenhower Era 114
Amy L. Scott
7 American Politics at Mid-Century 134
Gary W. Reichard
Leadership and Politics 151
8 Eisenhower Republicanism 152
Steven Wagner
9 Leadership and Decision-Making 169
Richard V. Damms
Domestic Policy 189
10 Eisenhower, the Red Scare, and Domestic Anticommunism 190
Andrew J. Falk
11 Eisenhower and African American Civil Rights 207
David A. Nichols
12 Managing the Economy 227
Iwan Morgan
13 Eisenhower and Social Welfare 246
Andrew Morris
14 Natural Resources, Conservation, and the Environment 264
J. Brooks Flippen
National Security and the Cold War 280
15 Eisenhower and the Korean War 281
James I. Matray
16 Eisenhower's National Security Policies 308
David L. Snead
17 Eisenhower, Nuclear Weapons, and Arms Control 327
Philip Nash
18. Eisenhower, the CIA, and Covert Action 350
James Callanan
19 Propaganda and Public Diplomacy 370
Kenneth Osgood
America and the World 394
20 NATO, Western Europe, and the Eisenhower Administration 395
Robert T. Davis II
21 Special or Not So Special? Anglo-American Relations 417
Michael F. Hopkins
22 Eisenhower and Latin America 435
Stephen G. Rabe
23 Eisenhower, China, and Taiwan 453
Scott Kaufman
24 Eisenhower and the Third World 472
Kevin E. Grimm
25 Eisenhower, Indochina, and Vietnam 494
Kathryn C. Statler
26 The Arab–Israeli Dispute and the Middle East 517
Peter L. Hahn
Part III Citizen 535
27 After the Presidency 537
Stephen T. Pfeffer
Index 555
See More
Chester J. Pach is a faculty member in the History Department at Ohio University. He is a preeminent historian in the field of U.S. foreign relations and a leading authority on the Eisenhower presidency. Pach is the author of The Presidency of Dwight D. Eisenhower (rev. ed.); Arming the Free World: The Origins of the United States Military Assistance Program, 1945-1950; and The Johnson Years. He continues to update the section on Eisenhower's foreign policy for the online version of American Foreign Relations Since 1600: A Guide to the Literature.
See More
More in this series