Textbook
The Student's Companion to Social Policy, 4th Edition
ISBN: 978-0-470-65565-8
496 pages
January 2012, ©2012, Wiley-Blackwell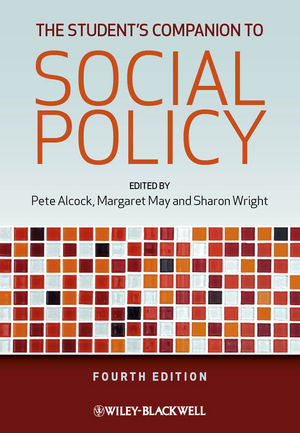 The fourth edition of The Student's Companion to Social Policy maintains the text's inimitable and best-selling approach. Written by a wide range of experts in the field, it has been extensively updated and revised to take account of recent developments and debates and changing political and economic configurations.
Includes an additional five chapter section on the key themes and issues in the development of social policy in the UK since the nineteenth century
New to this edition are chapters addressing emergent areas in the discipline, new illustrative material, problem-centred review questions, and a dedicated website
Provides students with a 'Companion' which is so comprehensive that it can be used throughout their undergraduate and/or postgraduate studies
Meets the needs both of those specializing in social policy or policy-related occupations and the wide range of students studying it as part of other programmes
Enhanced by a website available at www.wiley.com/go/alcock4e, featuring student resources including chapter overviews, study questions, videos, resource guides, and more
See More
Contributors viii
Acknowledgements xv
Introduction 1
Part I Concepts and Approaches 3
1 The Subject of Social Policy 5
Pete Alcock
2 Approaches and Methods 12
Saul Becker
3 Social Needs, Social Problems, and Social Welfare and Well-being 19
Nick Manning
4 Equality, Rights, and Social Justice 26
Peter Taylor-Gooby
5 Equalities and Human Rights 33
Suzi Macpherson
6 Efficiency, Equity, and Choice 40
Carol Propper
7 Altruism, Reciprocity, and Obligation 48
Hilary Land
Part II Key Perspectives 55
8 Neo-liberalism 57
Nick Ellison
9 The Conservative Tradition 64
Hugh Bochel
10 Social Democracy 70
Robert M. Page
11 Socialist Perspectives 77
Hartley Dean
12 Feminist Perspectives 83
Shona Hunter
13 Green Perspectives 90
Michael Cahill
14 Postmodernist Perspectives 96
Tony Fitzpatrick
Part III Historical Context 103
15 History and Social Policy 105
David Gladstone
16 Nineteenth-Century Beginnings 111
Bernard Harris
17 The Liberal Era and the Growth of State Welfare 117
Noel Whiteside
18 The Post-war Welfare State 124
Robert M. Page
19 Crisis, Retrenchment, and the Impact of Neo-liberalism (1976–1997) 130
Howard Glennerster
20 Modernization and the Third Way 135
Martin Powell
Part IV Contemporary Context 143
21 Demography 145
Jane Falkingham and Athina Vlachantoni
22 Economic Policy and Social Policy 153
Rob Sykes
23 Religion 160
Rana Jawad
24 Family Policy 166
Jane Millar and Tina Haux
25 Divisions and Difference 173
Sharon Wright
26 Poverty and Social Exclusion 180
Pete Alcock
27 The Distribution of Welfare 187
John Hills
28 The Policy Process 195
Hugh Bochel
29 Evaluation and Evidence-based Social Policy 201
Martin Powell
Part V Welfare Production and Provision 207
30 State Welfare 209
Catherine Bochel
31 Commercial Welfare 215
Chris Holden
32 Occupational Welfare 221
Edward Brunsdon and Margaret May
33 Voluntary Welfare 228
Jeremy Kendall
34 Informal Welfare 234
Hilary Arksey and Caroline Glendinning
35 Paying for Welfare 241
Howard Glennerster
36 Taxation and Welfare 248
Fran Bennett
37 Citizenship and Access to Welfare 255
Ruth Lister and Peter Dwyer
Part VI Welfare Governance 263
38 Managing and Delivering Welfare 265
John Clarke
39 Accountability for Welfare 271
Jackie Gulland
40 Welfare Users and Social Policy 278
Marian Barnes
41 Local and Regional Government and Governance 284
Guy Daly and Howard Davis
42 Social Policy and Devolution 291
Richard Parry
43 Social Policy and the European Union 298
Linda Hantrais
44 International Organizations 306
Nicola Yeates
Part VII Welfare Services 315
45 Income Maintenance and Social Security 317
Stephen McKay and Karen Rowlingson
46 Employment 324
Alan Deacon and Ruth Patrick
47 Health Care 331
Rob Baggott
48 Education in Schools 338
Anne West
49 Lifelong Learning and Training 345
Claire Callender
50 Housing 352
David Mullins and Alan Murie
51 Social Care 359
Jon Glasby
52 Criminal Justice 366
Tim Newburn
Part VIII Services for Particular Groups 375
53 'Race'and Social Welfare 377
Lucinda Platt
54 Children 385
Tess Ridge
55 Young People 392
Bob Coles
56 Older People 399
Kirk Mann and Gabrielle Mastin
57 Disability 405
Mark Priestley
58 Migrants and Asylum Seekers 412
Alice Bloch
Part IX International Issues 419
59 Comparative Analysis 421
Margaret May
60 Social Policy in Europe 428
Jochen Clasen
61 Social Policy in Liberal Market Societies 434
Michael Hill
62 Social Policy in East Asian Societies 440
Michael Hill
63 Social Policy in Middle Eastern Societies 447
Rana Jawad
64 Social Policy in Developing Societies 455
Patricia Kennett
Appendix: The Social Policy Association (SPA) 462
Index 464
See More
Pete Alcock is Professor of Social Policy and Administration and Director of the ESRC Third Sector Research Centre, University of Birmingham.
Margaret May is Honorary Research Fellow in the School of Social Policy and CHASM, University of Birmingham
Sharon Wright is Deputy Head of Sociology, Social Policy and Criminology and lecturer, in the School of Applied Social Science, University of Stirling.
See More
Includes an additional five chapter section on the key themes and issues in the development of social policy in the UK since the nineteenth century
New to this edition are chapters addressing emergent areas in the discipline, new illustrative material, problem-centred review questions, and a dedicated website
See More
The fourth edition has been extensively revised and is again written by experts at the forefront of the discipline
Includes an additional five chapter section on the key themes and issues in the development of social policy in the UK since the nineteenth century
New to this edition are chapters addressing emergent areas in the discipline, new illustrative material, problem-centred review questions, and a dedicated website
Provides students with a 'Companion' which is so comprehensive that it can be used throughout their undergraduate and/or postgraduate studies
Meets the needs both of those specialising in social policy or policy-related occupations and the wide range of students studying it as part of other programmes
See More