A Companion to Creative Writing
ISBN: 978-0-470-65693-8
450 pages
May 2013, Wiley-Blackwell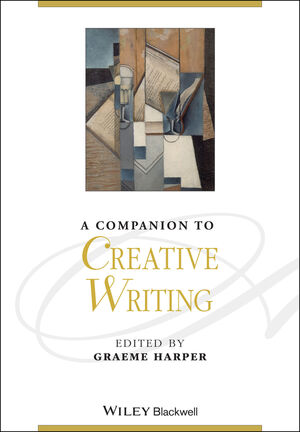 A Companion to Creative Writing comprehensively considers key aspects of the practice, profession and culture of creative writing in the contemporary world.
The most comprehensive collection specifically relating to the practices and cultural and professional place of creative writing
Covers not only the "how" of creative writing, but many more topics in and around the profession and cultural practices surrounding creative writing
Features contributions from international writers, editors, publishers, critics, translators, specialists in public art and more
Covers the writing of poetry, fiction, new media, plays, films, radio works, and other literary genres and forms
Explores creative writing's engagement with culture, language, spirituality, politics, education, and heritage
See More
Notes on Contributors ix
Foreword by Sir Andrew Motion xiii
Introduction 1
Graeme Harper
Part I Creative Writing 7
1 The Architecture of Story 9
Lorraine M. López
2 Writing Creative Nonfiction 24
Bronwyn T. Williams
3 Writing Poetry 40
Nigel McLoughlin
4 Writing for Children and Young Adults 56
Kathleen Ahrens
5 Write on! Practical Strategies for Developing Playwriting 71
Peter Billingham
6 Writing for Sound/Radio 86
Steve May
7 Writing the Screenplay 98
Craig Batty
8 New Media Writing 115
Carolyn Handler Miller
9 How to Make a Pocket Watch: The British Ph.D. in Creative Writing 129
Simon Holloway
10 Creative Writing and the Other Arts 144
Harriet Edwards and Julia Lockheart
Part II The Creative Writer's Profession 161
11 Agents, Publishers, and Booksellers: A Historical Perspective 163
John Feather
12 The Changing Role of the Editor: Editors Past, Present, and Future 179
Frania Hall
13 Translation as Creative Writing 195
Manuela Perteghella
14 Creative Writing and "the lash of criticism" 213
Steven Earnshaw
15 But What's Really at Stake for the Barbarian Warrior? Developing a Pedagogy for Paraliterature 229
Jeffrey S. Chapman
16 Creative Writing and Education 245
Jeri Kroll
17 The Rise and Rise of Writers' Festivals 263
Cori Stewart
18 Creative Writing Research 278
Graeme Harper
19 Literary Prizes and Awards 291
Claire Squires
Part III Creative Writing in the World 305
20 D.H. Lawrence, Forever on the Move: Creative Writers and Place 307
Louise DeSalvo
21 The Psychology of Creative Writing 320
Marie J.C. Forgeard, Scott Barry Kaufman, and James C. Kaufman
22 Creative Writing around the World 334
Matthew McCool
23 Creative Hauntings: Creative Writing and Literary Heritage at the British Library 348
Jamie Andrews
24 Politics 357
Jon Cook
25 Creative Writing and the Cold War University 377
Eric Bennett
26 "To the imagination, the sacred is self-evident": Thoughts on Spirituality and the Vocation of Creative Writing 393
J. Matthew Boyleston
27 The Writer-Teacher in the United States: The Place of Teachers in the Community of Writers 405
Patrick Bizzaro
28 Creative Writing to the Future 421
Graeme Harper
Index 433
See More
Graeme Harper is a Professor of Creative Writing and Director of The Honors College at Oakland University, Michigan. He has also been a Professor and Honorary Professor of Creative Writing in the UK and in Australia. His recent publications include Inside Creative Writing: Interviews with Contemporary Writers (2012) and On Creative Writing (2010). Writing as Brooke Biaz, his works include The Invention of Dying (2012) and Small Maps of the World (2006). Harper is also Editor of New Writing: the International Journal for the Practice and Theory of Creative Writing.
See More