Forensic Botany: A Practical Guide
ISBN: 978-0-470-66123-9
Paperback
216 pages
June 2012, Wiley-Blackwell
US $79.95

Add to Cart
This price is valid for United States. Change location to view local pricing and availability.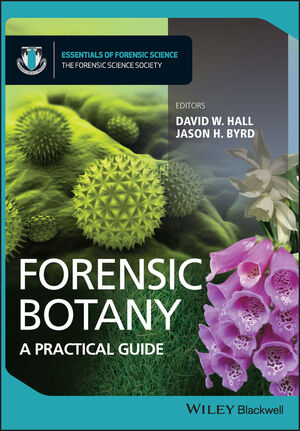 List of contributors ix
Series Foreword xi
Prologue: the begining xiii
1 Introduction to forensic botany 1
David W. Hall, Ph.D.
Botanical evidence in legal investigations 1
Legal plant definition 2
Botanical evidence in legal investigations 3
Alibis 5
Timing 5
Gravesite growth 9
Stomach contents 11
Summary 11
2 Plants as evidence 12
David W. Hall, Ph.D.
Types of plants 12
Nonplant groups traditionally studied by botanists 22
Plant habitats and associations 25
Plant characteristics/plant morphology 26
Basic plant characteristics for the forensic investigator 28
Habit 28
Plant dispersal 41
3 Evidence collection and analysis 45
David W. Hall, Ph.D. and Jason H. Byrd, Ph.D.
Initial crime scene notation 55
Where to search for evidence 56
Storage 61
Documentation of botanical evidence 61
How to have botanical evidence analysed 62
Where to find a botanist 63
Types of cases 63
Evidence analysis 63
Laboratory report 65
Transportation of botanical evidence 66
Evidence retention and disposition 66
Step-wise method for the collection of botanical evidence 68
Appendix 3.1 70
Crime scene data 70
Habitat documentation 70
Scene location 70
Collection information needed for each botanical sample 70
Appendix 3.2 72
Botany field data sheet 72
Appendix 3.3 76
Botany laboratory examination data format 76
Appendix 3.4 78
Evidence log 78
4 Expert evidence 79
Bernard A. Raum JD, MFS
The common law 79
The United States experience 80
The decision in Frye v. United States 81
The codified federal rules of evidence 82
The decision in Daubert v. Merrill Dow25 85
The scientific method 86
The "pure opinion" rule 87
The United Kingdom experience 88
The criminal procedure rules 2010, s.33 90
The law commission consultation paper no. 190 92
5 Use and guidelines for plant DNA analyses in forensics 93
Matthew A. Gitzendanner, Ph.D.
Introduction 93
Types of samples and collection for DNA analyses 94
Uses of genetic data 95
Genotyping methods 98
Finding a laboratory for analysis 102
Case studies 102
Conclusions 104
References 104
6 A primer on forensic microscopy 107
Christopher R. Hardy, Ph.D.
Microscopes and microscopic botanical structures relevant to forensic botany 107
The importance of reference collections in microscopic analysis 115
Preparation and documentation of specimen evidence for microscopic examination 116
References 118
7 Plant anatomy 119
David W. Hall, Ph.D. and William Stern, Ph.D.
The lindbergh case 121
Further reading 126
8 Palynology, pollen, and spores, partners in crime: what, why, and how 127
Anna Sandiford, Ph.D.
Terminology 127
What are pollen and spores? 127
Where are they found and how do they travel? 129
What does pollen look like? 130
The use of pollen for non-forensic work 132
The use of pollen in the forensic setting 132
When should pollen samples be collected? 134
How to collect and store pollen samples 134
How many samples to collect? 138
Who can collect pollen samples and where can an analyst be found? 139
Costs and turnaround times 140
Case examples 140
Summary 142
References 143
9 Algae in forensic investigations 145
Christopher R. Hardy, Ph.D. and John R. Wallace, Ph.D.
Finding an algal botanist and identifying algae 145
Algal diversity 146
Application of algal evidence in forensic investigations 154
Collection and processing of algal evidence in forensic investigations 165
Acknowledgements 172
References 172
10 Case Studies in forensic botany 174
David W. Hall, Ph.D.
Placing people or objects at scenes 174
Determining time of death 181
Index 189