Manufacturing the Bespoke: Making and Prototyping Architecture
ISBN: 978-0-470-66582-4
280 pages
April 2012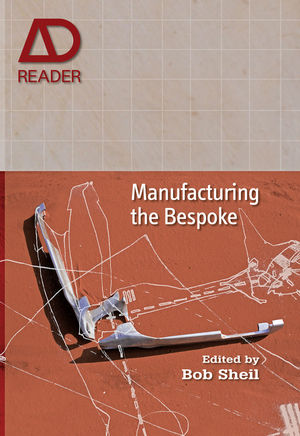 The essential reader on fabrication in architecture for practitioners and producers alike
An original and informative reader on the subject of translating architectural ideas from conceptual propositions to physical manifestations, Manufacturing the Bespoke is an essential resource for students and practitioners of architecture, as well as producers and suppliers of architectural products.
At a time where roles, methods and capabilities within the disciplines of building production are in unprecedented flux, this book:
Provides a unique and highly current treatment on the subject of fabrication in architecture with its emphasis on contemporary technology, cultural history and theory
A key source book for students and professionals engaged in manufacturing/fabrication projects
Includes extended articles by internationally renowned critics, theorists, educators and designers, such as Mathias Kohler, Nevi Oxman, and Michael Stacey
Articles will examine and refer to key portfolios of the 20th and 21st Century including works by Pierre Charreau, Peter Salter and Rural Studio
Featuring essays from pioneering architects, engineers, academics and designers from around the world on both existing and yet-to-be-built projects, the book covers architecture across the ages.
See More
6 Introduction
Bob Sheil
14 From Making the Bespoke to Manufacturing the Bespoke
Bob Sheil
28 The Bespoke is a Way of Working, Not a Style
Stephen Gage
42 Models, Prototypes and Archetypes: Fresh Dilemmas Emerging from the 'File to Factory' Era
Mark Burry
58 Digital Craft in the Making of Architecture
Michael Stacey
78 R-O-B: Towards a Bespoke Building Process
Tobias Bonwetsch, Fabio Gramazio and Matthias Kohler
88 The Matter of Pochoir and the Imaging of the Maison de Verre
Mary Vaughan Johnson
102 Soil and Protoplasm Designing the Hylozoic Ground Component System
Philip Beesley
120 Wai Mer Road
Peter Salter
132 The Fore Cast
Mark West
146 Drawing Out an Indeterminate Duration
Nat Chard
162 Incisions in the Haze
Kate Davies and Emmanuel Vercruysse; Liquidfactory
174 An Interview with Frank Fantauzzi from Iceberg Project
Natalija Subotincic
182 Grymsdyke Farm: An Enquiry into Making on Site
Guan Lee
194 The Rural Studio: Between a Twister and a Hurricane
Anderson Inge
208 Fractal, Bad Hair, Swoosh and Driftwood: Pavilions of AA Intermediate Unit 2, 2006-09
Charles Walker and Martin Self
220 Microstructure, Microstructure and the Steering of Material Proclivities
Phil Ayres
238 Print to Protocell
Rachel Armstrong
248 Large-Scale Additive Fabrication: Freeform Construction
Xavier De Kestelier and Richard Buswell
256 Material Computation
Neri Oxman
266 Models of Risk: Craft Past and Present in Prototyping for Human Space Flight
Constance Adams
276 Index
See More
Bob Sheil is the Director of Technology and Computing at the Bartlett School of Architecture, University College London. He is a founding partner in sixteen*(makers), a workshop-based architectural practice, whose work has been widely published and exhibited internationally. He guest-edited ADDesign through Making(July/August 2005, John Wiley & Sons Ltd), and ADProtoarchitecture(May/June 2008, John Wiley & Sons Ltd).
See More
Buy Both and Save 25%!
Manufacturing the Bespoke: Making and Prototyping Architecture (US $55.00)
-and- The Post-Modern Reader, 2nd Edition (US $45.00)
Total List Price: US $100.00
Discounted Price: US $75.00 (Save: US $25.00)
Cannot be combined with any other offers. Learn more.