From GSM to LTE: An Introduction to Mobile Networks and Mobile Broadband
ISBN: 978-0-470-66711-8
Hardcover
450 pages
February 2011
US $105.00

Add to Cart
This price is valid for United States. Change location to view local pricing and availability.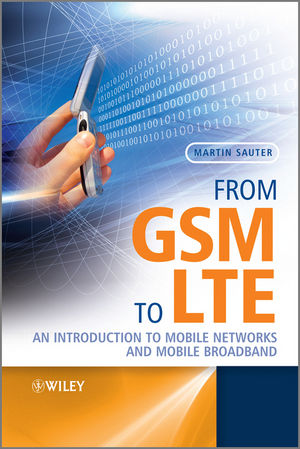 This is a Print-on-Demand title. It will be printed specifically to fill your order. Please allow an additional 5-6 days delivery time. The book is not returnable.
Other Available Formats:
E-book
Preface.
List of Figures.
List of Tables.
List of Abbreviations.
1 Global System for Mobile Communications (GSM).
1.1 Circuit-Switched Data Transmission.
1.2 Standards.
1.3 Transmission Speeds.
1.4 The Signaling System Number 7.
1.5 The GSM Subsystems.
1.6 The Network Subsystem.
1.7 The Base Station Subsystem (BSS) and Voice Processing.
1.8 Mobility Management and Call Control.
1.9 The Mobile Device.
1.10 The SIM Card.
1.11 The Intelligent Network Subsystem and CAMEL.
1.12 Questions.
References.
2 General Packet Radio Service (GPRS) and EDGE.
2.1 Circuit-Switched Data Transmission over GSM.
2.2 Packet-Switched Data Transmission over GPRS.
2.3 The GPRS Air Interface.
2.4 The GPRS State Model.
2.5 GPRS Network Elements.
2.6 GPRS Radio Resource Management.
2.7 GPRS Interfaces.
2.8 GPRS Mobility Management and Session Management (GMM/SM).
2.9 Session Management from a User Point of View.
2.10 Small Screen Web Browsing over GPRS and EDGE.
2.11 The Multimedia Messaging Service (MMS) over GPRS.
2.12 Web Browsing via GPRS.
2.13 Questions.
References.
3 Universal Mobile Telecommunications Systems (UMTS) and High-Speed Packet Access (HSPA).
3.1 Overview, History and Future.
3.2 Important New Concepts of UMTS.
3.3 Code Division Multiple Access (CDMA).
3.4 UMTS Channel Structure on the Air Interface.
3.5 The UMTS Terrestrial Radio Access Network (UTRAN).
3.6 Core Network Mobility Management.
3.7 Radio Network Mobility Management.
3.8 UMTS CS and PS Call Establishment.
3.9 UMTS Security.
3.10 High-Speed Downlink Packet Access (HSDPA) and HSPA+.
3.11 High-Speed Uplink Packet Access (HSUPA).
3.12 Radio and Core Network Enhancements: CPC and One Tunnel.
3.13 HSPA Performance in Practice.
3.14 UMTS and CDMA2000.
3.15 Questions.
References.
4 Long Term Evolution (LTE).
4.1 Introduction and Overview.
4.2 Network Architecture and Interfaces.
4.3 FDD Air Interface and Radio Network.
4.4 TD-LTE Air Interface.
4.5 Scheduling.
4.6 Basic Procedures.
4.7 Mobility Management and Power Optimization.
4.8 LTE Security Architecture.
4.9 Interconnection with UMTS and GSM.
4.10 Interworking with CDMA2000 Networks.
4.11 Network Planning Aspects.
4.12 Voice and SMS over LTE.
4.13 Backhaul Considerations.
4.14 LTE-Advanced (3GPP Release 10).
4.15 Questions.
References.
5 IEEE 802.16 and WiMAX.
5.1 Overview.
5.2 Standards, Evolution and Profiles.
5.3 WiMAX PHYs for Point-to-Multipoint FDD or TDD Operation.
5.4 Physical Layer Framing.
5.5 Ensuring Quality of Service.
5.6 MAC Management Functions.
5.7 MAC Management of User Data.
5.8 Security.
5.9 Advanced 802.16 Functionalities.
5.10 Mobile WiMAX: 802.16e.
5.11 WiMAX Network Infrastructure.
5.12 Questions.
References.
6 Wireless Local Area Network (WLAN).
6.1 Wireless LAN Overview.
6.2 Transmission Speeds and Standards.
6.3 WLAN Configurations: From Ad Hoc to Wireless Bridging.
6.4 Management Operations.
6.5 The MAC Layer.
6.6 The Physical Layer and MAC Extensions.
6.7 Wireless LAN Security.
6.8 IEEE 802.11e and WMM – Quality of Service.
6.9 Comparison of Wireless LAN and UMTS.
6.10 Questions.
References.
7 Bluetooth.
7.1 Overview and Applications.
7.2 Physical Properties.
7.3 Piconets and the Master/Slave Concept.
7.4 The Bluetooth Protocol Stack.
7.5 Bluetooth Security.
7.6 Bluetooth Profiles.
7.7 Comparison between Bluetooth and Wireless LAN.
7.8 Questions.
References.
Index.