Textbook
Drugs and the American Dream: An Anthology
ISBN: 978-0-470-67027-9
Paperback
456 pages
February 2012, ©2012, Wiley-Blackwell
US $62.95

Add to Cart
This price is valid for United States. Change location to view local pricing and availability.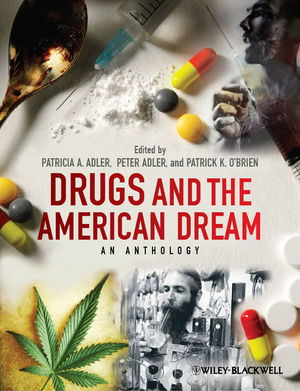 List of Figures and Tables xi
Preface and Acknowledgments xiii
Source Acknowledgments xxii
About the Editors xxviii
About the Contributors xxx
Matrix of Drugs Addressed xliii
Part I: Perspectives on Drug Use 1
History and Theory
1. Harvey A. Siegal and James A. Inciardi: A Brief History of Alcohol 4
2. David F. Musto: The American Disease: Narcotics in Nineteenth-Century America 9
3. James A. Inciardi and Theodore J. Cicero: Black Beauties, Gorilla Pills, Footballs, and Hillbilly Heroin: Prescription Drug Abuse over the Past 40 Years 18
4. Norman E. Zinberg and Wayne M. Harding: Control and Intoxicant Use: A Theoretical and Practical Overview 24
Drug Scares and Moral Panics
5. Joseph R. Gusfield: Symbolic Crusade: Status Politics and the American Temperance Movement 33
6. Craig Reinarman: The Social Construction of Drug Scares 40
7. Justin L. Tuggle and Malcolm D. Holmes: Blowing Smoke: Status Politics and the Smoking Ban 48
8. Dale D. Chitwood, Sheigla Murphy, and Marsha Rosenbaum: Reflections on the Meaning of Drug Epidemics 55
Part II: Social Correlates of Drug Use 61
Race/Ethnicity
9. Todd G. Pierce: Gen-X Junkie: Young White Heroin Users in Washington, DC 64
10. Avelardo Valdez, Kathryn Nowotny, and Alice Cepeda: The Intersection of Drug Use and Crime over the Life Course of Mexican-American Former Gang Members 72
11. Philippe Bourgois and Jeff Schonberg: Righteous Dopefi end 80
12. Karen A. Joe Laidler: The Lives and Times of Asian-Pacific American Women Methamphetamine Users 87
13. Paul Spicer: Toward a (Dys)functional Anthropology of Drinking: Ambivalence and the American Indian Experience with Alcohol 94
Social Class
14. Eloise Dunlap, Andrew Golub, and Bruce D. Johnson: The Severely Distressed African American Family in the Crack Era: Empowerment Is Not Enough 102
15. Matthew Petrocelli, Trish Oberweis, and Joseph Petrocelli: Getting Huge, Getting Ripped: An Exploration of Recreational Steroid Use 112
16. Dean A. Dabney and Richard C. Hollinger: Drugged Druggists: The Convergence of Two Criminal Career Trajectories 120
17. A. Rafi k Mohamed and Erik D. Fritsvold: Why Rich Kids Sell Street Drugs: Wankstaz, Wannabes, and Capitalists in Training 131
Gender
18. Katherine Sirles Vecitis: Drugs and Eating Disorders: Women's Instrumental Drug Use for Weight Control 141
19. Robert L. Peralta: College Alcohol Use and the Embodiment of Hegemonic Masculinity among European American Men 152
20. Monica Hardesty and Timothy Black: Mothering Through Addiction: A Survival Strategy among Puerto Rican Addicts 161
Youth and Aging
21. Patricia A. Adler and Peter Adler: Tinydopers: A Case Study of Deviant Socialization 174
22. Meika Loe and Leigh Cuttino: Grappling with the Medicated Self: The Case of ADHD College Students 184
23. Tammy L. Anderson and Judith A. Levy: Marginality among Older Injectors in Today's Illicit Drug Culture: Assessing the Impact of Ageing 193
24. Miriam Williams Boeri, Claire E. Sterk, and Kirk W. Elifson: Baby Boomer Drug Users: Career Phases, Identity, Self-Concept, and Social Control 203
Part III: Drug Lifestyles 213
Managing Drug Use
25. Brian C. Kelly: Club Drug Use and Risk Management among "Bridge and Tunnel" Youth 215
26. René D. Drumm, Duane C. McBride, Lisa Metsch, Melodie Neufeld, and Alex Sawatsky: "I'm a Health Nut!" Street Drug Users' Accounts of Self-Care Strategies 224
27. José A. Bauermeister: Latino Gay Men's Drug Functionality 231
28. Wendy Chapkis: Cannabis, Consciousness, and Healing 240
29. Patricia A. Adler: The Dealing Lifestyle 249
The Economics of Drugs
30. Lisa Maher and Kathleen Daly: Women in the Street-Level Drug Economy: Continuity or Change? 257
31. Steven D. Levitt and Sudhir Alladi Venkatesh: An Economic Analysis of a Drug-Selling Gang's Finances 266
Crime and Violence
32. Paul J. Goldstein: The Drugs/Violence Nexus: A Tripartite Conceptual Framework 277
33. Bruce A. Jacobs, Volkan Topalli, and Richard Wright: Managing Retaliation: Drug Robbery and Informal Sanction Threats 285
34. Stephanie Brophy: Mexico: Cartels, Corruption, and Cocaine: A Profi le of the Gulf Cartel 295
35. Peter Reuter: Systemic Violence in Drug Markets 305
Part IV: Societal Response to Drug Use 313
Education
36. Earl Wysong and David W. Wright: A Decade of DARE: Efficacy, Politics and Drug Education 316
37. Marsha Rosenbaum: Safety First: A Reality-Based Approach to Teens, Drugs, and Drug Education 327
Treatment
38. George De Leon: The Therapeutic Community: Perspective and Approach 336
39. Lee Garth Vigilant: Illness Narratives of Recovering on Methadone Maintenance 344
40. Robert Granfi eld and William Cloud: The Elephant that No One Sees: Natural Recovery among Middle-Class Addicts 351
41. James L. Nolan, Jr: Drug Treatment Courts and the Disease Paradigm 359
Policy
42. Stanton Peele: Reducing Harms from Youth Drinking 370
43. Duane C. McBride, Yvonne Terry-McElrath, Henrick Harwood, James A. Inciardi, and Carl Leukefeld: Refl ections on Drug Policy 378
44. Ethan Nadelmann: Think Again: Drugs 386
45. Harry G. Levine: The Secret of Global Drug Prohibition: Its Uses and Crises 391
Index 400
Buy Both and Save 25%!
Drugs and the American Dream: An Anthology (US $62.95)
-and- Sociology For Dummies (US $19.99)
Total List Price: US $82.94
Discounted Price: US $62.20 (Save: US $20.74)
Cannot be combined with any other offers. Learn more.