A Companion to American Gothic
ISBN: 978-0-470-67187-0
612 pages
December 2013, Wiley-Blackwell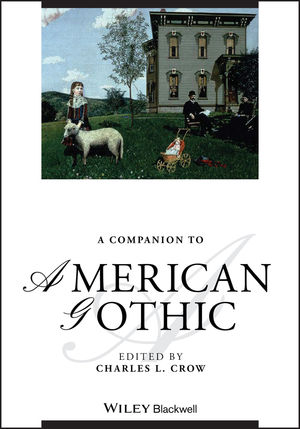 A Companion to American Gothic features a collection of original essays that explore America's gothic literary tradition.
 The largest collection of essays in the field of American Gothic
Contributions from a wide variety of scholars from around the world
 The most complete coverage of theory, major authors, popular culture and non-print media available
See More
Notes on Contributors xi
Preface xvii
Acknowledgments xxiii
Part I Theorizing American Gothic 1
1 The Progress of Theory and the Study of the American Gothic 3
Jerrold E. Hogle
2 Gothic, Theory, Dream 16
David Punter
3 American Ruins and the Ghost Town Syndrome 29
Martin Procházka
4 American Monsters 41
Jeffrey Andrew Weinstock
5 Creation Anxiety in Gothic Metafiction: The Dark Half and Lunar Park 56
Sherry R. Truffin
Part II Origins of American Gothic 69
6 The African American Slave Narrative and the Gothic 71
Teresa A. Goddu
7 Indian Captivity Narratives and the Origins of American Frontier Gothic 84
Matthew Wynn Sivils
8 Early American Gothic Drama 96
Benjamin F. Fisher
9 Charles Brockden Brown: Godfather of the American Gothic 110
Carol Margaret Davison
10 George Lippard and the Rise of the Urban Gothic 124
Chad Luck
Part III Classic American Gothic and Its Legacies 137
11 New England Gothic 139
Faye Ringel
12 Descendentalism and the Dark Romantics: Poe, Hawthorne, Melville, and the Subversion of American Transcendentalism 151
Ted Billy
13 "Gigantic Paradox, Too . . . Monstrous for Solution": Nightmarish Democracy and the Schoolhouse Gothic from "William Wilson" to The Secret History 164
Sherry R. Truffin
14 The Fall of the House, from Poe to Percy: The Evolution of an Enduring Gothic Convention 177
William Moss
15 Henry James's Ghosts 189
Andrew Smith
16 A Sisterhood of Sleuths: The Gothic Heroine, the Girl Detective, and Their Readers 201
Lynette Carpenter
17 They Are Legend: The Popular American Gothic of Ambrose Bierce and Richard Matheson 212
Agnieszka Soltysik Monnet
Part IV American Gothic and Race 223
18 Is There an Indigenous Gothic? 225
Michelle Burnham
19 Gothic Transgressions: Charles W. Chesnutt, Conjure, and the Law 238
Justin D. Edwards
20 Undead Identities: Asian American Literature and the Gothic 249
Andrew Hock Soon Ng
Part V Gothic Modern and Postmodern 265
21 I Am Providence: H.P. Lovecraft 267
Faye Ringel
22 Awful Mystery: Flannery O'Connor as Gothic Artist 279
Chad Rohman
23 Not a Refuge Yet: Shirley Jackson's Domestic Hauntings 290
Dara Downey
24 The Strange Case of Joyce Carol Oates 303
Gavin Cologne-Brookes
25 "Identical Boxes Spreading like Gangrene": Defining the Suburban Gothic 315
Bernice M. Murphy
26 The Cold War Gothic Poetry of Sylvia Plath 328
Kathleen L. Nichols
27 Sexuality and the Twentieth-Century American Vampire 340
William Hughes
28 Why Stephen King Still Matters 353
Tony Magistrale
29 The Ghost of the Counterfeit Child 366
Steven Bruhm
30 Toni Morrison's Gothic: Headless Brides and Haunted Communes 378
Maisha L. Wester
31 When the Blood Trail Comes Full Circle: Cormac McCarthy's Gothic of Guilt 392
Ronja Vieth
32 Becoming-Girl/Becoming-Fly/Becoming-Imperceptible: Gothic Posthumanism in Lynda Barry's Cruddy: An Illustrated Novel 405
Ellen E. Berry
33 Gothic Self-Fashioning in Gibson's Novels: Nature, Culture, Identity, Improvisation, and Cyberspace 418
John Whatley
34 Contemporary Women's Gothic: From Lost Souls to Twilight 433
Gina Wisker
35 Apocalyptic Gothic 447
Arthur Redding
Part VI Gothic in Other Media 461
36 The Darkest Nightmares Imaginable: Gothic Audio Drama from Radio to the Internet 463
Richard J. Hand
37 Film Noir and the Gothic 475
David Fine
38 The American Dream/The American Nightmare: American Gothic on the Small Screen 488
Carol Margaret Davison
39 Digital Games and the American Gothic: Investigating Gothic Game Grammar 503
Tanya Krzywinska
Part VII American Gothic and World Gothic 517
40 Self-Fragmentation, Diseased Landscapes, and other Enigmatic Engagements: American Gothic and the Literatures of East and Southeast Asia 519
Andrew Hock Soon Ng
41 Fluid Bodies: Gothic Transmutations in Carlos Fuentes' Fiction 533
Antonio Alcalá González
42 Let a New Gender In? American Responses to Contemporary Scandinavian Gothicism 547
Carol Siegel
Index 559
See More
Charles L. Crow is Professor Emeritus of English at Bowling Green State University in Ohio.  He is the author of History of the Gothic: American Gothic; editor of A Companion to the Regional Literatures of America, and of the widely used anthology American Gothic (2nd Ed. 2012).
See More
More in this series