Pituitary Disorders: Diagnosis and Management
ISBN: 978-0-470-67201-3
376 pages
May 2013, Wiley-Blackwell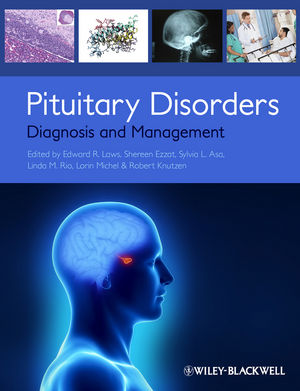 Do you want to be up to date on the latest concepts of diagnosis and treatment of patients suffering from disorders of the pituitary gland?
Are you looking for an expert guide to the best clinical management?
If so, this is the book for you, providing a full analysis of pituitary disorder management from acromegaly to Addison's Disease; from Cushing's Disease to hypopituitarism; from hormone disorders to hormone replacement
Well-illustrated throughout and with contributions from leading specialists in pituitary disease, inside you'll find comprehensive and expert coverage, including:
Diagnosing pituitary disease
Management options for each disorder
Complications that can occur
Psychological and psychosocial effects of pituitary disease
What outcomes you and your patients can expect over the long term
Current research and clinical trials related to pituitary disease
Pituitary Disorders: Diagnosis and Management is the perfect clinical tool for physicians and health care providers from many related disciplines, and an essential companion for the best quality management of pituitary patients.
See More
List of Contributors, xxx
Introduction
Robert Knutzen
SECTION 1: OVERVIEW
1 The Endocrine System
Sylvia L. Asa and Shereen Ezzat
2 Signs and Symptoms of Pituitary Disease Physical
Eva Fernandez-Rodriguez, Ignacio Bernabeu and Felipe F. Casanueva
Emotional
Eva N. Kassi, Gregory A. Kaltsas, George P. Chrousos
Psychosocial Aspects
Valerie Golden
SECTION 2: DISORDERS
3 Acromegaly
Shereen Ezzat
4 Secondary Adrenal Insufficiency
Tobias Else, Richard J. Auchus
5 Adult Growth Hormone Deficiency
T. Brooks Vaughan III, Kristen O Riley, Lewis S Blevins Jr.
6 Pituitary Carcinoma
Sylvia L. Asa
7 Craniopharyngioma
Jessica K. Devin
8 Cushing's Syndrome
Lewis S. Blevins, Jr.
9 Empty Sella Syndrome
Michael C. Oh and Manish K. Aghi
10 Familial pituitary adenomas
Laura C. Hernández-Ramírez, Márta Korbonits
11 FSH and LH Secreting Tumors
Bahram Khazai, Ronald S. Swerdloff and Christina Wang
12 Hypopituitarism
Klara J. Rosenquist and Ursula B. Kaiser
13 Clinically Nonfunctioning Pituitary Adenomas
Brandon A. Miller, Adriana G. Ioachimescu, Nelson M. Oyesiku
14 Prolactinoma
Luis Sobrinho
15 Rathke's Cleft Cysts
Seunggu J. Han, Arman Jahangiri, Manish K. Aghi
16 Thyroid Hormone Deficiency
Whitney W. Woodmansee
17 Thyroid Stimulating Hormone Secreting Tumor
A Lania, L Persani, Paolo Beck-Peccoz
18 Pituitary disorders – specific issues for women
Maria Fleseriu, Christine G.Yedinak,Jessica Brzana and Shirley McCartney
19 Hypogonadism and male sexual function.
Prasanth N. Surampudi, Christina Wang and Ronald Swerdloff
20 Specific to Children
Kathryn Pade and Mitchell E. Geffner
SECTION 3: DIAGNOSING PITUITARY DISORDERS

21 Physical examination
Laurence Katznelson
22 Pituitary Endocrine Function Testing
Shereen Ezzat
SECTION 4: TREATMENT OF PITUITARY DISORDERS

23 Medical management of pituitary adenomas
Paolo Cappabianca, Daniel M. Prevedello, Michelangelo de Angelis, Andressa Bornschein, Leo
F. S. Ditzel Filho, Domenico Solari, Ricardo L. Carrau, Felice Esposito, Danielle de Lara, Luigi M. Cavallo, Annamaria Colao
24 Surgical Pure endoscopic transsphenoidal surgery
Gautam U. Mehta, John A. Jane, Jr
Open transcranial approaches to the sella
Ian F. Dunn
Endoscopic Skull Base Approaches
Tong Yang and Theodore H. Schwartz
Transnasal Endoscope-Assisted Transsphenoidal Approach for Pituitary Tumors
Huy T. Duong and Daniel F. Kelly
25 Stereotactic Radiosurgery for Pituitary Adenomas
Brian J. Williams, Stephen J. Monteith, Jason P. Sheehan
26 Hormone Replacement Therapy Growth Hormone Deficiency in Adults
Joseph A.M.J.L. Janssen and Aart Jan van der Lely
Growth Hormone Deficiency in Children
Alan D. Rogol
Pituitary Hormone Replacement in Women
Adriana G. Ioachimescu
SECTION 5: COMPLICATIONS THAT ACCOMPANY PITUITARY DISEASE
27 Complications of pituitary disease
Cardiac complications of pituitary diseases
Ludovica F. S. Grasso, Alessia Cozzolino, Annamaria Colao
Cognitive dysfunction
Krystallenia I. Alexandraki, Gregory A. Kaltsas, George P. Chrousos
Diabetes insipidus
Marco Faustini-Fustini and Giorgio Frank
Headaches
Paul B. Rizzoli
Obesity
Andrea L. Utz
Osteoporosis
Andrea L. Utz
Permanent hormone deficiency
Andrea L. Utz
Visual Deficits Caused By Pituitary Tumors
Sashank Prasad
SECTION 6: GENERAL PSYCHOLOGICAL AND PSYCHOSOCIAL EFFECTS
28 General Psychological and Psychosocial Effects of Pituitary Disorders
Valerie Golden
SECTION 7: LONG TERM: WHAT YOU AND YOUR PATIENTS CAN EXPECT

29 Living with Pituitary Disease
Jessica K. Devin
SECTION 8: RESEARCH AND CLINICAL TRIALS

30 Research and Clinical Trials
Brittany P. Sumerel and Anthony P. Heaney
SECTION 9: RESOURCES
31 The Fundamentals of Pituitary Pathology
Sylvia L. Asa
Glossary of Pituitary Related Disorders
Pejman Cohan
Index
See More