Family Theories: Foundations and Applications
ISBN: 978-0-470-67340-9
264 pages
September 2016, Wiley-Blackwell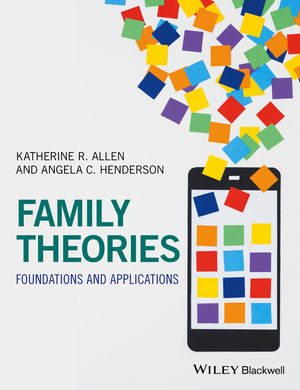 Family Theories: Foundations and Applications presents a comprehensive and accessible approach to the most current perspectives in the field of family theory.
Integrates classic and contemporary writings on family theories
Features compelling case studies drawn from the authors' experiences working with thousands of students
Represents an integrative use of theory, research, and practice
Utilizes the metaphor of "developing your theory app" to translate complex academic ideas into accessible, student-friendly language
See More
Acknowledgments viii
About the Website ix
1 What Is Theory? 1
2 Functionalist Theory 20
3 Conflict Theory 41
4 Symbolic Interactionist Theory 61
5 Family Developmental Theory 82
6 Family Systems Theory 103
7 Social Exchange Theory 124
8 Feminist Theory 145
9 Life Course Theory 166
10 Family Ecological Theory 187
11 Family Stress and Resilience Theory 209
12 Conclusion 230
Glossary 243
Index 249
See More
Katherine R. Allen is Professor of Human Development at Virginia Tech, Blacksburg, VA, where she is a faculty affiliate of the Center for Gerontology, Faculty of Health Sciences, and the Women's and Gender Studies Program. Dr. Allen is also a Fellow of the Gerontological Society of America and an inaugural Fellow of the National Council on Family Relations. Her research examines family diversity over the life course. She is the author of numerous scholarly articles and books on topics related to family theory, research, and practice.
Angela C. Henderson
is an Associate Professor of Sociology at the University of Northern Colorado. She has received several awards for excellence in teaching and is the author of more than 20 scholarly articles on topics related to motherhood, theory, pedagogy, and perceptions of women in various roles.
See More
"The authors have done an impressive job of providing an entertaining, accessible and interactive text that shares their passion for theory, shows its unique relevance to studying families and illustrates applications to both research and practice."
Ingrid A. Connidis, University of Western Ontario
"Allen and Henderson provide down-to-earth explanation and application of family theories in totally new ways that make them relevant to students and anyone new to family theory … This book is fantastic! It will become a standard for family studies."
Stephen T. Russell, University of Texas at Austin
"A highly readable and informative account of the ideas behind theory, research, practice and everyday family life. All you need to know about family theories housed in one engaging book!"
Dr. Fiona Tasker, Birkbeck University of London
"…A highly engaging, innovative, and readable text on family theories. Clearly written and chock-full of interesting examples, eye-catching visuals, thoughtful discussion questions and useful resources … [It] holds great promise to become "the" family theory book of the future."
Abbie Goldberg, Clark University
See More
Instructors Resources
Request a print evaluation copy
Contact us

See More
See Less