Textbook
Understanding Language and Literacy Development: Diverse Learners in the Classroom
ISBN: 978-0-470-67429-1
480 pages
October 2014, ©2015, Wiley-Blackwell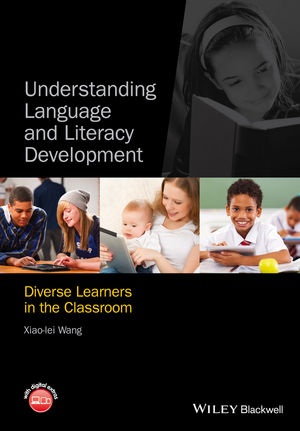 Understanding Language and Literacy Development: Diverse Learners in the Classroom offers effective supporting strategies to address the cultural and linguistic diversity of students in contemporary classrooms.
Discusses learners with different linguistic abilities—infancy, early childhood, middle childhood, and adolescence—by suggesting effective ways to reach them based on their strengths and needs
Emphasizes language and literacy supporting strategies in a variety of everyday classroom settings
Includes activities and questions to motivate readers to think and develop their own perspectives on language and literacy development
Considers a variety of different language acquisition experiences, including monolingual, multilingual, and language impairment
Discusses different types of literacies, including digital and hypertext
Connects language and literacy development to identity and motivation to contextualize learning styles for pre-service teachers
Supported by a companion website that includes additional resources such as PowerPoint presentations by chapter and a summary of relevant information from the Common Core K–12 English Language Arts Standards
See More
Detailed Contents vii
Acknowledgments xix
About the Companion Website xx
About the Book 1
Part I Introduction 13
1 Working with Diverse Students: Some Important Issues 15
2 Complex Factors That Influence Language Acquisition and Literacy Development 33
Language Sample Analysis I 60
Part II Developing Language and Emergent Literacies: Divergent Abilities in Infancy and Early Childhood (Birth to 5) 63
3 Acquiring One Linguistic System: First Language Acquisition 65
4 Acquiring More Than One Linguistic System: Multilingual First Language Acquisition 111
5 Acquiring First Language(s) with Difficulties 143
Language Sample Analysis II 177
Part III Developing Language and Literacies: Divergent Abilities in Middle Childhood (6–11) 181
6 Typical Development of Language and Literacies in Middle Childhood 183
7 Learning a New Language in Middle Childhood 224
8 Language Impairment in Middle Childhood 259
Language Sample Analysis III 282
Part IV Developing Language and Literacies: Divergent Abilities in Adolescence (12–18) 289
9 Typical Development of Language and Literacies in Adolescence 291
10 Learning English As a New Language in Adolescence 320
11 Language Impairment in Adolescence 354
Language Sample Analysis IV 369
Part V Theoretical Perspectives on Language and Literacy Development and Learning 375
12 Theories That Explain Language Acquisition and Literacy Development 377
Exit Self-Evaluation 405
Appendix: Examples of Standardized Language Assessments 408
Glossary 410
References 423
Index 448
See More
Xiao-lei Wang is a Professor in the School of Education at Pace University. She has published extensively in academic journals and is the author of Growing up with Three Languages and Learning to Read and Write in the Multilingual Family.
See More
Instructors Resources
Request a print evaluation copy
Contact us

Contact your Wiley Representative
Find Your Rep

See More
See Less