After Enlightenment: The Post-Secular Vision of J. G. Hamann
ISBN: 978-0-470-67492-5
Paperback
372 pages
March 2012, Wiley-Blackwell
US $41.95

Add to Cart
This price is valid for United States. Change location to view local pricing and availability.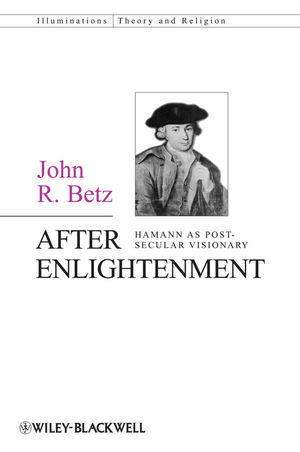 Preface xi
Acknowledgments xiv
Abbreviations xvi
Introduction 1
Notorious Darkness: Reading Sibylline Leaves 8
A Brief History of Scholarship 13
Hamann and Modern Theology 18
Aim and Overview 19
Part I The Making of a Christian Socrates 23
1 Life and Writings 1730–1788 25
The Making of a Philologist 26
Hamann's Conversion 29
Hamann's Falling Out with Berens 32
Hamann's Relationship with Kant 34
2 The London Writings: On the Glory of Trinitarian Condescension 38
Night Thoughts: On the Interpretation of Scripture 39
Glory in the "Rags" of Scripture 43
Biblical Meditations 45
"Reflections on church hymns" 53
"Fragments" and "Prophecies" 55
3 A Typological Re-reading of Socrates: On Faith, Reason, and History 63
The Prophet and the Idol 65
From Socratic Irony to Christian Humor 68
Toward a Philosophy of History 71
A Propaedeutic to Real Enlightenment 76
Converting Hume: Knowledge "By Faith Alone" 82
Kant, Hamann, and the So-called "Kinderphysik Fiasco" 84
Part II Crusades of the Philologist 89
4 Life and Writings 1760–1774 91
Against the Purification of Language 91
The Magi and "The Knight of Faith" 93
Crusades of the Philologist 96
On "Solomon of Prussia" and High School Drama 103
The Hamann–Herder Connection 104
A Satirical Masterpiece and Other Writings 109
5 Toward a Christological Poetics: A New Aesthetics of Scripture and Creation 113
Cloverleaf of Hellenistic Letters: On the Style of Scripture 117
Aesthetica in nuce: On the Language of Creation 123
The Dithyrambs of a Christian Dionysus 128
Seeing All Things in Christ 133
Toward a Christological Poetics 136
6 Correcting a Disciple: Hamann and Herder on the Origin of Language 141
Hamann's Review of Herder's Preisschrift 144
The Return of Aristobulus 147
Philological Ideas and Doubts 149
The Crusading Knight's Last Will and Testament 158
The Mystery of Language: The Alpha and Omega 163
Part III Masks and Mystery Writings 165
7 Life and Writings 1775–1780 167
Hierophantic Letters 167
Family Life: Portrait of a Christian Sensualist 170
Two Mites: On the Tabernacle of Language 173
8 The Sibyl Speaks: On the Protological and Eschatological Mystery of Marriage 178
The Mystery of Marriage: A verum signaculum Creatoris 179
Essay of a Sibyl on Marriage 182
"Aprons of fig leaves": On Reason's Inveterate Shame 184
9 Fragments of an Apocryphal Sibyl: On Rational and Apocalyptic Religion 189
Doubts (about Reason) and Ideas (about the Mystical Body of Christ) 191
Konxompax: An Apocryphal Letter to Lessing 197
Part IV Metacritique: of Reason, Natural Religion, and Secular Politics 217
10 Life and Writings 1780–1784 219
Hamann's "Twins" of 1784 220
Hamann and Jacobi 222
Divestment and Transfiguration 222
"Metacritical tubs"? 228
11 Hamann's Metacritique of Kant: Deconstructing the Transcendental Dream 230
Transcendental "Mystique": The First Review of the Critique of Pure Reason 234
The Metacritique: A Brief History of the Purisms of Reason 242
The "Genealogical Priority" of Language 248
Language as a Sacrament 253
12 Metacritical Politics: On Mendelssohn's Jerusalem and the Modern Secular State 258
A Synopsis of Mendelssohn's Jerusalem 262
Golgotha and Scheblimini: By a Preacher in the Desert 270
Built upon Sand: The Babel of Modern Natural Rights 273
Defending Judaism against Secular Reason, or the Real Content of the Real Jerusalem 280
Prospect for Jewish–Christian Dialogue 290
Part V A Final Journey: Hamann's Last Will and Testament 291
13 Life and Writings 1785–1788 293
The Münster Circle 294
The "Dictators of Pure Reason" 296
Portrait of a Christian: Greatness in Knechtsgestalt 297
Una Sancta Ecclesia 300
A Cryptic Final Testament 301
The Journey Home 308
Conclusion. After Postmodernity: Hamann before the Postmodern Triumvirate 312
Hamann and Postmodernity 313
Hamann before Nietzsche 319
Hamann before Heidegger 326
Hamann before Derrida 331
A Concluding Postscript to Postmodernity 337
Biblical Index 341
Index 343
Buy Both and Save 25%!
After Enlightenment: The Post-Secular Vision of J. G. Hamann (US $41.95)
-and- The Future of Christian Theology (US $36.95)
Total List Price: US $78.90
Discounted Price: US $59.17 (Save: US $19.73)
Cannot be combined with any other offers. Learn more.