Event Planning Ethics and Etiquette: A Principled Approach to the Business of Special Event Management
ISBN: 978-0-470-67644-8
320 pages
July 2009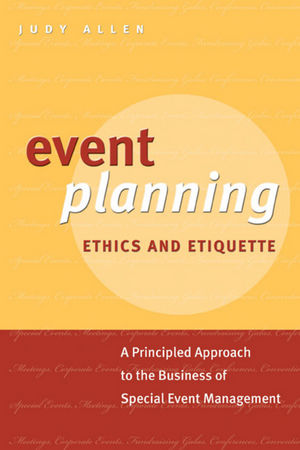 The world of event planning can be alluring and dangerous at once-exotic locales, wining and dining, and people traveling without their spouses. In such situations the line between business and pleasure blurs and the nature of relationships gets cloudy. With a thoughtless act or a less-than-tactful word, long-lasting business relationships can be ruined forever.
Beyond that, budgets are on the chopping block and competition for business is tight. In that environment, people often cut not just financial corners, but the ethical ones, too. There's a fine line between innocent perks and inappropriate gifts or kickbacks. Event planners today must navigate a minefield of potentially sticky situations that can easily blow up in their face. Without a professional code, lines of acceptable behavior are easily crossed. And what you do personally can hurt you professionally.
Event Planning Ethics and Etiquette provides event planners with the companion they need to stay out of trouble, keep professional relationships healthy and profitable, avoid the riskier temptations of the lifestyle, and win business in a highly competitive market using ethical business practices.
Explains how to establish policies and codes of behavior, in the office and onsite at events.

Offers guidelines on when it is acceptable to accept a gift, what is acceptable, and what is inappropriate.

Shows how to prepare yourself, as well as your staff, for what to expect, and how to handle the unexpected with business finesse.

Covers business etiquette in event planning crisis management situations.

Helps you to avoid putting yourself and your company at personal and professionals risk.

Features real-life examples and situations, and advice on how to handle them with poise and professionalism.

Includes a list of "Event Planning Do's and Don'ts."
Event Planning Ethics and Etiquette will be of value to the professional event planner; to event planning suppliers and clients working with industry professionals; as well as to those in related fields, such as public relations, administrative professionals, communications; and anyone in the hospitality, culinary, and travel industry.
See More
Acknowledgements.
Preface.
Part One: Business Ethics.
Chapter 1: The Ethical Cost of Doing Business.
Event Planner and Supplier Professional Working Relationships.
In-Office Sales Presentations.
Communication Between Planners and Suppliers.
Business Meals.
Familiarization Trips.
Industry Functions.
Holiday Celebrations.
Proposals and Quotes.
Event Operations.
On-Site Meetings.
Business Referrals.
Confidentiality.
Business Favors.
Chapter 2: Fair Competition.
Supplier-to-Supplier Ethics.
Staff.
Chapter 3: Maintaining Ethical Boundaries.
Business Interactions Between Event.
Planners and Clients.
Finding the Right Match to Do Business With.
Using Business Discretion.
How to Handle Unethical Behavior.
Part Two: Business Etiquette.
Chapter 4: Business Etiquette, Protocol and Entertaining: On Your Home Turf.
Their Offices.
In Restaurants.
Out and About.
Elevated Entertainment.
Out On the Town.
Industry Events.
At Home.
Weekend Retreats.
Holidays Parties.
Chapter 5: Business Etiquette, Protocol and Entertaining: Out of Town or Country.
Familiarization Trips.
Site Inspections.
Personal Travel.
Part Three: Codes of Conduct.
Chapter 6: Codes of Conduct in the Office: Clients, Suppliers and Planners.
Chapter 7: Codes of Conduct on Site: Clients, Suppliers and Planners.
Pre-Event Meetings (Pre-cons).
On Site Event Orchestration.
Post-Event Celebrations.
Client, Supplier and Planner Codes of Conduct.
Chapter 8: Codes of Conduct on Site: Event Planning Crisis Management.
Guest Safety and Security.
Event Fulfillment, Safety and Security.
ABCs of Event Planning Crisis Management.
Sample Plans.
Recap of the ABCs of Event Planning Crisis Management.
Chapter 9: Event Planning Ethics, Etiquette and Essentials A-Z.
Chapter 10: Event Planning Dos and Don'ts: How to Develop In-Office and On-Site Ethics and Business Etiquette Policies.
Conclusion.
Index.
See More
Judy Allen
is one of the world's leading authorities on staging, event and lifestyle design and the bestselling author of ten books for the professional, business and consumer markets. Allen, a master of creative design, has flawlessly executed successful special events-corporate, social, and celebrity-for up to 2,000 guests at a time in more than 30 countries around the world. She has designed and produced memorable events such as Disney's worldwide theatrical opening-night gala for
Beauty and the Beast
, and the orchestration of Oscar-winning director Norman Jewison's 25th anniversary celebration for
Fiddler on the Roof
.
Highly skilled in staging events that are strategically designed to be one-of-kind experiences and a master of transforming the energy of an event environment by engaging the senses with trademark primary design principles, Allen has worked closely with CEOs, CFOs, presidents and their executive staff around the globe to create, implement and oversee their corporate and social business events.
The many diverse events that Allen has designed and executed extend from complex one-day events to elaborate arrangements of theme productions taking place over the course of a week. These events ranged from very exclusive VIP events to multimillion-dollar, multimedia fantasy extravaganzas including seven new-car product launches and involved high-tech stage and show productions.
Allen, and her 2jproductions (
www.2jproductions.com
) partner, Joe Shane, are now bringing their dynamic creative energy, innovative style and perceptive insight to home, life and lifestyle design and world class resorts around the world through Sensual Home Living (
www.sensualhomeliving.com
) and other initiatives.
See More