E-book
Violin For Dummies
ISBN: 978-0-470-67712-4
400 pages
July 2010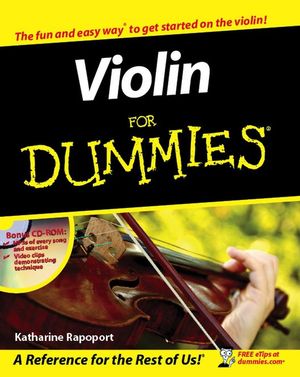 Take a bow and start playing tunes with this friendly guide!
Whether you're an aspiring classical musician or you just want to fiddle around, Violin For Dummies will have you making music in not time. This interactive book-and-CD-ROM package makes it easy with step-by-step instruction on everything from simple tunes to show-stopping techniques. With coverage of musical styles including classical, country, and jazz, this is the ultimate guide to the violin.
Discover how to:
* Choose the right violin and accessories
* Develop correct violin and bow hold
* Understand the language of music
* Play classical, country, gypsy, and jazz
* Tune, change strings, and perform simple maintenance
Get Smart @www.dummies.com
* Find listings of all our books
* Choose from many different subject categories
* Sign up for eTips at etips.dummies.com
MP3 files of every song and exercise from the book.
Video clips demonstrating techniques to help you pick up and play.
Note: CD-ROM/DVD and other supplementary materials are not included as part of eBook file.
See More
Introduction
Part I: So You've Always Wanted to Play the Violin…
Introducing the Violin
Strings and Bows: the Parts of a Violin
How Violins Work
Cracking the Case: Taking the Violin Out and Putting it Away
In Tune with Things

Tuning the Violin

Using electronic tuners

Tuning with the piano

Dealing With Pegs and Fine Tuners

Holding Up Well

Understanding the Importance of a Good Violin Hold

How to Hold Your Violin

Standing position

Sitting position

Reading from a music stand

Chinrests and Shoulder Rests: Finding a Good Fit

Fixing Common Problems With the Violin Hold

Part II: A Sound Start

Take a Bow

Preparing the Bow

Tightening the horsehair

Using rosin on your bow

Getting a Grip on the Proper Bow Hold

The famous diva method

The hidden treasures method

Setting the Bow on the Strings

Understanding bowing signs

Bowing on different strings

Playing Your First Concert!

Smooth and Clean: Two Bowing Styles

Getting the Left Hand Right

Getting in Touch With the Strings

The Number System: Making Your Fingers Count

Knowing which finger to use

Putting Your Fingers on the Right Spots

Step and Touch: How Semitones Work

All Together Now

Hands Together

Bowing and fingering at the same time

Exercising your co-ordination

Making Music (without Actually Reading Any!)

Using our handy charts

Keeping an eye on the chart and your playing!

The Top of the Charts: 4 Simple Songs

Part III: Reading Music on the Violin

5 Lines Translated Onto 4 Strings

What All Those Blobs Mean

All Good Boys Deserve Fun –And So Do Girls!

Charting Your Way With the Fingers On

The Key To Key Signatures

We're Counting On You - Guide to Rhythm

One Beat at a Time: Quarter Notes

Raising the Bar

Take Note: Other Common Notes

Adding Dots (No Need to Cross the T's!)

Getting Ticked Off – A Guide to Metre

Counting in 4s

Counting in 3s

Everything Else Can Be Done From 4s and 3s!

Part IV: Musicianship and Harmony

Scaling the Heights

Climbing up and down

Marching through the Major Scales

Casting Light on those Minor Scales

Harping On about Arpeggios

The Keys to Knowledge
A Major And Its Finger Pattern
C Major And Its Finger Pattern
The Last 2 Finger Patterns You'll Really Need!
12. Better Together: Harmony
In the Big Leagues: Major Chords
Digging For Minor Chords
Meet the Bossy Chords: Dominant 7ths
Part V: Taking it up a Notch; Techniques and Styles
Fancy Bows

Two Notes (or more) with One Stroke: Legato

Getting up to Speed and Dividing the Bow

Shaping the Sounds: Crescendo and Diminuendo

Mais Oui, Maestro: Taking on Accents

Putting Your Finger on It

Two Notes Are Better Than One: Easy Double Stops

Sliding into Shifts and Gaining an Advantageous Position

All Aquiver: Vibrato

Reeling Through the Years: A Quick Tour of Violin Styles

Fiddling Around

All That Jazz

Join the Caravan: Gypsy Violin

Part VI: Getting into Gear, Staying in Gear

Finding the Right Instrument For You

What Makes a Good Violin

Where to Begin Your Search

Deciding Whether to Buy or Rent Your Violin

Getting Plugged into Electric and Electronic Violins

Instrument care and Maintenance

Changing Strings

Upgrading Your Case

Changing Chinrests

Useful Accessories

Cleaning the Violin

Rehairing the Bow

Part VII: The Part of Tens

Ten Performers and Their Recordings
Ten Ways to Go Beyond This Book
20. Finding a Teacher: Ten Tips
See More
Katharine Rapoport (Toronto, ON) is a violinist and violist who currently lives and works in Toronto. After graduating with a degree in Music from the University of Cambridge, she completed her postgraduate Certificate of Advanced Studies in Violin at the Guildhall School of Music and Drama, London. She has a very broad range of professional freelance experience including musicals such as Les Miserables, Phantom of the Opera and Showboat. After moving to Canada, Katharine was appointed to the faculty of the Royal Conservatory of Music and the University of Toronto.
See More