E-book
Wills and Estate Planning For Canadians For Dummies
ISBN: 978-0-470-67755-1
384 pages
February 2010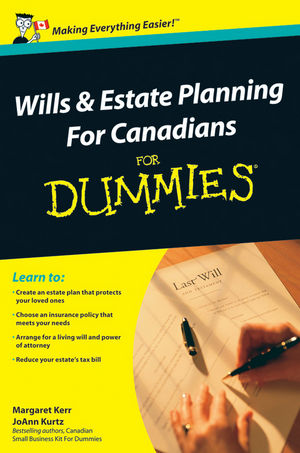 Wills & Estate Planning For Canadians For Dummies
walks you through the steps of planning your estate. This friendly guide will help you
Reduce the tax you or your estate will pay
Plan for your children's future
Leave a charitable legacy
Decipher the legal lingo in wills
Prepare a living will to ensure you get the treatment you want
Hire an estate planning team that will meet your needs
Through practical advice from expert authors, this book helps you ensure that your affairs are in order, and your loved ones will be looked after.
See More
Introduction.
Part I: Estate Planning Basics.
Chapter 1: What Is Estate Planning, Anyway?
Chapter 2: What Are You Worth? Preparing an Inventory of Your Estate.
Chapter 3: The Taxman Cometh: Taxes and Your Estate.
Part II: Estate Planning Tools.
Chapter 4: Money to Die For: The Mysteries of Life Insurance Revealed.
Chapter 5: Free to a Good Home: Giving Away Your Things Before You Die.
Chapter 6: Pass the Buck: Using Trusts in Estate Planning.
Part III: Creating an Estate Plan.
Chapter 7: A Crew for Your Ship of Estate: Beneficiaries and Executor.
Chapter 8: Who's Minding the Kids? Planning Your Children's Future.
Chapter 9: Giving Them the Business: What to Do with the Family Firm.
Chapter 10: You Gave at the Office, But . . . : Charitable Donations.
Chapter 11: Goodbye to All That: Plan Your Funeral and Organ Donation.
Part IV: Putting Your Plan into Action.
Chapter 12: If There's No Will There's No Way: Why You Need a Will.
Chapter 13: Will Power.
Chapter 14: Powers of Attorney: Who'll Manage Your Money for You if You Can't?
Chapter 15: Living Wills: Caring for You if You Can't Care for Yourself.
Chapter 16: Getting Professional Help.
Part V: Readying Your Estate and Keeping It Up to Date.
Chapter 17: Don't Leave a Mess Behind: Putting Your Affairs in Order.
Chapter 18: It's Even Better the Second Time Around: Updating Your Estate Plan.
Part VI: The Part of Tens.
Chapter 19: Ten Questions to Ask Before You Hire a Lawyer.
Chapter 20: Ten Tips for Using Your Computer for Estate Planning.
Appendix A: Prepare to Meet Your Lawyer.
Appendix B: Instructions for Your Executor.
Appendix C: Inventory for Your Executor.
Index.
See More
Margaret Kerr and JoAnn Kurtz are lawyers and authors. Together, they have written the bestselling Canadian Small Business Kit For Dummies as well as Facing a Death in the Family.
See More