E-book
Effective Group Coaching: Tried and Tested Tools and Resources for Optimum Coaching Results
ISBN: 978-0-470-67821-3
304 pages
June 2010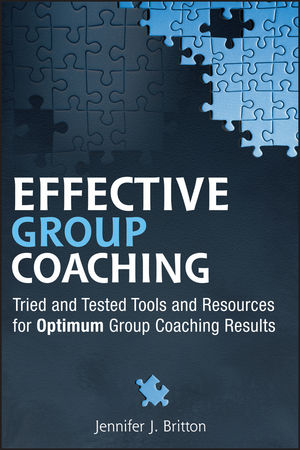 Group coaching is rapidly becoming the preferred coaching option for businesses and individuals. Effective Group Coaching is a practical, resource rich, hands-on guide for the group coaching facilitator in one of the fastest growing new disciplines. Organizations, community groups and individuals are discovering that group coaching is an exciting and sustainable model and process for learning and growth. Written for internal and external coaches, HR professionals, trainers and facilitators wanting to expand their work into this area, this book provides tested methodologies and tools and tips. Both new and seasoned coaches will find the book a practical roadmap and go-to guide when designing, implementing and marketing their own group coaching programs. Case studies highlight how group coaching programs are being delivered globally through corporate and public prgrams, virtually and in person. Also, the author's dedicated web site offers resources and articles available for downloading.
See More
List of Figures and Tables ix
Acknowledgments xi
Introduction 1
Chapter 1: What Is Group Coaching? 5
Chapter 2: Making It Stick—The Business (and Learning) Case for Group Coaching 33
Chapter 3: Th e Foundation of Group Coaching—Th e Essentials of Adult Learning 51
Chapter 4: Core Skills and Best Practices of Group Coaching 71
Chapter 5: Designing Your Own Group Coaching Program 95
Chapter 6: Powerful Delivery Options: In Person or Virtual 117
Chapter 7: Essential Elements for Your Group Coaching Program 141
Chapter 8: Marketing—Essential Principles 161
Chapter 9: Preparing for the Program—Systems and Logistics 187
Chapter 10: Implementing Your Program 205
Afterword: What's Next? Trends in Group Coaching 225
Appendix: Exercises for Group Coaching 227
Endnotes 267
Recommended Resources 273
Bibliography/References 277
Index 281
About the Author/Contact Information 287
See More
Jennifer J. Britton is the founder of Potentials Realized, a Canadian-based performance improvement company. Jennifer works with groups, teams and organizations in the areas of leadership, teamwork, and business success. Her global clients include government, corporate and non-profit sectors, from financial services to education and health care. She also offers a range of group coaching programs and retreats for the general public.
Jennifer fuses her rich experience as a former global program manager with the UN, experiential educator, coach and workshop leader. She has delivered group programs in over eighteen countries in the last twenty years. Since early 2006, her Group Coaching Essentials™ program has supported hundreds of coaches in the creation and implementation of their own group coaching programs.
Accredited as a PCC with the International Coach Federation, Jennifer was originally trained and certified by the Coaches Training Institute as a CPCC. She has also completed advanced coach training in the areas of ORSC and Shadow Coaching. Jennifer is also a Certified Performance Technologist (CPT) and Certified Human Resource Professional (CHRP). She holds a Masters of Environmental Studies and a Bachelor of Science in Psychology.
See More