Gender and Child Welfare in Society
ISBN: 978-0-470-68186-2
320 pages
February 2010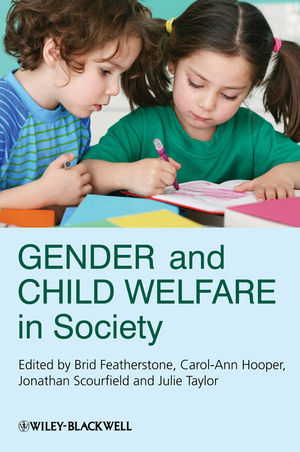 Considers ways in which raising questions about gender can help researchers and practitioners better understand family relationships and issues in children's development
Draws on current developments in thinking about gender relations
Offers an overview of sociological, psychological and developmental perspectives on family relationships, child welfare outcomes and the practice/policy realities of professional interventions with families
Chapters address range of service settings; including family support, child health, education, child protection, domestic violence, 'looked after' children and youth justice
See More
Notes on Contributors.
1 Gender and Child Welfare in Society: Introduction to Some Key Concepts (Jonathan Scourfield).
2 Exploring the Relationship between Gender and Child Health: A Comparative Analysis of High and Low Economic Resource Countries (Lorraine Green and Julie Taylor).
3 Gender, Child Maltreatment and Young People's Offending (Carol-Ann Hooper).
4 Gender and Schooling (Shereen Benjamin).
5 Are Abused Women 'Neglectful' Mothers? A Critical Reflection Based on Women's Experiences (Simon Lapierre).
6 The Clock Starts Now: Feminism, Mothering and Attachment Theory in Child Protection Practice (Julia Krane, Linda Davies, Rosemary Carlton and Meghan Mulcahy).
7 Engaging Fathers – Promoting Gender Equality? (Brid Featherstone).
8 Working with Violent Male Carers (Fathers and Stepfathers) (Mark Rivett).
9 The Family Group Conference in Child Welfare: A View from New Zealand (Margaret McKenzie).
10 Gender in Residential Childcare (Mark Smith).
11 Therapeutic Options in Child Protection and Gendered Practices (Trish Walsh).
Index.
See More
Brid Featherstone
is Professor of Social Work and Social Policy at the University of Bradford.
Carol-Ann Hooper is Senior Lecturer in Social Policy at the University of York.
Jonathan Scourfield is Reader in Social Work at Cardiff School of Social Sciences.
Julie Taylor is Professor of Family Health and Research Dean in the School of Nursing and Midwifery at the University of Dundee.
See More