Sold on Language: How Advertisers Talk to You and What This Says About You
ISBN: 978-0-470-68309-5
Paperback
336 pages
February 2011
US $28.95

Add to Cart
This price is valid for United States. Change location to view local pricing and availability.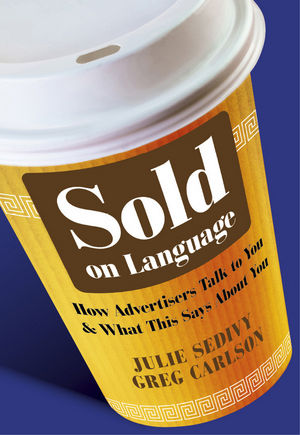 Other Available Formats:
E-book
"Students and teachers of persuasion would benefit greatly from reading Sold on Language. Other professionals in communication, marketing, change management, sales, negotiation, and politics will find the examples and techniques of influence to be useful as both best practices to emulate and pitfalls to avoid." (PsycCRITIQUES, 11 January 2012)
"The result is a truly enjoyable, ironic and fresh volume, easy and pleasant to read for any type of audience." (Metapsychology, 15 November 2011)
"This is a well-written, entertaining, and penetrating book on advertisers' ubiquitous attempts at persuasion to influence marketplace behaviour, including the basis for an argument that advertisers are bent on making choices for the consumer. . . Highly recommended. Upper-division undergraduates through professionals/practitioners; consumers, general readers." (Choice, 1 October 2011)
"I highly recommend the landmark and must read book Sold on Language: How Advertisers Talk to You and What This Says About You by Julie Sedivy and Greg Carlson, to anyone seeking an open, honest, as well an engaging study into the nature of advertising messages, brands, and the words used to market products. This eye opening book will change the way readers approach advertising messages and the illusion that the market offers real choice." (Blog Business World, 28 April 2011)
"For a university student with nascent interests in language and thought, reading this book might well provide a stimulus to take some philosophy or psychology or language sciences, which would be no bad thing." (Times Higher Education Supplement, 21 April 2011)
"In this wise and witty book, Julie Sedivy and Gregory Carlson use modern research in psychology, linguistics, and psycholinguistics to show us how little of what we choose is the result of reasoned and conscious deliberation. We like to think of ourselves as being in charge of our lives: we're not.
Sold on Language
may not be for everyone. But if you shop, it's for you. And if you vote, it's for you. Reading this book may be the best defense you have against being manipulated by others."
—
Professor Barry Schwartz,
Department of Psychology, Swarthmore College and author of '
The Paradox of Choice'
, and '
Practical Wisdom'
"Via engaging prose and scientific evidence, Sedivy and Carlson have made a noteworthy contribution by providing fresh and deep insights into something we thought we'd already understood."
—Dr Robert B. Cialdini, Author of Influence: The Psychology of Persuasion
Tell most people that advertisers and politicians exploit language to manipulate desire and opinion, and they'll likely respond "So what else is new?" – and then go on to add, "though, mind you, I'm not fooled for an instant." But advertisers eat that self-assurance for breakfast food; they know that no audience is so easy to beguile as one that's smugly confident in its own sophistication. With engaging examples and lucid explanations, Sedivy and Carlson document the persuasive power that inhabits every corner of language – not just in the familiar puffery of adjectives like "new and improved," but the implications hidden in little words like your and the. Whether you're a student of language or just a consumer of it, you'll come away from Sold on Language a bit more humble and a lot more attentive – and by the by, with an appreciation of how much more there is to language than the wisdom we acquired in seventh grade at the end of Sister Petra's ruler.
— Geoffrey Nunberg, University of California at Berkeley, Language commentator, "Fresh Air," NPR
Language comes to us brilliantly easily. How else could children be learning new words at the incredible rate of 10 a day? But that ease of learning carries with it the risk that we will be oblivious to the power of words – as written or spoken by others – to control our behavior. To all who might want to protect themselves against that risk, I say: read this book.
—Jay Ingram, author of Talk, Talk, Talk, Canada