Rationality and the Pursuit of Happiness: The Legacy of Albert Ellis
ISBN: 978-0-470-68312-5
Hardcover
324 pages
November 2010, Wiley-Blackwell
US $103.95

Add to Cart
This price is valid for United States. Change location to view local pricing and availability.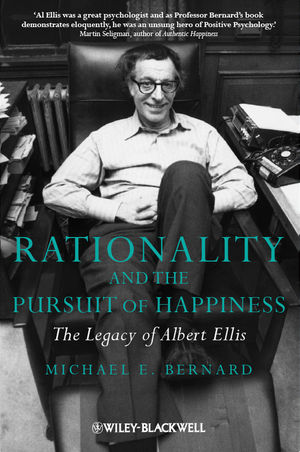 "The book is a good detailed overview of REBT methods. Summing Up: Recommended. Upper-division undergraduates, graduate students, professionals, general readers." (Choice, 1 July 2012)
"The principles themselves are taken from chapter 4 of Rationality and the Pursuit of Happiness: The Legacy of Albert Ellis, Michael E. Bernard's excellent summation of the great psychologist's life-work." (Jildy Sauce, 6 January 2012)
"This book provides a useful summary of what Ellis had to say on happiness." (Metapsychology, 15 November 2011)
"Al Ellis was a great psychologist and as Professor Bernard's book demonstrates eloquently, he was an unsung hero of Positive Psychology."
—
Martin Seligman
, author of
Authentic Happiness
"This book is the 'missing link' between one of the most prominent movements in the mental health field – rational-emotive and cognitive-behavioral therapy (REBT/CBT) – and one of the 'hottest' topics in the clinical field, namely positive psychology. By integrating the two, the book bridges a gap. Exploring the role of rationality in happiness, as conceptualized by Albert Ellis, the book shows (a) how REBT/CBT can be applied not only for preventing and treating disorders or for health promotion, but also for human development / optimization; and (b) how positive psychology should be conceptualized in a scientific manner, avoiding Pollyannaish thinking. Indeed, Albert Ellis convincingly argued that rationality is the 'royal path' to authentic happiness, and this book is a powerful guide for those interested in exploring and pursuing this path, be they patients, general public or professionals (clinicians and researchers alike)."
—Dr Daniel David, 'Aaron T. Beck' Professor of Clinical Cognitive Sciences, Babes-Bolyai University, Romania
"This book is a labour of love! Michael Bernard has painstakingly transcribed a number of Albert Ellis's therapy and demonstration sessions as well as a selection of his lectures and has used this material to excellent effect to make Dr Ellis's views on psychological health and happiness come alive. A gem of a book on a gem of a man by a gem of an author."
—Professor Windy Dryden, Goldsmiths, University of London, UK
'Albert Ellis challenged us to work vigorously to abandon the irrational and emotionally explosive demands that we tend to impose on ourselves and others, escalating manageable frustrations into seemingly unbearable disasters, and needlessly promoting anxiety, depression, anger, and guilt. With a refreshingly original emphasis on the pursuit of happiness, Michael Bernard has provided a well-informed and engaging account of the life and work of this famed rational thinker and therapist that will make Ellis's work accessible to a broad readership.'
—Professor Geoffrey L. Thorpe, University of Maine, US
'Michael Bernard's book reveals the importance of 'rationality' as a positive faculty of mind that enables people to strengthen their resilience and self-efficacy in order to not only cope with the inevitable challenges, demands and changes characteristic of our post-modern age but, in addition, through the application of different principles of rational living identified by legendary psychologist Albert Ellis, to live fulfilled and meaningful professional and personal lives. I confidently commend this book.'
—Professor Field Rickards, Dean, Graduate School of Education, University of Melbourne, Australia
Why do I love this book? Why do I now insist that all my supervisees purchase a copy?  To put it quite simply in this marvellous book, Michael Bernard has managed to integrate one of the most prominent movements in the mental health field – namely rational-emotive and cognitive behavioural therapy with positive psychology. In what is a first, Michael has in essence illuminated the role of rationality in happiness, as conceptualised by the great Albert Ellis.
—Dr Michael Carr-Greg, Clinical Psychologist and Ambassador for Youthbeyondblue, Australia