Working Positively with Personality Disorder in Secure Settings: A Practitioner's Perspective
ISBN: 978-0-470-68380-4
Hardcover
288 pages
November 2010
US $109.95

Add to Cart
This price is valid for United States. Change location to view local pricing and availability.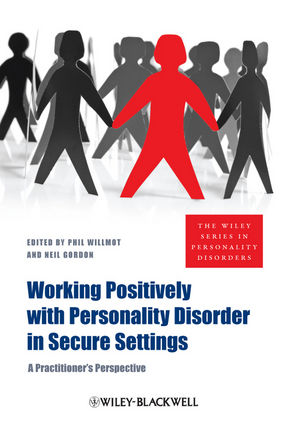 About the Editors and Contributors.
Series Preface (Eddie Kane).
Preface.
Foreword (Kath Lovell).
Acknowledgements.
Introduction (Phil Willmot and Neil Gordon).
Section 1: Context.
Chapter 1 From 'Anxious and Sad' to 'Risky and Bad': Changing Patterns of Referrals to the Personality Disorder Service (Jenny Marshall and Phil Willmot).
Chapter 2 Trapped in the 'Special Hospital': The Problems Encountered in the Pathway to Medium Secure Units (Amanda Tetley and Gopi Krishnan).
Section 2: The Treatment Process.
Chapter 3 What Works with Forensic Patients with Personality Disorder? Integrating the Literature on Personality Disorder, Correctional Programmes and Psychopathy (Phil Willmot and Amanda Tetley).
Chapter 4 Assessing Personality Disorder in Forensic Settings (Phil Willmot).
Chapter 5 A Treatment Pathway for High Security Offenders with a Personality Disorder (Sue Evershed).
Section 3: The Therapeutic Relationship.
Chapter 6 Attachment Theory and the Therapeutic Relationship in the Treatment of Personality Disorder (Louise Sainsbury).
Chapter 7 Therapeutic Style and Adapting Approaches to Therapy (Kerry Beckley).
Chapter 8 The Grey Areas of Boundary Issues When Working with Forensic Patients Who Have a Personality Disorder (Sue Evershed).
Chapter 9 One Patient's Therapeutic Journey ('James' and Louise Sainsbury).
Section 4: Supporting and Developing the Therapeutic Workforce.
Chapter 10 Therapists' Experiences of Therapy (Neil Gordon, Kerry Beckley and Graham Lowings).
Chapter 11 Making Sense of Interpersonal Dynamics: A Schema Focused Approach (Kerry Beckley).
Chapter 12 The Importance of Systemic Workforce Development in High Secure Settings (Andrea Milligan and Neil Gordon).
Chapter 13 Establishing a Supervision Culture for Clinicians Working with Personality Disordered Offenders in a High Secure Hospital (Andrea Daykin and Neil Gordon).
Section 5: Outcomes.
Chapter 14 An Individual Approach to Assessing Change (Jason Davies).
Chapter 15 Patient Experiences of Therapeutic and Anti-therapeutic Processes (Phil Willmot).
Chapter 16 Looking to the Future (Neil Gordon and Phil Willmot).
Index.