Alternative Alternatives: Risk, Returns and Investment Strategy
ISBN: 978-0-470-68396-5
264 pages
March 2011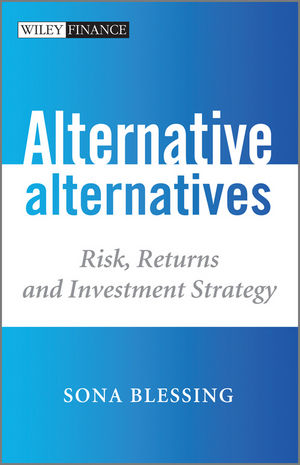 In the aftermath of the financial crisis, investors are searching for new opportunities and products to safeguard their investments for the future. Riding high on the wave of new financial opportunities are Alternative Alternatives (AA). However, there is a dearth of information on what Alternative Alternatives are, how they work, and how they can be profited from.
The book defines what Alternative Alternatives are, based on research and the following hypothesis: If the source (origin) of the risk lies outside of the financial markets, then it should be insulated from the vagaries of those markets. The book identifies and examines such and other unique, idiosyncratic, and difficult to replicate sources of risk - assets and strategies. The recent credit and sovereign debt crisis have served to defend the hypothesis and have upheld the conclusion that alternative alternative assets and strategies offer a risk-return profile that is distinct to those offered by traditional and main stream hedge fund strategies. These strategies include timberland investing, insurance risk transfer, asset/loan based lending (aviation, shipping, trade, entertainment, litigation financing etc), collectables and extraction strategies such as volatility and behaviour finance.
This book will be a one stop resource to the new investment class known globally as Alternative Alternatives (AA) and will provide a comprehensive but accessible introduction to these assets. It provides an in-depth analysis of the assets and strategies which will leave investors with everything they need to identify and allocate to the best AA for them. It reviews the asset on a standalone basis, providing an explanation of the product, its characteristics, a SWOT analysis, and details its risk/reward drivers. The book also looks at how to integrate the asset within a portfolio - its peculiarities, the challenges and the constraints of each. Next, the book shows how Alternative Alternatives are used in the real world, how they are implemented, and the results that they have achieved. Finally, the book looks at the scope, scalability and prospects for each asset in the future.
See More
Preface ix
Acknowledgements xi
A Note on How to Use This Book xiii
Introduction xv
Epilogue xxi
1 Timberland 1
1.1 Introduction 1
1.2 Statistics on Investable Timberland 1
1.3 Asset Characteristics 5
1.4 Investment Drivers 6
1.5 Return Drivers 9
1.6 Perceived Risk 20
1.7 Real Risks 21
1.8 Measuring Risk and Returns: Science, Art, 'Boots on the Ground' 22
1.9 Investment Objective 25
1.10 Investment Strategy 27
1.11 In Practice 29
1.12 Country Case Studies 35
1.13 Species Case Study 49
1.14 Emergence and Outlook 52
1.15 2010 And Beyond 53
1.16 Opportunities and Challenges Facing Timberland Investors 55
1.17 Conclusion 56
2 Insurance Linked Risk Transfer 57
2.1 Introduction 57
2.2 Classification 60
2.3 Asset Characteristics 61
2.4 Risks 62
2.5 Return Drivers 64
2.6 Constraints 64
2.7 The Players 64
2.8 Evolution 66
2.9 Non-Life Insurance Linked Risk Transfer 68
2.10 In Practice 85
2.11 Life Insurance Linked Risk Transfer 87
2.12 Pandemic-related Insurance Investing – Extreme Mortality Risk 98
3 Asset-Based Lending 103
3.1 Introduction 103
3.2 Aviation Finance, Loan-Based Lending, Leasing 108
3.3 Ship Financing, Leasing, Investing 114
3.4 Trade Finance 120
3.5 Litigation led Investing 130
3.6 Lending Against Hospital Receivables 141
3.7 Film Financing 144
3.8 Music Investing 152
3.9 Appendix 158
4 Collectables 165
4.1 Introduction 165
4.2 Investing in Art 166
4.3 Case Study Series (with Philip Hoffman, The Fine Art Fund Group) 172
4.4 Investing in Photography 184
4.5 Investing in Wine 188
4.6 Investing in Vintage Cars 199
5 Extraction Strategies 211
5.1 Volatility Investing 211
5.2 Behaviour Finance 215
6 Place in a Portfolio 225
Further Reading 231
Index 235
See More
Sona Blessing is an independent research specialist and consultant in 'Alternative Alternatives'. She launched and also manages and moderates Opalesque Radio. Prior to this Sona was Senior Adviser and Opalesque's Director of Research as well as Editor of the weekly publication A SQUARE –which she researched, and launched in January 2007, and researched, authored and edited until the end of July 2009. She is on the education committee of the 100 Women in Hedge Funds Zurich; has been a guest lecturer on Alternative Alternatives at the Zurich University of Applied Sciences (ZHAW) and is also frequently invited to moderate panels and share her expertise as a speaker and author. In the past she has held positions as a hedge fund research strategist, and a global market strategist. Sona also has extensive experience in business journalism worldwide.
See More