E-book
Life Coaching For Dummies
ISBN: 978-0-470-68700-0
344 pages
September 2009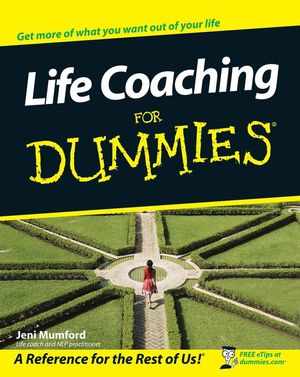 Trusted advice on finding a coach and getting more out of life

Life coaching is a popular, though unregulated, personal development tool. This no-nonsense guide debunks the myths behind life coaching and gives expert advice on incorporating it into daily life. Whether readers want to self-coach or work with a professional, this savvy resource provides essential tips on getting priorities straight, being more productive, and achieving goals.

Jeni Mumford (London, UK) is a qualified personal life coach and an accredited NLP practitioner.
See More
Part One: The basics of life coaching.
Chapter One: Introducing Life coaching.
Chapter Two: Deciding what you want to get out of life coaching.
Chapter Three: Preparing for coaching.
Part Two: Your life coaching journey.
Chapter four: Becoming your best self.
Chapter five: Choosing your beliefs.
Chapter Six: Discovering the values that motivate you.
Chapter Seven: Stocking up on empowering questions.
Chapter Eight: Taking stock of now.
Chapter Nine: Exploring your options.
Chapter Ten: Planning effective action.
Part Three: Focusing on the elements of your life.
Chapter Eleven: Career and work.
Chapter Twelve: Money, wealth and abundance.
Chapter Thirteen: People and relationships.
Chapter Fourteen: Physical, mental, and emotional wellbeing.
Chapter Fifteen: Learning and growing.
Part Four: Creating a harmonious whole life.
Chapter Sixteen: Achieving balance.
Chapter Seventeen: Making major life changing decisions.
Chapter Eighteen: Applying your coaching skills more widely.
Part five: The Part of Tens.
Chapter Nineteen – 10 life coaching Beliefs about yourself.
Chapter Twenty– 10 questions to keep your life on track.
Chapter Twenty-one – 10 Daily balancing acts.
Chapter Twenty-two – 10 inspirational resources. Appendix: Becoming a Life Coach.
See More
Jeni Mumford is a coach and facilitator who applies whole life coaching techniques to her work with people and within businesses. Before her own life-changing decision to become a coach, Jeni benefited from a 16-year career with the Hays group, spanning recruitment, sales operations, project management, and people development, where she was lucky enough to embark on a new challenging job role every 18 months or so. It was this experience of discovering that the grass is green wherever you are – if you take proper care of the lawn – that gave Jeni the conviction and motivation to build her purpose around inspiring people to attract and enjoy their own dream life and work.
In her business Jeni uses best practice coaching techniques together with NLP, and is a licensed facilitator of Tetramap (a holistic model of behaviour) and Goal Mapping (a brain-friendly technique for identifying and maximising progress towards goals). She is addicted to learning and this helps her add value to her work with clients. But Jeni will admit that quite a lot of the credit is down to her succession of cats, from whom she has picked up a great deal about how to handle the ups and downs of life.*
One of the things Jeni likes best about being a coach is that she feels she always gets as much out of the experience as her clients and she can't thank them enough for the honour of seeing them move themselves from frustration to power. Honestly, it's enough to make you want to write a book about it . . .
You can find out more about Jeni and her business at: www.reachforstarfish.com.
* This philosophy can be summed up as: play, ponder, and when in doubt, take a long nap in the sun or on a comfy bed.
See More