E-book
English Grammar For Dummies, UK Edition
ISBN: 978-0-470-68704-8
384 pages
September 2011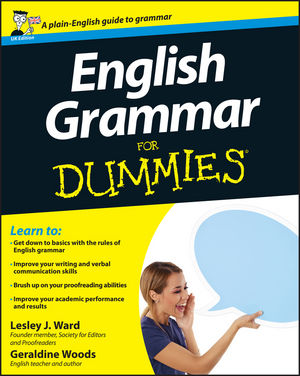 If you're confused by commas, perplexed by pronouns, and plain terrified by tenses, English Grammar For Dummies will put your fears to rest. Packed with expert guidance, it covers everything from sentence basics to rules even your English teacher didn't know - if you want to brush up on your grammar, this is the only guide you'll ever need.
Discover how to: avoid common grammatical errors; get to grips with apostrophes; structure sentences correctly; use verbs and find the right tense; and decide when to use slang or formal English.
See More
Introduction.
Part I: The Parts of Speech and Parts of the Sentence.
Chapter 1: I Already Know How to Talk. Why Should I Study Grammar?
Chapter 2: Verbs: The Heart of the Sentence.
Chapter 3: Relax! Understanding Verb Tense.
Chapter 4: Who's Doing What? Finding the Subject.
Chapter 5: Having It All: The Complete Sentence.
Chapter 6: Handling Complements.
Part II: Avoiding Common Errors.
Chapter 7: Getting Hitched: Marrying Sentences.
Chapter 8: Do You Feel Bad or Badly? The Lowdown on Adjectives and Adverbs.
Chapter 9: Prepositions, Interjections and Articles.
Chapter 10: Everyone Brought Their Homework: Pronouns.
Chapter 11: Just Nod Your Head: About Agreement.
Part III: No Garage, but Plenty of Mechanics.
Chapter 12: Apostrophes.
Chapter 13: Quotations: More Rules than Revenue & Customs.
Chapter 14: The Pause That Refreshes: Commas.
Chapter 15: Adding Information: Semicolons, Dashes and Colons.
Chapter 16: CAPITAL LETTERS.
Part IV: Polishing without Wax – The Finer Points of Grammar.
Chapter 17: Pronouns and Their Cases.
Chapter 18: Fine-Tuning Verbs.
Chapter 19: Saying What You Want to Say: Descriptive Words and Phrases.
Chapter 20: Good, Better, Best: Comparisons.
Chapter 21: Keeping Your Balance.
Part V: Rules Even Your Great-Aunt's Grammar Teacher Didn't Know.
Chapter 22: The Last Word on Verbs.
Chapter 23: The Last Word on Pronouns.
Chapter 24: The Last Word on Sentence Structure.
Chapter 25: The Last Word on Punctuation.
Part VI: The Part of Tens.
Chapter 26: Ten Ways Two to Improve Your Proofreading.
Chapter 27: Ten Ways to Learn Better Grammar.
Index.
See More
Lesley J. Ward leads training courses for the Society for Editors and Proofreaders (SfEP), the London College of Communication, and the Irish Book Publishers' Association (CLÉ). Geraldine Woods has taught grammar for over 20 years and written over 40 books.
See More