E-book
Emotional Capitalists: The New Leaders
ISBN: 978-0-470-68723-9
212 pages
August 2009, Jossey-Bass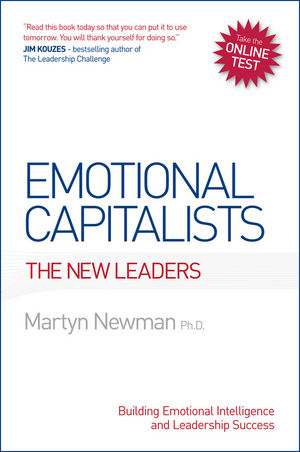 Building your emotional capital might be your best investment ever. This book shows you how to build emotional capital in your organisation and turn emotional intelligence in to value.
We have long been aware that to be successful in our professional and personal lives we need emotional intelligence. In this book, Martyn Newman shows us how to get it and use it to achieve extraordinary results.
Based on ground breaking psychological research with some of the world's most successful young business leaders, Newman identifies the seven dynamic emotions that set these leaders apart, uncovers the psychological building blocks that drive outstanding performance and provides the clearest blue print yet for systematically building your EQ and leadership skills.
"Daniel Goleman convinced us emotional skills were vital: Martyn Newman tells us how to build them."
—Bill Pheasant, Senior Journalist The Australian Financial Review
"Read this book today so that you can put it to use tomorrow. You will thank yourself for doing so."
—Jim Kouzes, bestselling author of The Leadership Challenge
"Every once in a while a book appears that isn't just informative, it's inspiring, fun to read and life changing. Emotional Capitalists - The New Leaders is one of those rare books."
—Daniela Sfameni, Global Head Human Resiource Development for Allianz Global Investors Group
"This book is an exciting, brand new guide for developing leadership in both personal and professional life ... it distils the most important elements of effective leadership and provides practical explanations and strategies for seeing immediate results. I highly recommend it."
—Steve Arthurson, Director, Capability Development, Foster's Group
See More
Foreword.
About the author.
Acknowledgements.
1 Introduction.
2 Self-reliance.
3 Assertiveness.
4 Optimism.
5 Self-actualisation.
6 Self-confi dence.
7 Relationship skills.
8 Empathy.
9 Conclusion.
Appendix.
Notes.
Index
See More