E-book
Private Equity as an Asset Class
ISBN: 978-0-470-68785-7
E-book
284 pages
August 2009
US $45.99

Purchase This E-book
This price is valid for United States. Change location to view local pricing and availability.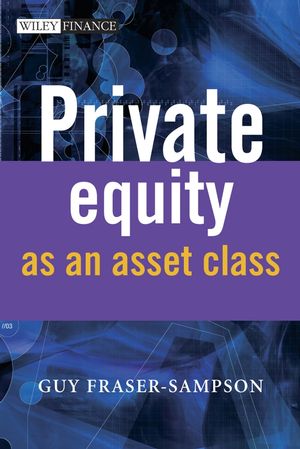 Adobe e-books are read using Adobe Digital Editions. Install Adobe Digital Editions on your PC in order to read or transfer your e-book.
Introduction.
Acknowledgements.
1 What is Private Equity?
Fund investing versus direct investing.
Terminology.
Primary versus secondary fund investing.
A broad delineation: buyout and venture.
Capital: allocated, committed, drawn down and invested.
How do private equity funds work?
Structure.
Cashflow.
Investment.
Fundraising.
Summary.
2 Private Equity Returns – The Basics.
Understanding the J-curve and compound returns.
Upper quartile figures.
Median returns.
Average returns.
Pooled returns.
Multiples.
Distributed over Paid In (DPI).
Paid In to Committed Capital (PICC).
Residual Value to Paid In (RVPI).
Total Value to Paid In (TVPI).
Valuation.
Fees.
Time-weighted returns.
Summary.
3 Buyout.
Types of buyout transactions.
MBO.
MBI.
BIMBO.
LBO.
Take private.
Roll-up.
Other "buyout" activity.
Established businesses.
Debt.
Earnings.
Size.
Control.
Barriers to entry.
Summary.
4 How to Analyse Buyouts.
Earnings.
EBIT.
EBITDA.
Earnings growth.
Multiple.
Multiple increase in an imperfect market.
Multiple increase in a perfect market.
Leverage.
Recapitalisation.
Timing.
Modelling and analysing buyout funds.
Summary.
5 Buyout Returns.
US versus European buyout.
Buyout skill bases.
Imperfect markets.
Earnings multiples.
Earnings growth.
Leverage.
Fund size.
What can we expect from buyout returns in future?
Recent fundraising levels.
Some conclusions and predictions.
Summary.
6 Venture Capital.
What is venture capital?
Backing new applications, not new technology.
Classification by sector.
IT.
Telecoms.
Life Science.
Classification by stage.
Seed.
The US model.
Seed stage focus.
Home run mentality.
"Value add".
The US model comes to Europe.
Why European venture capital firms have avoided the seed stage.
Classification by stage, continued.
Early stage investing.
Mid- and late stage investing.
Summary.
7 How to Analyse Venture.
The fundamentals.
Money multiples.
Valuation.
Cost and value.
IRRs and multiples.
Going In Equity (GI%).
Percentage of the holding within the fund.
The impact of home runs.
Summary.
8 Venture Returns.
US out-performance versus Europe.
Money multiples drive IRRs.
Home runs and the golden circle.
Market conditions.
European venture – is it as bad as it seems?
Returns and fund size.
Venture returns by stage.
What of the future?
Summary.
9 Due Diligence.
Buyout funds.
Venture funds.
Co-investors.
Cross-fund investing.
Buyout companies.
Venture companies.
Fund of Funds.
Monitoring private equity funds.
Summary.
10 Planning your Investment Programme.
Cashflow planning.
Allocated, committed and invested capital.
Diversification by time.
Proper commitment levels.
Diversification by sector and geography.
Total Return.
How to deal with uninvested capital.
Secondaries.
Mezzanine.
Private equity proxies 219.
Towards a new world of private equity programmes.
Summary.
Glossary.
Index.